Have you tried my Pumpkin Chipotle Vegetable Enchiladas yet?  I got a great response to that post so please let me know how they turn out!  I had some leftover pumpkin from that recipe which I couldn't let go to waste so I adapted one of my favorite cookie recipes by adding some pumpkin.  These cookies are very quick to make and will hit the spot when you are craving something sweet.
You start by combining the dry ingredients of flour, baking powder, baking soda and salt.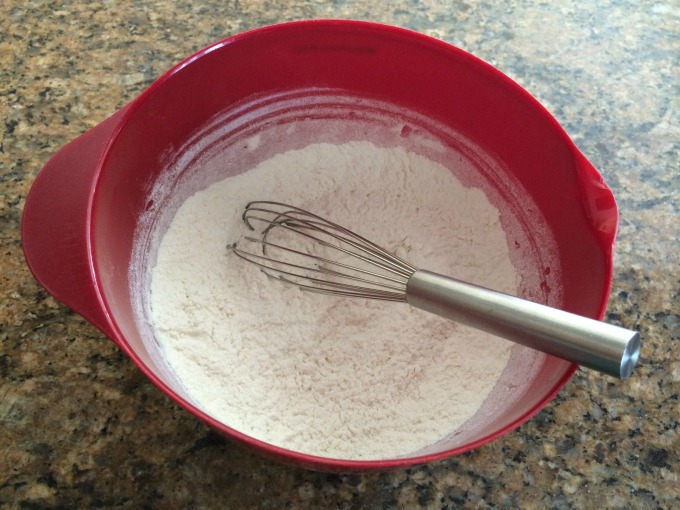 You set that aside before creaming together butter and sugar, the base of any good cookie recipe.  To that you add an egg and vanilla extract.  The original recipe calls for one cup of ricotta cheese so I decreased the ricotta to 1/2 cup and added 1/2 cup of pumpkin.  When that is mixed together you add in your mini chocolate chips.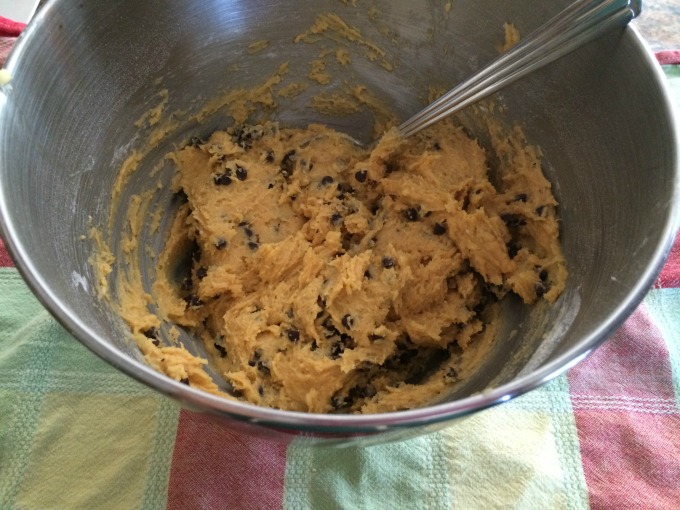 Scoop those onto your baking sheet and cook for ten to thirteen minutes until the bottoms start to brown.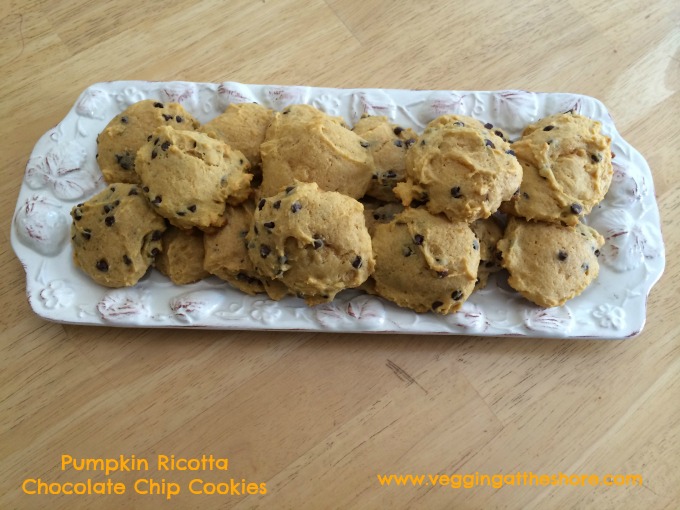 Warning-these will not last long in your house.  They were devoured by adults and kids in my house.  I made them to take to a playdate and had to separate out the ones for the playdate for fear there wouldn't be any left.  These will surely get you in the mood for fall.  Enjoy!

Pumpkin Ricotta Chocolate Chip Cookies
Ingredients
2 cups all-purpose flour
¾ teaspoon baking powder
¼ teaspoon baking soda
½ teaspoon salt
½ cup unsalted butter, softened (1 stick)
½ cup packed brown sugar
½ cup granulated sugar
1 egg
1 teaspoon vanilla extract
½ cup ricotta cheese
½ cup canned pumpkin
1 cup mini semisweet chocolate chips
Instructions
Preheat oven to 350. Line a baking sheet with parchment paper or silicone baking mat.
Combine dry ingredients (flour through salt) and set aside.
In a stand mixer or using a handheld mixer, cream together butter and sugars. Beat in egg and vanilla extract and combine until well blended. Beat in ricotta cheese and pumpkin and gradually add flour mixture, beating on low speed until well combined.
Fold in mini chocolate chips.
Using a small cookie scoop or teaspoon, drop by spoonfuls onto prepared baking sheet.
Cook for 10 to 13 minutes, until set and bottoms slightly browned.
Notes
Makes about 30 cookies.

Recipe adapted from about.com