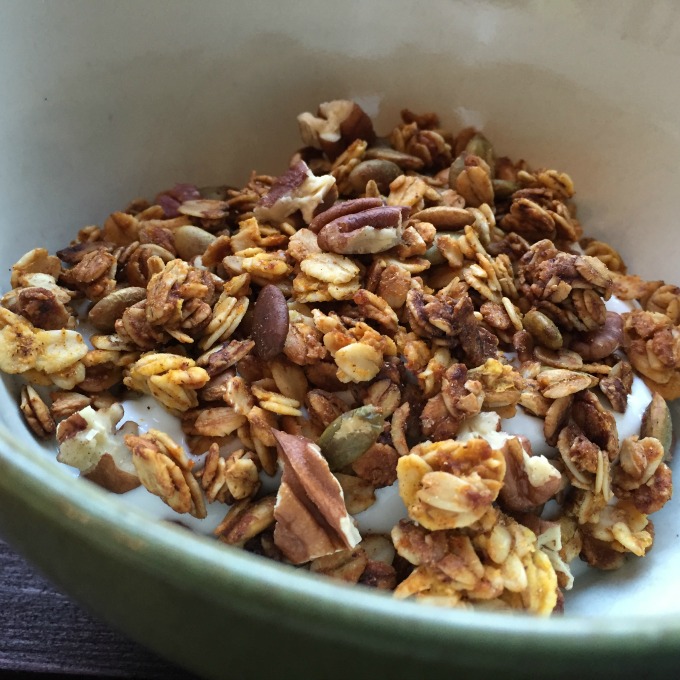 My family goes through a lot of cereal.  I don't bother removing it from the shopping list I keep on my phone because I always need more each week.  I've become very cognizant of the sugar amounts in cereal and it's scary.  It's challenging to find a good cereal with less than 10 grams of sugar per serving.  Do people really need that much sugar in their cereal? So I've been wanting to come up with a breakfast option with less sugar that still tastes good.  I seem to make a lot of recipes this time of year with pumpkin so I frequently have an open, unfinished can of pumpkin in the refrigerator. Pumpkin is tasty and healthy almost like a good medicine. This pumpkin granola is perfect because it uses up that leftover pumpkin, is low in sugar and delicious.  It took us a couple of tries to get this recipe right, but we did and I foresee it becoming part of our regular breakfast rotation.
This recipe comes together quickly and my little chefs loved helping me make it.  You start by combining old fashioned oats, pepitas, pumpkin spice and salt.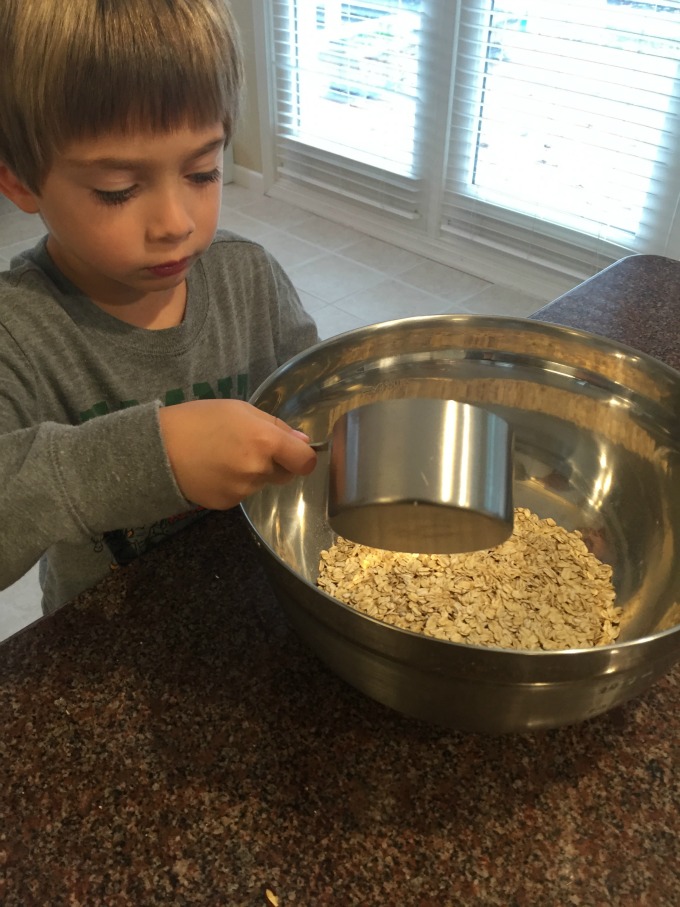 Next you combine pumpkin puree, pure maple syrup and coconut oil.  The first batch we made had agave nectar but in the second batch we used maple syrup which we all preferred.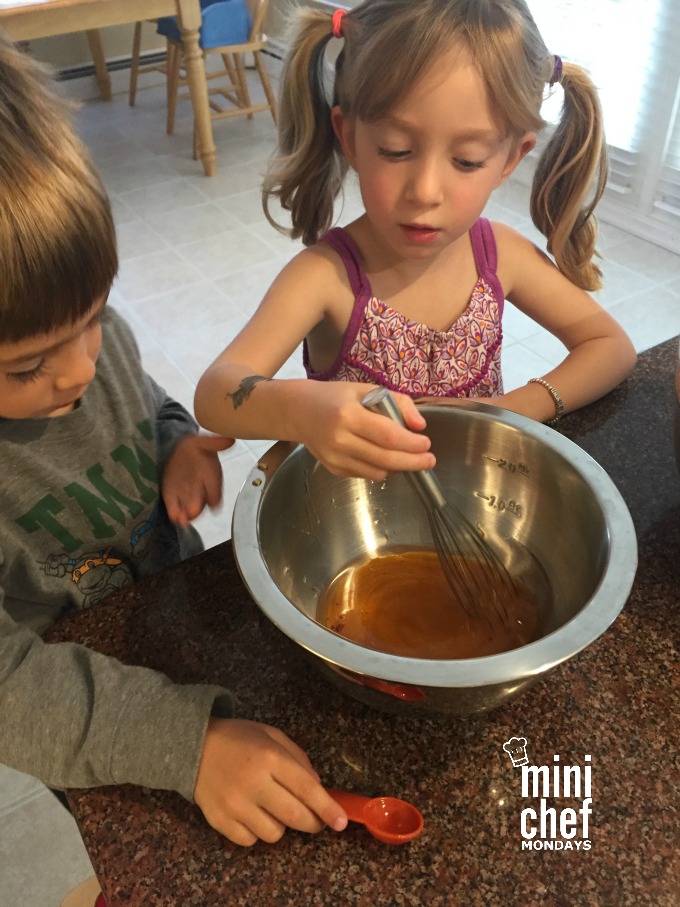 Combine the pumpkin mixture and the oat mixture and then spread that out on a parchment lined baking sheet.
Cook that for thirty minutes, stirring about halfway through.  It will continue to crisp up as it cools.  When it is cool, add the roughly chopped pecans.  This granola tastes amazing with vanilla yogurt.  I've been looking forward to it every morning for breakfast for the past week.  It's seriously my new favorite breakfast!
If you like pumpkin, also check out Pumpkin Ricotta Chocolate Chip Cookies, Pumpkin Chipotle Enchiladas and Pumpkin Butter Pancakes!

Pumpkin Granola
Ingredients
3 cups old fashioned oats
½ cup pepitas
1 teaspoon pumpkin spice
½ teaspoon salt
½ cup pumpkin puree
⅓ cup pure maple syrup
⅓ cup coconut oil
½ cup roughly chopped pecans
Instructions
Preheat oven to 350. Combine oats, pepitas, pumpkin spice and salt in a medium bowl. In a small bowl combine pumpkin puree, syrup and coconut oil. Add pumpkin mixture to oat mixture and stir until evenly coated. Spread mixture out on parchment lined baking sheet and cook for 30 minutes, stirring halfway through. Remove from oven and let it cool. It will continue to crisp up as it cools. Add chopped pecans.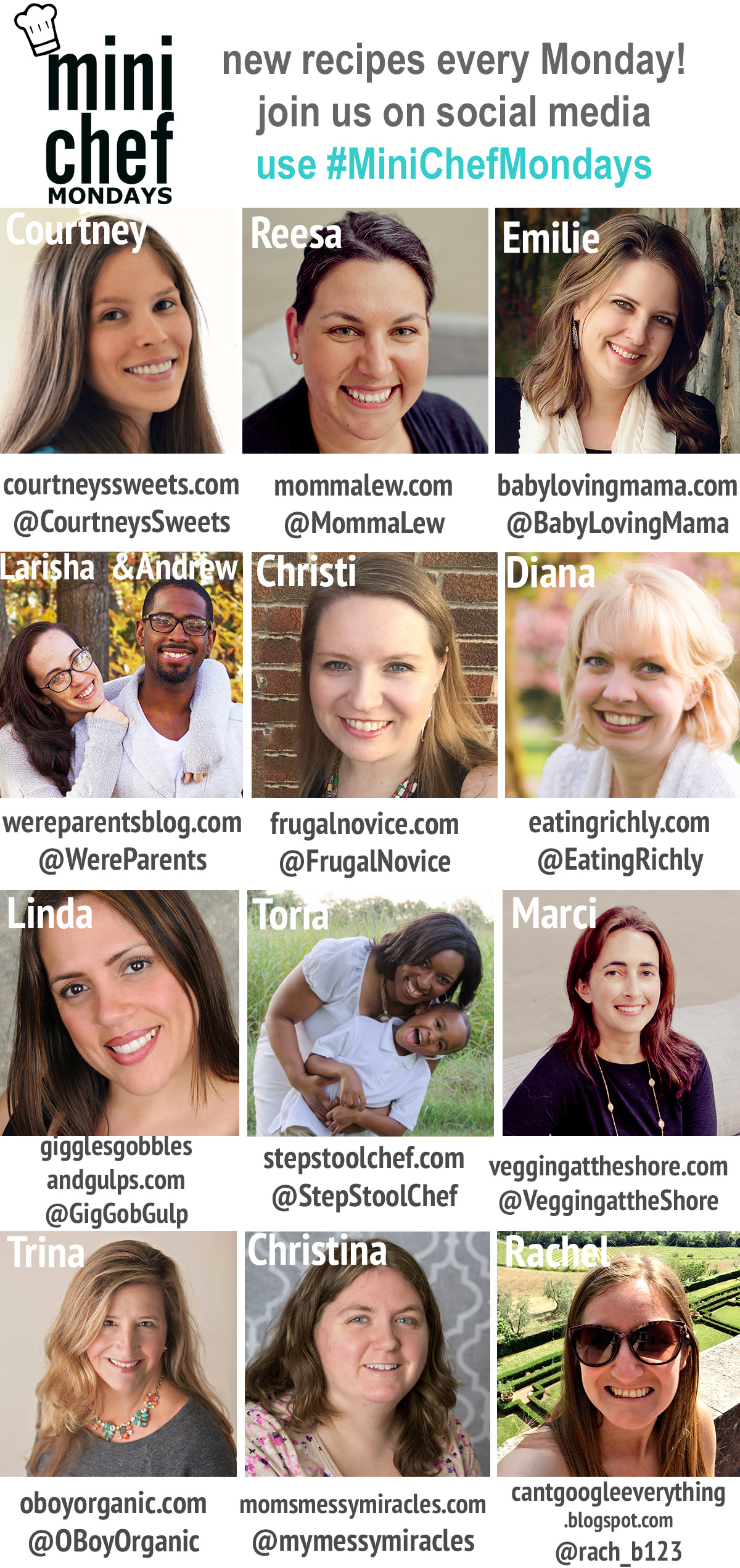 I am hosting Mini Chef Mondays along with 11 fabulous bloggers!
Be sure to check out each of their Mini Chef posts as well. We would love it if you would share your Mini Chef posts with us each week, too! Follow along socially and join in on the fun by using our hashtag #MiniChefMondays to share creations your mini chef created in the kitchen. Additionally, if you have a kid-friendly recipe that kids can easily recreate link up! Don't have a blog? Share the URL of your instagram photo in our linky below.