My favorite restaurant when I lived in Manhattan was called Josie's. Everything at Josie's was healthy, delicious and dairy-free. I have ulcerative colitis and when the disease flares, I stick with a dairy-free diet. This can be limiting when eating out but I was always able to find something satisfying at Josie's. I no longer live in Manhattan and Josie's is no longer open, but I still have a cookbook from the restaurant, called Totally Dairy-Free Cooking. It's one of my favorites, as is evidenced by the food-splattered, torn pages. The two recipes I make the most from that cookbook are Black Bean Hummus and Split Pea Soup. I always kick off soup season with this recipe because it's my favorite.
You start by sautéing shallots, carrots, celery and onions.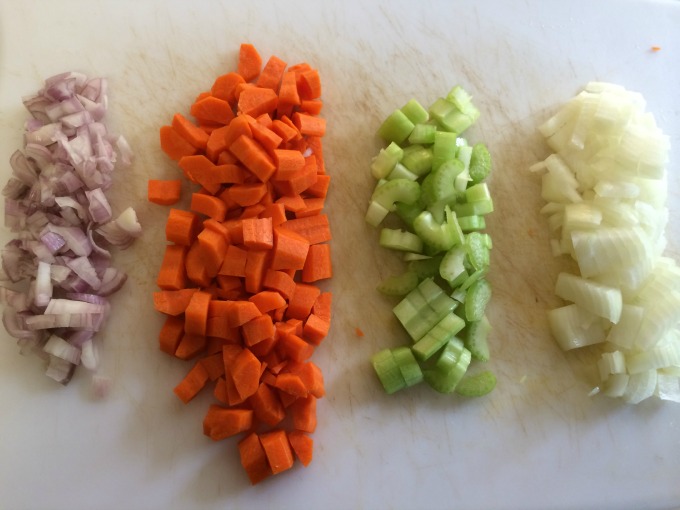 When those are golden you add some sherry and wine and wait for that to be mostly absorbed. Then you add the peas and stock and let that cook for at least an hour. The original recipe says to let the peas cook for thirty to forty minutes, but I find they need at least an hour to become adequately softened.
While I love making soup because it is so satisfying and filling on chilly days, the real reason is because I get to use two of my favorite kitchen products-my Le Creuset Dutch oven and my Cuisinart immersion blender.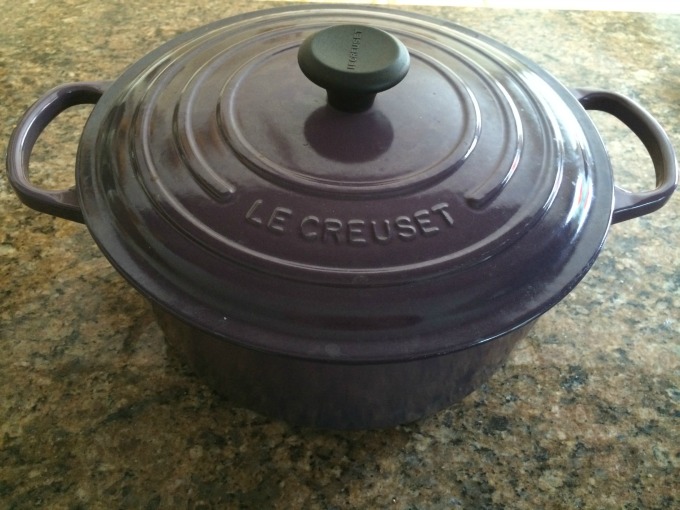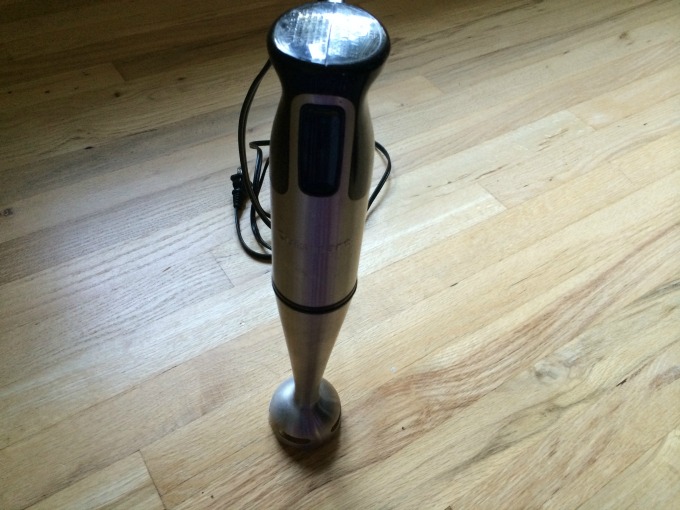 I was lucky to receive the Dutch oven as a gift (which I had pined after for years) but the Best Immersion Blender isn't even that expensive and well worth picking up on your next shopping trip. I used to transfer hot soup from the pot to the blender and not only would I burn myself, but I would make a mess of my kitchen. You simply put the immersion blender in the pot of soup and it blends it like magic, with no mess.
After using the immersion blender to puree the pea mixture, you add milk, miso and seasonings. You can add any kind of milk for creaminess. I usually add almond or soy milk. If you do not have an intolerance to dairy, use whatever kind you prefer. Miso gives the soup a deep smoky flavor that most split pea recipes get from meat. Miso is not an exotic ingredient, just versatile and fantastic.
As is the case with most soups, the longer this one sits, the more the flavors blend together. My favorite way to serve this soup is with my husband's delicious grilled cheese. It's a perfect combination.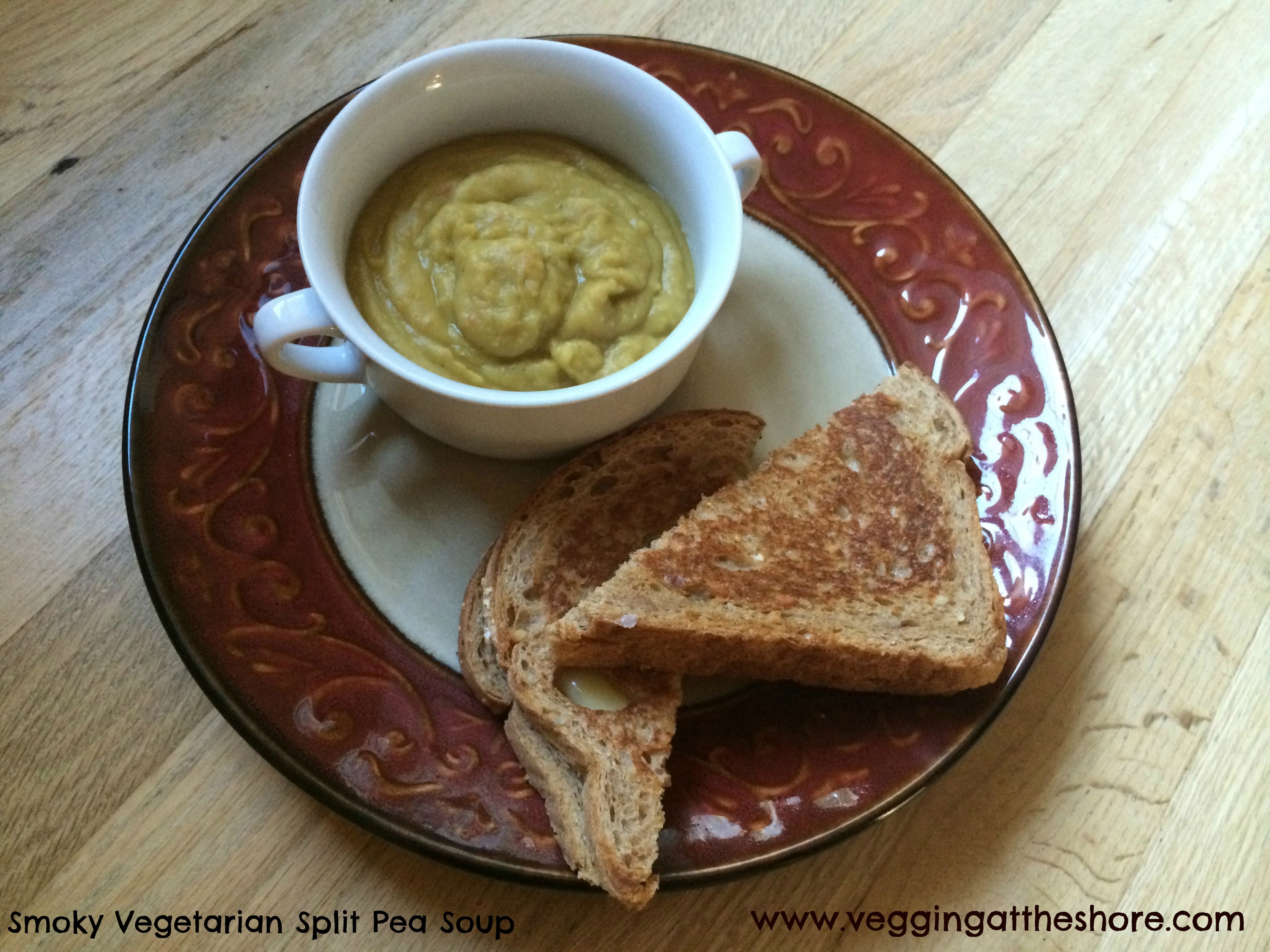 This soup freezes nicely. You will just need to add some water when reheating it. I highly recommend making a big pot of this soup and stocking your freezer with it. You will thank me on those snowy days to come.

Smoky Vegetarian Split Pea Soup
Ingredients
1 tablespoon olive oil
1 tablespoon minced shallots
1 medium onion, chopped
1 cup chopped carrots
½ cup chopped celery
½ cup dry cooking sherry
½ cup dry white wine
1 pound yellow split peas
1 pound green split peas
12 cups vegetable stock or water
2 teaspoons salt
1 teaspoon fresh ground pepper
1 tablespoon miso
1 cup milk (almond, soy or regular)
Instructions
Heat oil in a large stockpot over medium heat. Add shallots and cook until golden, about 2 minutes. Add onions, carrots and celery and cook, stirring, until vegetables softened, about 10 minutes.
Add sherry and wine and simmer until liquid is reduced by half. Add both kinds of peas and stock. Bring to a boil and simmer uncovered for at least an hour, until peas are mushy. If liquid runs low before peas are finished cooking, add more water as necessary.
Remove from heat and puree with an immersion blender until smooth. If you don't have an immersion blender, carefully transfer mixture to a blender and process until smooth. Add salt, pepper, miso and milk. Continue to blend thoroughly. Let sit for at least an hour to develop flavors. When reheating, you may need to add water.
Notes
Adapted from Totally Dairy-Free Cooking by Louis Lanza