Family recipes are my favorite recipes.  I love the feeling of making a recipe that has been passed down through generations.  I try to document my favorite family recipes because they are so important to have.  The best way to do this, if possible, is to spend time with the person passing down the recipe and to take notes on what they are doing.  That way you can ask questions and see for yourself exactly how it is made.  My mom is an amazing cook and when I need a holiday recipe, I often turn to her.  A few years ago I watched her make latkes and her recipe has now become my own.
Potato latkes are a typical dish for Hanukah.  You start off by shredding some potatoes.  You can certainly do this by hand, but if you have a food processor, use it!  The shredding blade works perfectly for this.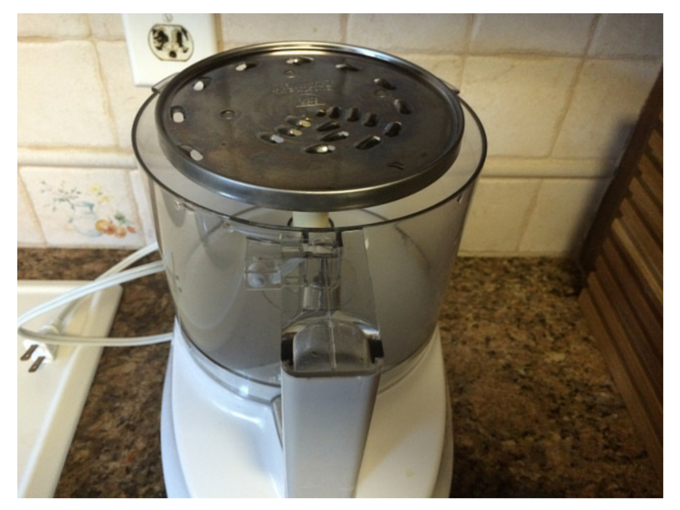 Potatoes have a lot of moisture so make sure you drain the shredded mixture well.  To this you add onion, matzoh meal, egg, salt and pepper.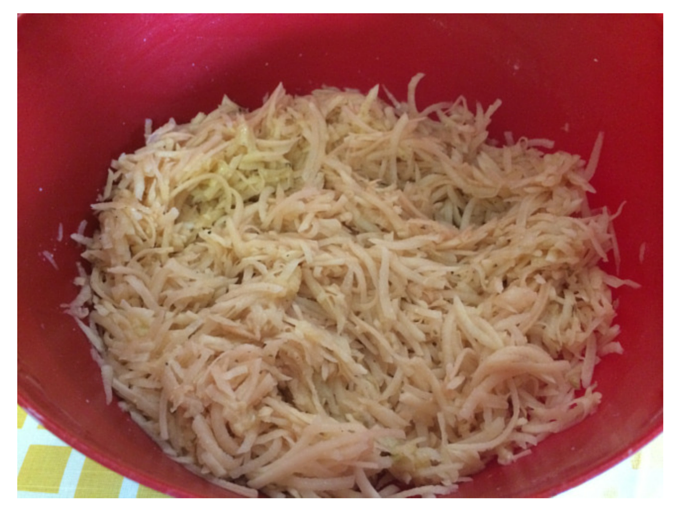 Heat your oil and start frying!  You need to put a good amount of oil in the pan to get the latkes crispy.  With all that oil, luckily Hanukah only comes around once a year.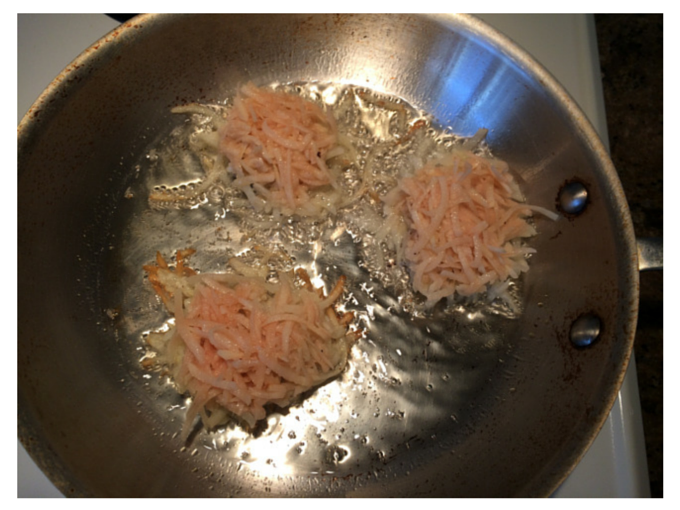 Latkes are best served alongside applesauce.  There are plenty of good applesauce brands out there but you know me, I prefer food to be homemade.  My applesauce has three ingredients and could not be easier.  You add apples to a pan with water and a cinnamon stick.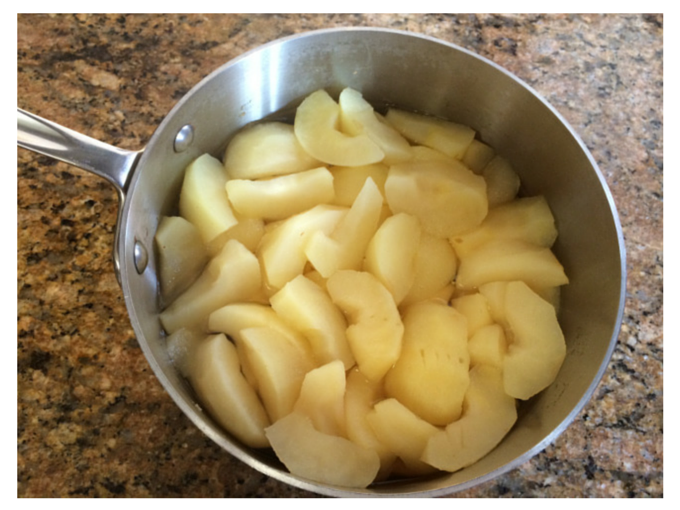 After simmering for about twenty minutes they will be very soft.  Remove the cinnamon stick, use a potato masher and add agave.  This will taste so much more natural than anything you could buy in a grocery store.
Homemade latkes and applesauce are so delicious.  I look forward to passing this recipe down to my children.  If you have a family recipe that you love, make sure you get it written down.  You will be happy you did!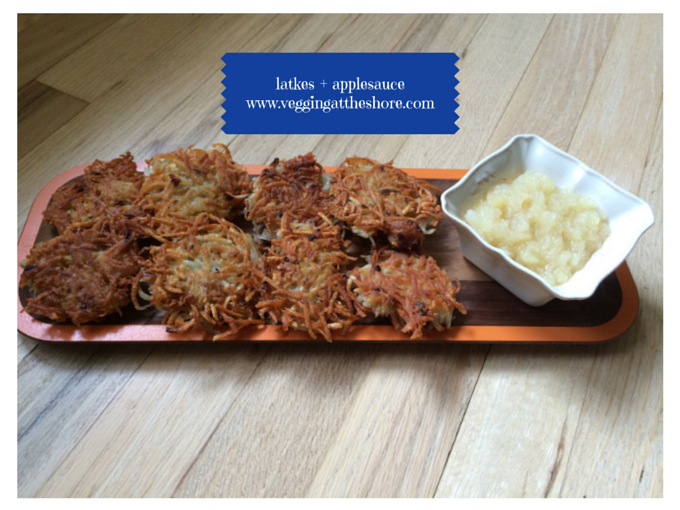 Latkes + Applesauce
Ingredients
4 potatoes, peeled and cut into chunks
1 yellow onion, peeled and cut into quarters
1 tablespoon matzoh meal or flour
1 egg beaten
1 teaspoon salt
1 teaspoon pepper
vegetable oil
8-10 apples, cored, peeled and cut into quarters
1 cinnamon stick
1 tablespoon agave nectar or honey
Instructions
Shred potatoes. Easiest way is to use shredder blade of food processor. Squeeze out excess liquid and put in bowl. Shred onion in food processor and add to bowl with potatoes along with matzoh meal, egg, salt and pepper. Stir together.
Heat oil in skillet over medium heat. Add enough oil to coat bottom of pan. Form latkes with your hands and drop into hot oil. When latke starts to crisp on one side, turn over and let other side get crispy. Will take about 2-3 minutes per side. Remove from pan and lay on paper towels to drain excess oil.
Place apples in a pot with about a half inch of water. Add cinnamon stick. Bring to a boil, reduce to a simmer, cover and cook for about 20 minutes or until apples are soft. Remove cinnamon stick. Using a potato masher, mash apples. Add agave nectar and stir.
Notes
Will make about 15-20 medium sized latkes. They can be made in advance and refrigerated. To heat, place in an oven at 300 for 10 minutes.