Do you have a favorite dish at certain restaurants and you only order that dish whenever you go there? For me, that's what happens whenever I go to The Spot in Northfield, NJ. I fell in love with their quinoa quesadilla and even though I always say I'm going to order something different, I never do. It's my favorite dish whether I go for lunch or dinner. I decided to try and replicate it and was very happy with the result.
You start this dish by cooking quinoa. Quinoa is a superfood high in protein. It cooks in just fifteen minutes with a 2:1 ratio of water to quinoa.
Next you sauté onion and bell pepper in some olive oil.  After that cooks for about five minutes you add kale.  When the kale becomes wilted you add the cooked quinoa and shelled edamame, along with some seasoning.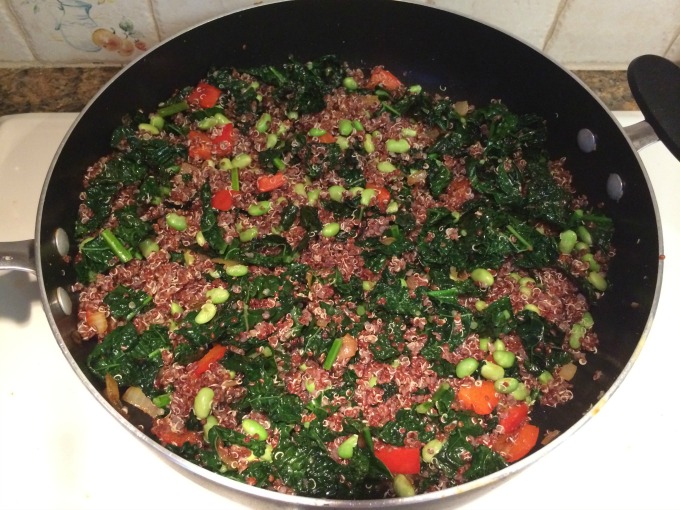 Now you are ready to assemble your quesadillas.  Start by putting some shredded cheddar cheese on the bottom of a tortilla, add some of the vegetable mixture and then top it off with more cheese.  I like to do two layers of cheese so it all sticks together.
Cook that in a nonstick skillet for about three minutes per side until the outside is lightly browned.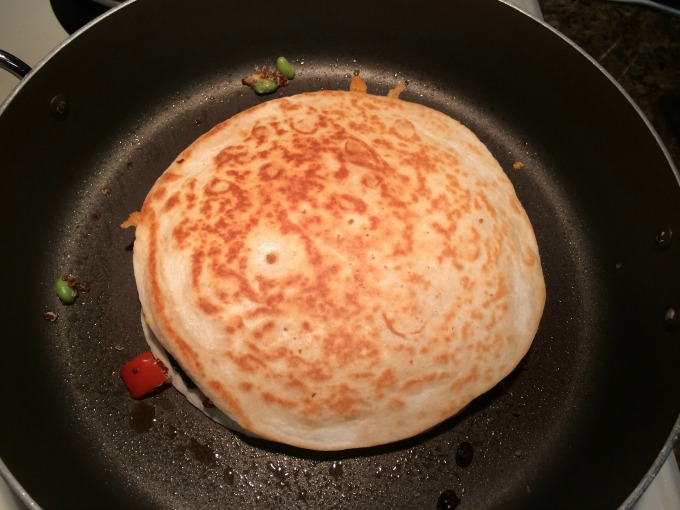 While the vegetable mixture is cooking you can whip together some guacamole.  Making your own guacamole is so easy.  This is my very basic recipe that requires almost no effort.  You mash up a couple of avocados and then add a couple spoonfuls of salsa, a squeeze of lemon juice and a pinch of salt.  Really, it's that easy.
These quesadillas are not only colorful and flavorful, but they are good for you!  Next time you are at The Spot order the quinoa quesadilla and if you don't live close by, make your own!

Kale & Quinoa Quesadillas with Guacamole
Ingredients
2 cups water
1 cup quinoa
1 tablespoon olive oil
1 small onion, diced
1 bell pepper, seeded and diced
1 bunch kale, tough stems removed and sliced thin
1 cup shelled edamame, defrosted
1 teaspoon cumin
1 teaspoon salt
½ teaspoon black pepper
8 medium flour tortillas
2 cups shredded cheddar cheese
2 ripe avocados
1.5 tablespoons salsa
juice of half a lemon
¼ teaspoon salt
Instructions
Prepare quinoa by combining water and quinoa in a small saucepan. Bring to a boil. Cover and reduce to a simmer. Cook 15 minutes. Remove from heat. Fluff with a fork and set aside.
Heat olive oil in a nonstick skillet over medium heat. Cook onion and bell pepper until softened, about 5 minutes. Add kale and cook until wilted, about 3 minutes. Add cumin, salt and pepper. Stir in cooked quinoa and edamame. Remove to a bowl and wipe out pan.
Spray pan with cooking spray and heat over medium heat. To assemble quesadilla lay out one tortilla on a work surface. Add 2 tablespoons cheddar cheese. Top with 1 cup of vegetable mixture and 2 more tablespoons of cheddar cheese. Press down and place in skillet. Cook for about 3 minutes and using a spatula, gently flip. Cook for another 3 minutes. Remove from skillet and repeat with remaining ingredients.
To make guacamole, mash up 2 avocados. Add salsa, lemon juice and salt. Stir to combine.