I make a lot of pizza around here, about once a week.  I make my dough in the morning before heading out for the day with the kids and can quickly get it in the oven at dinnertime.  I get inspiration from what's in season or from ingredients that are paired next to each other in my Door to Door Organics delivery.  It's finally starting to feel like spring around here in New Jersey.  Spring asparagus is so delicious and should be savored.  This pizza is really simple and combines two delicious flavors-lemons and capers.
You make the whipped ricotta by combining ricotta cheese, lemon juice, garlic, salt and pepper in a food processor.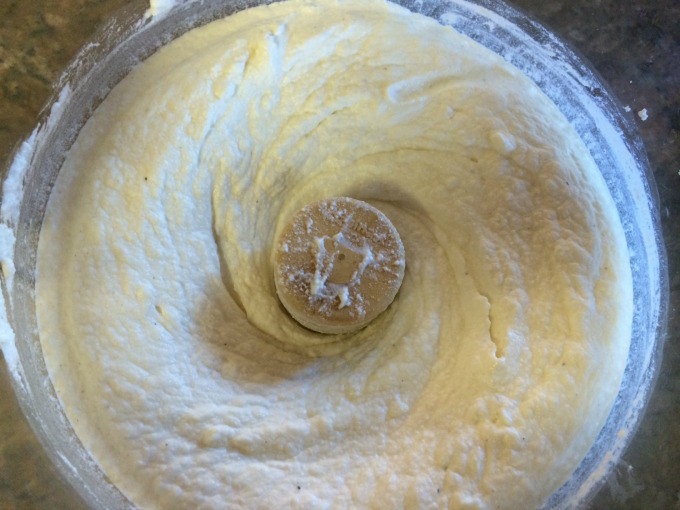 Next you take a bunch of asparagus, cut off the tough ends and make thin ribbons using a vegetable peeler.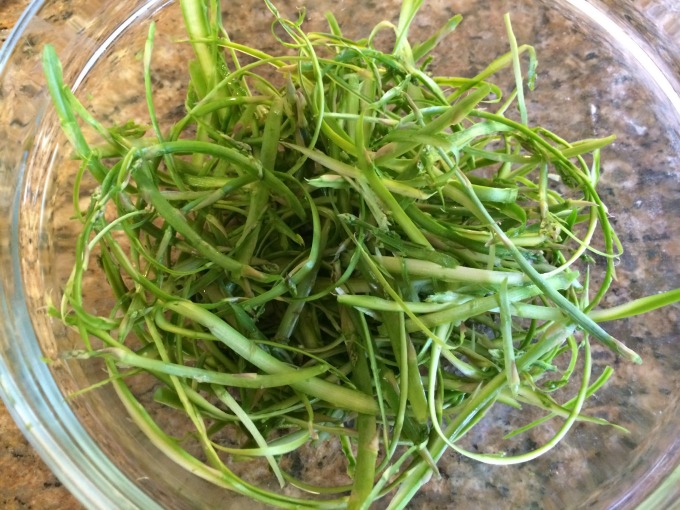 Place your rolled out dough on a preheated pizza stone, add a layer of the ricotta mixture, scatter the asparagus ribbons and top with mozzarella cheese.  I let my pizzas cook at 425 for thirteen minutes which is the perfect amount of time.  When it comes out of the oven scatter some capers on top and you have pizza perfection.  I know I say that a lot, but seriously, this one is perfect.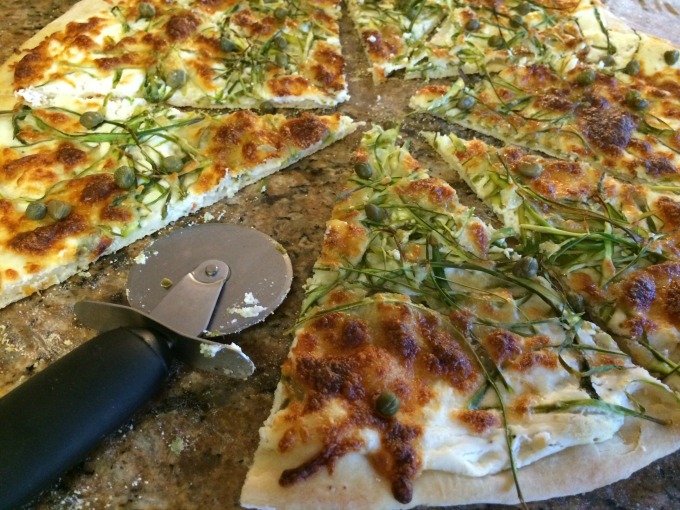 If you like this recipe, you should check out these other pizza recipes: Fig & Ricotta Pizza, Beet Pesto Pizza, Apple & Arugula Pizza, Caramelized Onion Pizza with Winter Squash Sauce and Roasted Vegetable Pizza with Caramelized Onion Sauce.

Pizza with Shaved Asparagus, Whipped Ricotta and Capers
Ingredients
2 balls of pizza dough, homemade or store bought
3 cups ricotta cheese (I use part-skim)
2 cloves garlic
juice of 1 lemon
1 tablespoon olive oil
½ teaspoon salt
¼ teaspoon pepper
1 bunch of asparagus
2 cups shredded mozzarella
4 tablespoons drained capers
Instructions
Preheat pizza stone in oven at 425.
In food processor combine ricotta, lemon juice, olive oil, garlic, salt and pepper. Combine until smooth.
Using vegetable peeler make long ribbons of asparagus.
Roll out dough. Place on preheated pizza stone. Spread half of ricotta mixture. Top with ½ of asparagus and 1 cup mozzarella. Cook for 13 minutes or until pizza crisp and top starting to brown. Spread 2 tablespoons of capers on top.
Notes
This recipe makes 2 pizzas.

Loosely adapted from How Sweet It Is