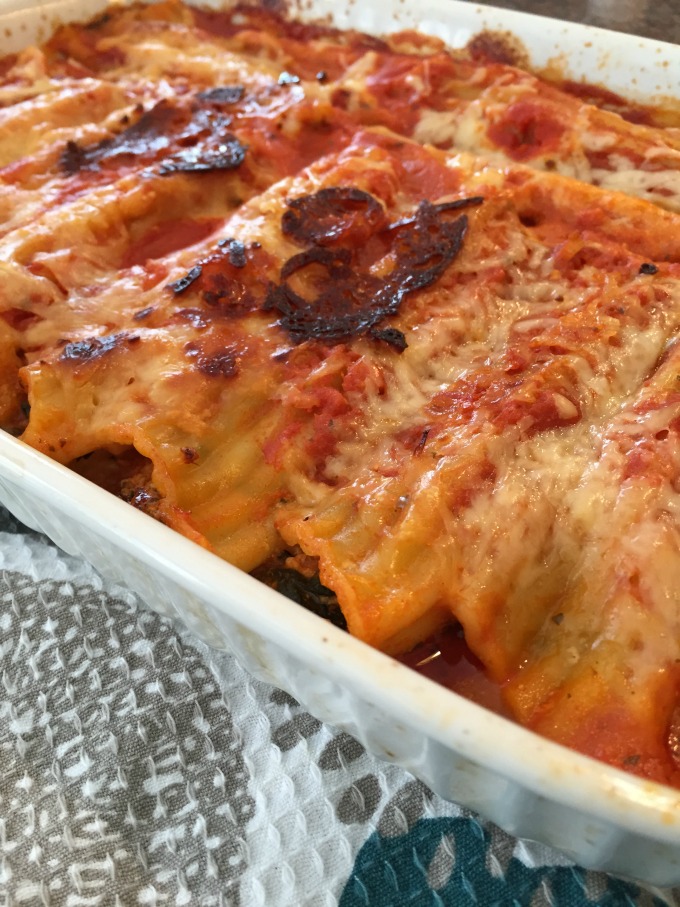 This is one of those recipes that I've been making forever, since before kids, that has become a kid favorite in my house.  They love it and request it all the time.  Even the word manicotti makes their eyes light up.  I used to make this when I needed a really easy quick dish to feed a crowd.  Now I love this recipe even more because the kids can help with it.  Here is the best part…you don't need to boil the noodles first!  It comes together so quickly and is ALWAYS a crowd pleaser.  Always.
The first step is to make the cheese mixture by combining a few different cheeses with spinach and seasonings.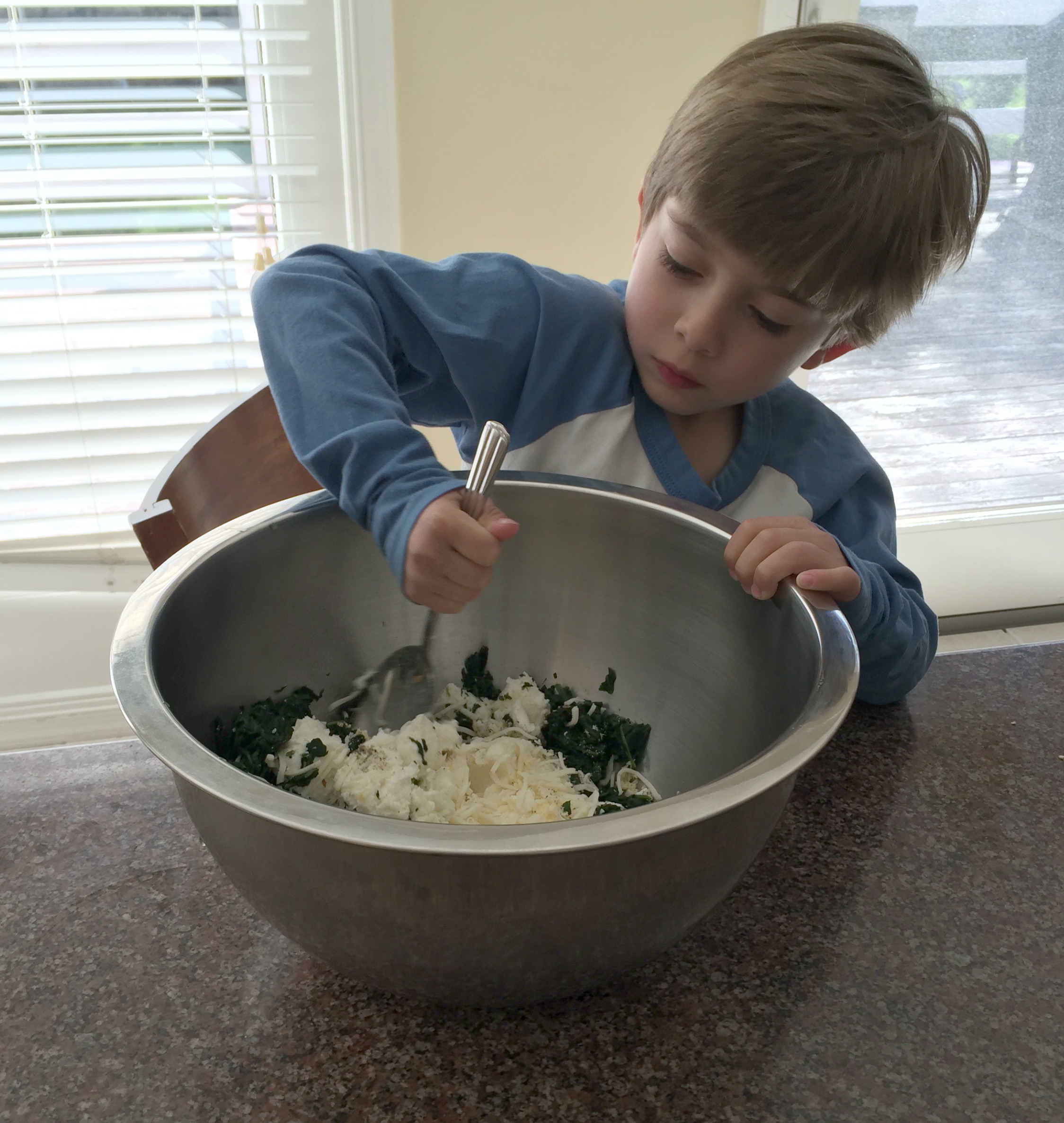 Next you stuff the manicotti shells.  You could use a spoon for this but why be neat when it goes so much faster using your fingers?  This is so fun for kids to help with.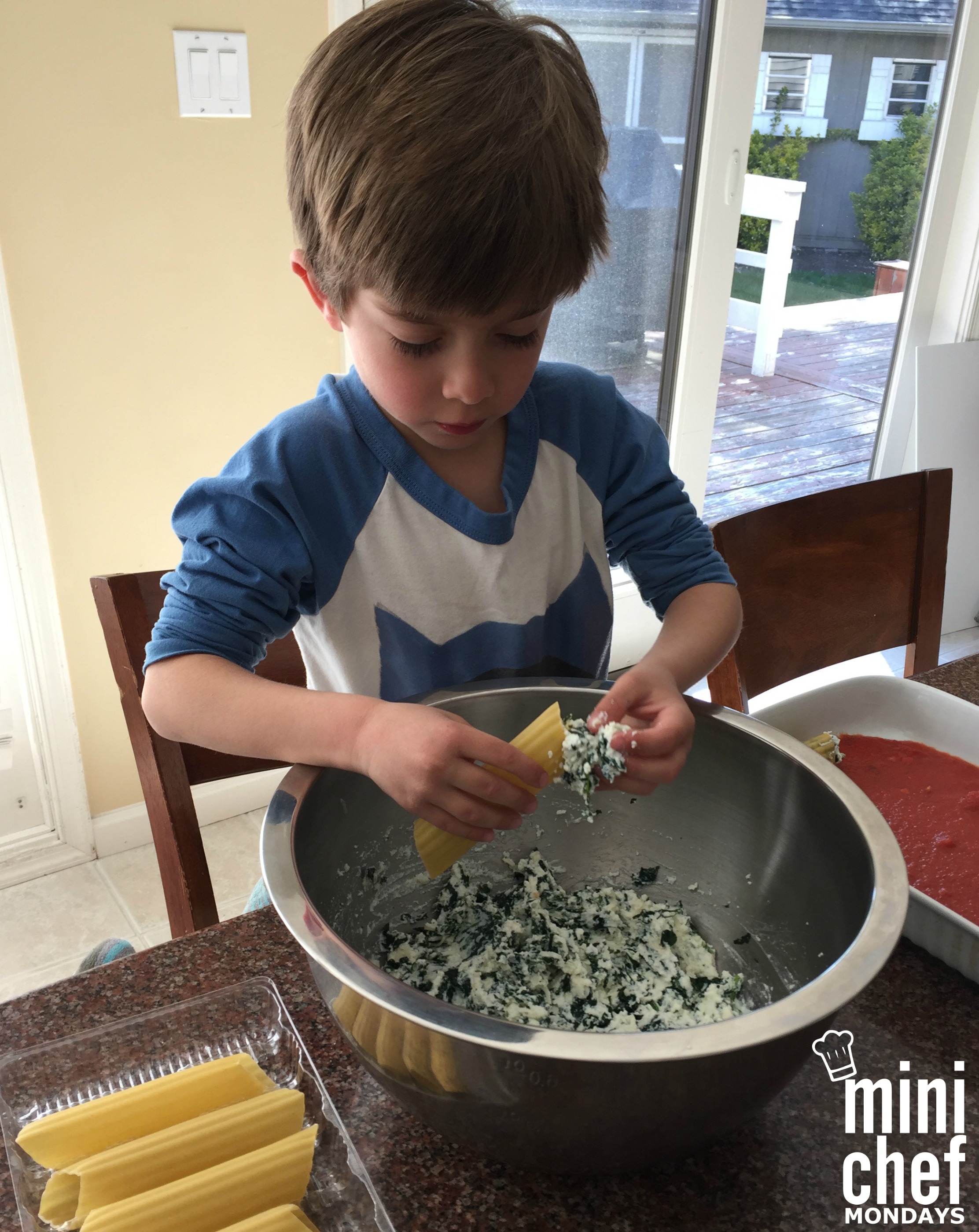 Lay the stuffed shells in a dish with tomato sauce.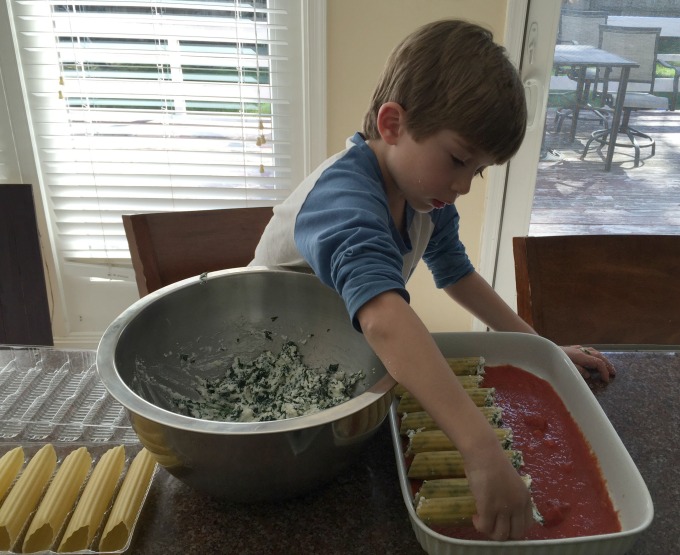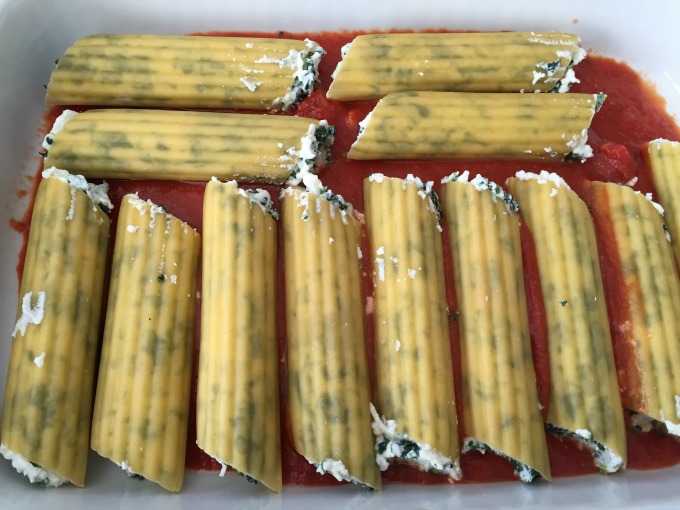 Add more sauce and then pour a cup of water into the dish.  The first time I did this it felt strange to pour water over the pasta but since you haven't cooked the noodles yet, you want to make sure they have enough moisture to cook in the oven.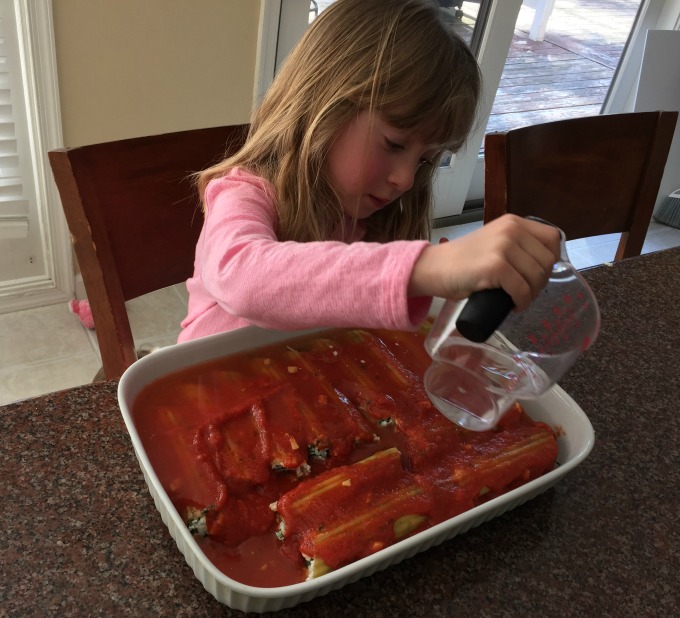 Then sprinkle on the cheese.  As you can see not all of the cheese made it to the dish.
Cover that and cook for an hour.  When it comes out the noodles will be perfectly cooked, the cheese will be melted and you will have the most delicious and impressive manicotti that took very little time to get in the oven.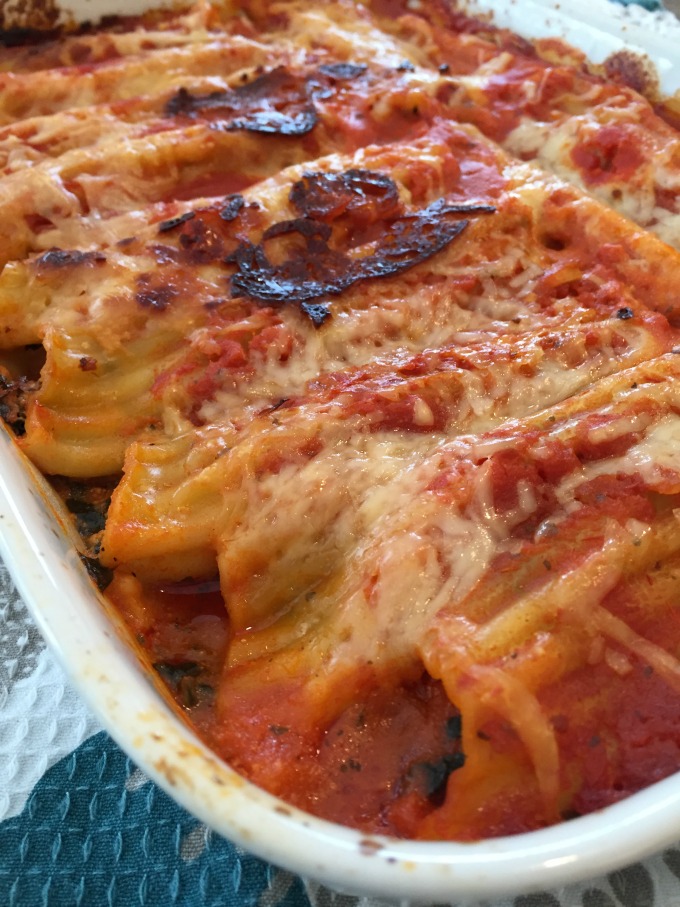 Ingredients
2 cups shredded mozzarella cheese
1/4 cup shredded parmesan cheese
2 cups chopped, cooked spinach drained (you can use a box of frozen chopped spinach or I steamed up a bunch of fresh spinach)
16 oz container low-fat ricotta cheese
1 teaspoon salt
1/2 teaspoon pepper
1 teaspoon dried oregano
1/2 teaspoon garlic powder
1/4 teaspoon crushed red pepper flakes
1 package of manicotti shells (about 14), uncooked
jar of your favorite tomato sauce
1 cup water
Instructions
Preheat oven to 375. Combine 1 cup of mozzarella cheese and ingredients through red pepper flakes in a mixing bowl. Spray a 9x13 inch baking dish with cooking spray. Pour half of tomato sauce into dish and tilt to spread around. Working with 1 manicotti shell at a time, using fingers stuff each shell with cheese mixture and place in the dish. Continue until all the shells have been stuffed. Pour remaining sauce on top of shells. Top with remaining 1 cup of mozzarella cheese. Pour 1 cup of water around the edges. Cover and cook for 1 hour. Remove from oven and uncover. Let sit 5 minutes before serving.
7.8.1.2
13
http://veggingonthemountain.com/2016/04/easy-spinach-manicotti/
I am hosting Mini Chef Mondays along with 8 fabulous bloggers! Read how Mini Chef Mondays started, plus how to link up!
Join our facebook group to find even more recipes and share recipes too!
Get featured and follow us too!
Be sure to check out each of their Mini Chef posts as well!