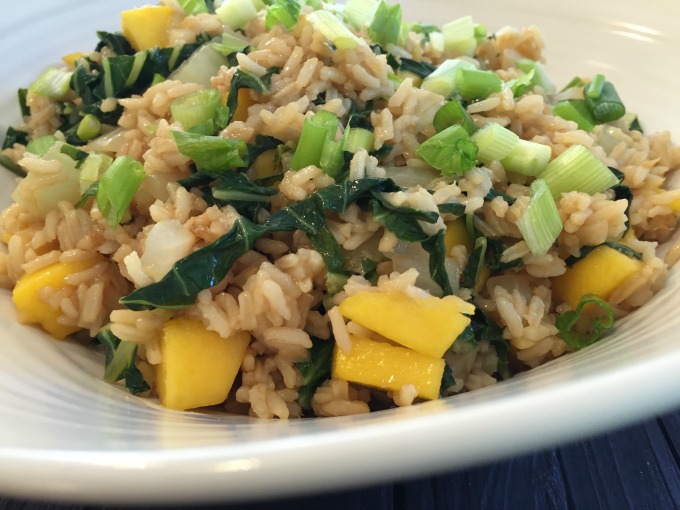 I receive a weekly delivery of organic produce.  I unpack the box every Friday and lay everything out on the counter.  This helps me shape my menu for the upcoming week and often I get inspiration from what is next to each other.  In my last delivery I had some beautiful bok choy sitting next to a mango and that's how this recipe came to be.  Fried rice is much like stir fry in that the most time-consuming part is prepping the ingredients but once you start cooking, it comes together quickly.  This vegan fried rice dish is quick, easy and most importantly, delicious!
I started off this recipe by cooking RiceSelect Texmati rice and then setting it aside while I prepped the rest of my ingredients.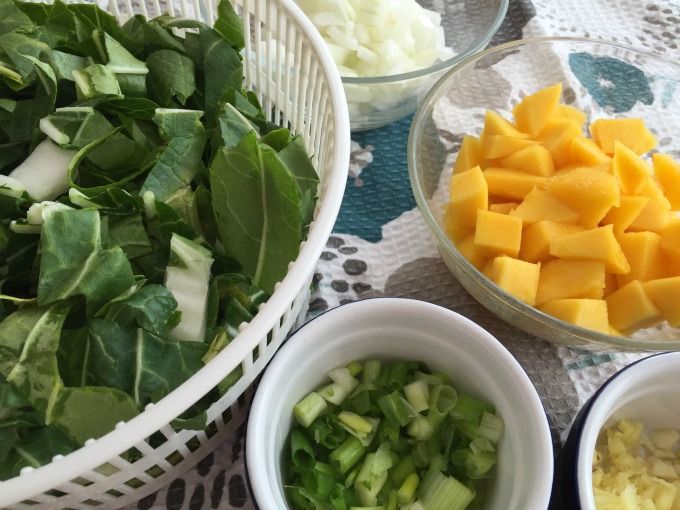 Heat a wok and first cook the onion and bok choy for about 5 minutes.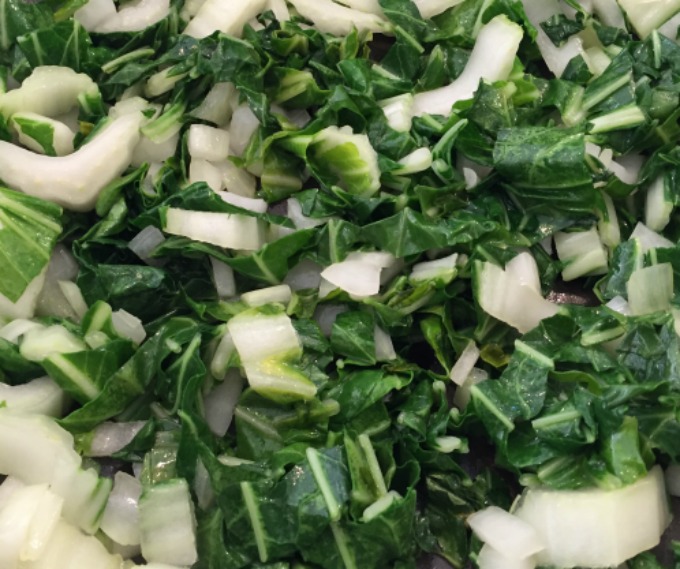 Remove that from the pan and then cook some garlic and ginger in oil.  Slowly start to add the cooked rice, breaking it up as you add it to the pan.  Add the bok choy mixture back into the pan, add some wine and then soy sauce and sesame oil.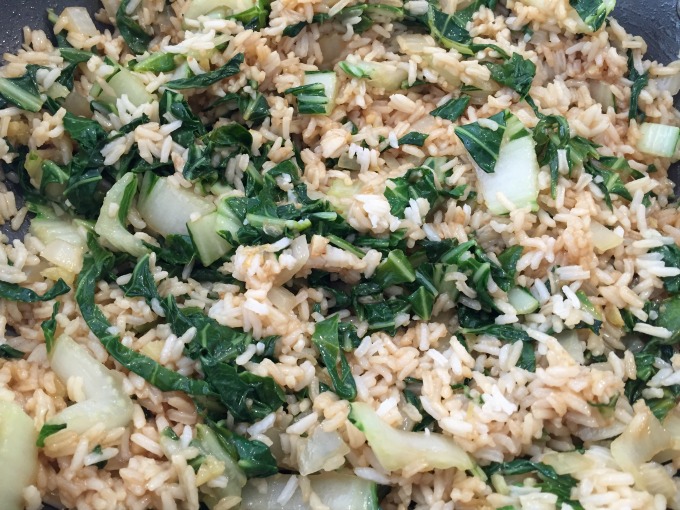 Remove that from the heat and toss in the mango and top with scallions or cilantro.  This dish is vegan but if you wanted, you could add egg and if you wanted some extra protein, tofu would be great too.  This is a simple weeknight dinner that my family loves.  Pick up some RiceSelect Texmati rice for a delicious and healthy meal.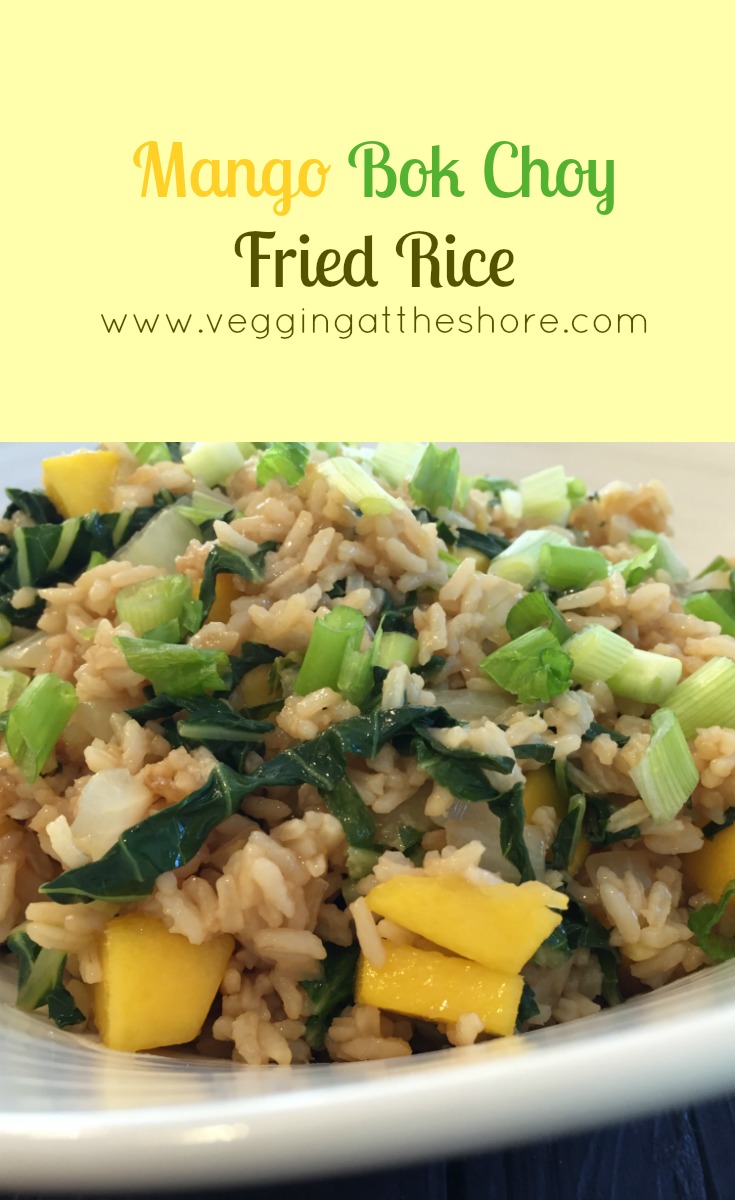 Mango Bok Choy Fried Rice
PPrep Time
PCook Time
PTotal Time
Ingredients
1 cup RiceSelect Texmati Rice
2 tablespoons neutral oil such as safflower oil
1 cup chopped onion
2 cups chopped bok choy
1 tablespoon minced garlic
1 tablespoon minced ginger
1/4 cup white wine, vegetable stock or water
3 tablespoons of low-sodium soy sauce
1 tablespoon dark sesame oil
1 mango, peeled and diced
1/4 cup minced scallions or chopped cilantro
Instructions
Cook 1 cup of rice according to package directions and set aside. Add 1 tablespoon of oil to a wok and turn to high heat. One minute after turning on heat add onion and bok choy. Cook for about 5-10 minutes, until wilted. Remove vegetables to a bowl. Add 1 tablespoon of oil to the wok and add garlic and ginger. Heat for about a minute. Slowly add the cooked rice, breaking up clumps with a spoon. Add vegetables and stir around. Add wine and cook for about a minute. Add soy sauce and sesame oil. Stir to combine. Remove from heat. Add mango and top with scallions or cilantro.
7.8.1.2
25
http://veggingonthemountain.com/2016/06/mango-bok-choy-fried-rice/
Disclosure: This post is being sponsored by RiceSelect.  All thoughts and opinions are my own.