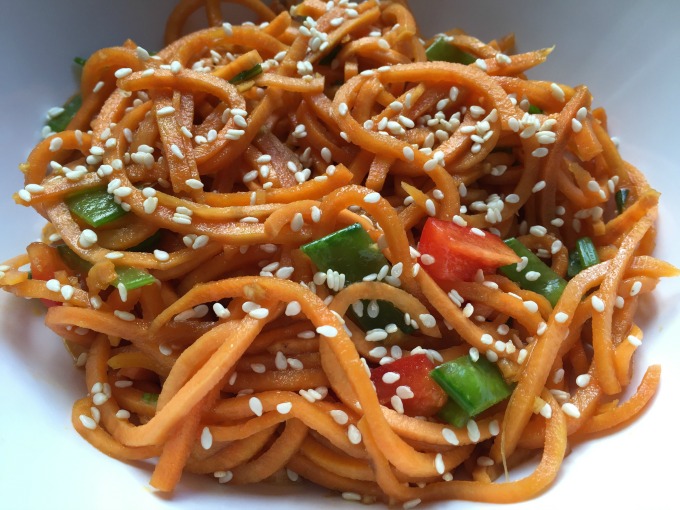 I used to get really depressed after summer at the thought of all my favorite local fruits and vegetables being done for the season like corn, peaches and strawberries.  But over the years I have come to look forward to fall produce, especially sweet potatoes.  If you typically think of sweet potatoes as something you only eat on Thanksgiving, let's work through that.  Sweet potatoes are so versatile and good for you.  If you have a spiralizer, these cold sesame sweet potato noodles are going to change your life.  My son had so much fun making this recipe and my daughter had so much fun eating it!
You start by spiralizing four medium sized sweet potatoes.  One of the most common questions I get is, which spiralizer do you recommend?  This is the one I have and love.  Like seriously love.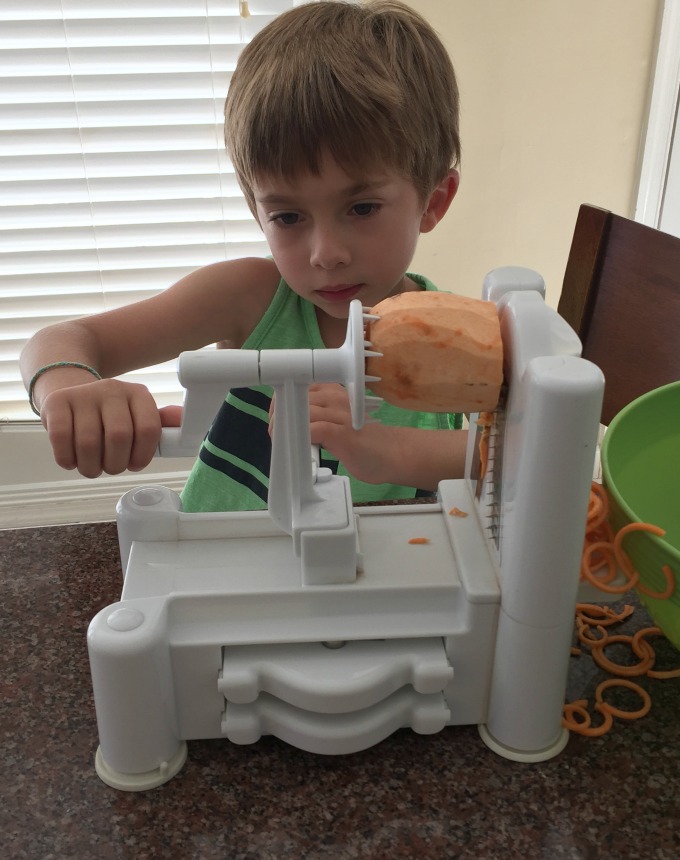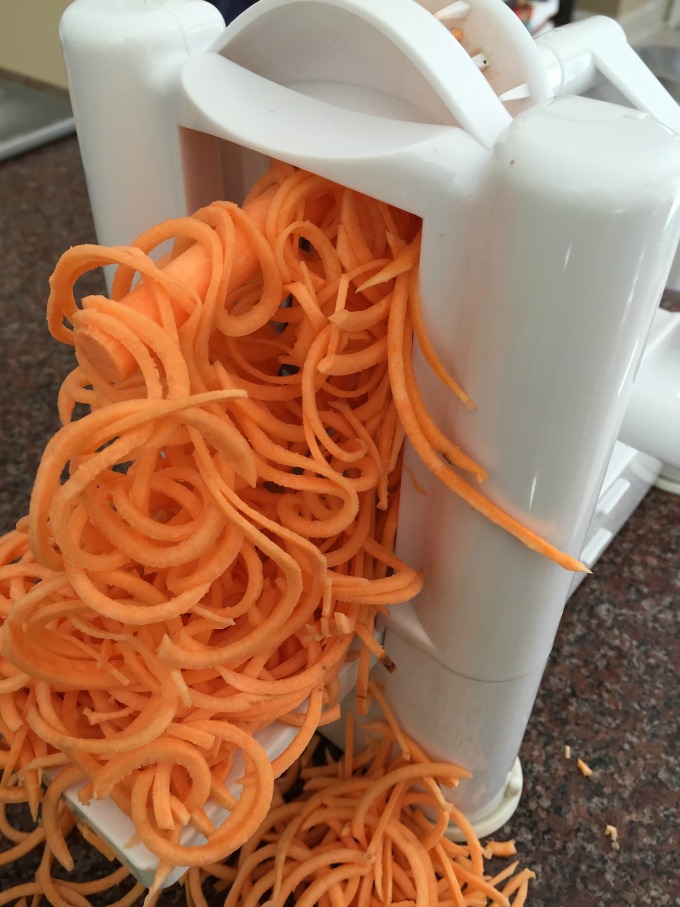 Sweet potato noodles are delicious raw like in this salad, but for this dish we wanted them softened slightly so I cooked them in a pan with olive oil for about four minutes.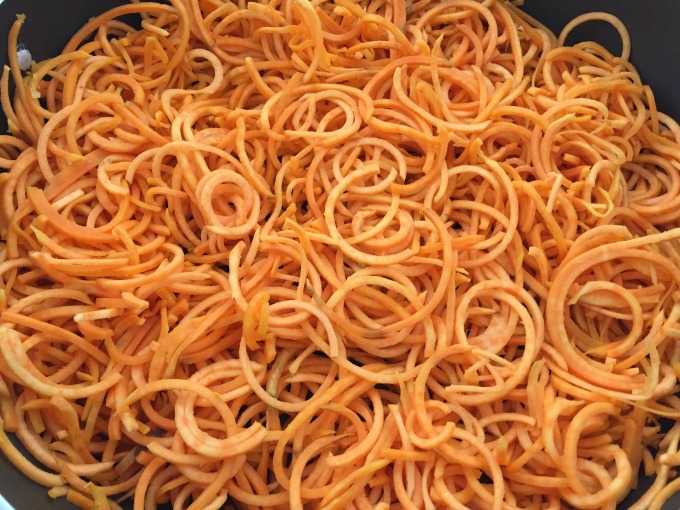 Next we made a simple dressing using the bottom part of our immersion blender.
When creating a recipe I try to think of ingredients that I know my kids like to ensure that they will eat it.  My daughter loves bell peppers and snow peas so that's what we used in this dish.  My son cut them up using his favorite knife.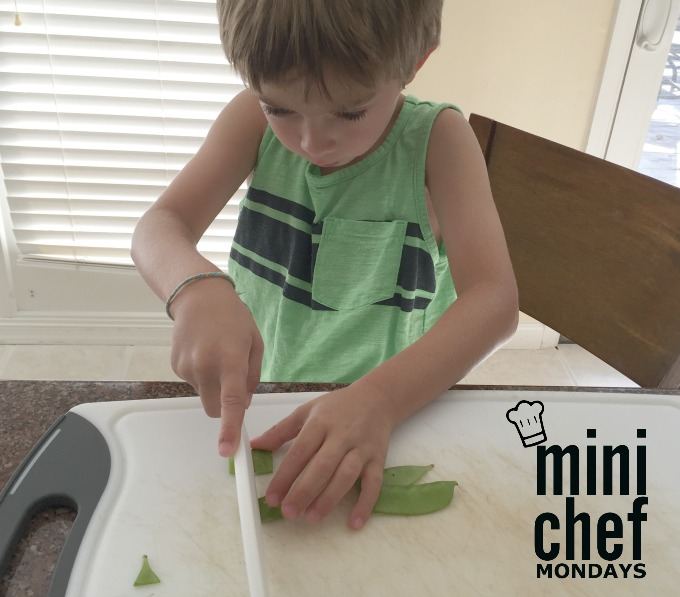 We tossed together the sweet potato noodles, cut up vegetables and sauce and the result was out of this world.  If you want to add some protein, edamame or cubed tofu would be great.  This recipe was such a big hit that it's going into the regular school lunch rotation!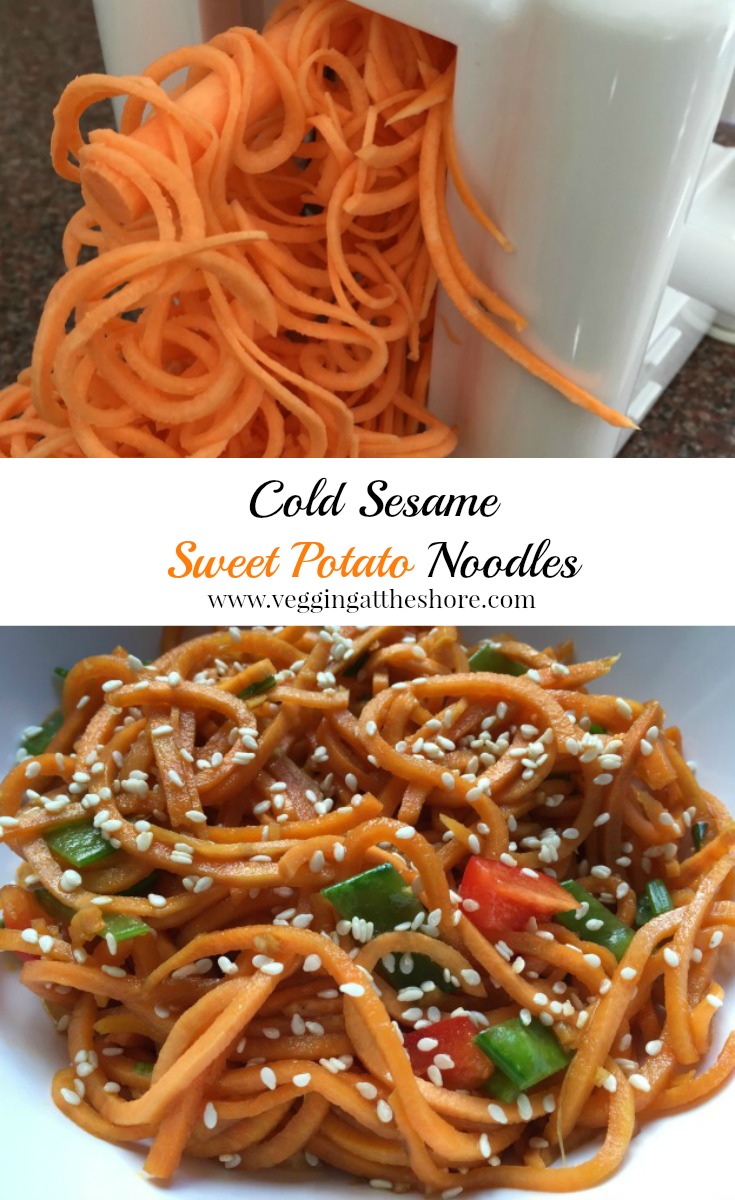 Cold Sesame Sweet Potato Noodles
Ingredients
4 medium sized sweet potatoes, peeled and end cut off
1 tablespoon olive oil
1/2 lb snap peas, ends cut off and sliced thin
1 bell pepper thinly sliced and slices cut into thirds
1/4 cup thinly sliced scallions
sesame seeds for sprinkling
1/4 cup low sodium soy sauce
1 garlic clove, minced
1 teaspoon minced ginger
1 tablespoon sesame oil
1 tablespoon agave nectar
1 tablespoon rice vinegar
optional protein: shelled edamame cooked or cubed tofu
Instructions
Make vegetable noodles by putting sweet potatoes through a spiralizer. Heat olive oil in a large saucepan over medium heat. Add sweet potato noodles and cook for about 4 minutes until just tender. Remove noodles to a large bowl and allow to cool.
Make sauce by combining soy sauce through rice vinegar in a blender. Adjust ingredients to taste. Add additional agave nectar if necessary.
Once noodles have cooled, add snow peas, bell pepper and scallion and optional protein. Add sauce and toss to combine. Spoon into bowls and sprinkle with sesame seeds.
7.8.1.2
55
http://veggingonthemountain.com/2016/09/cold-sesame-sweet-potato-noodles/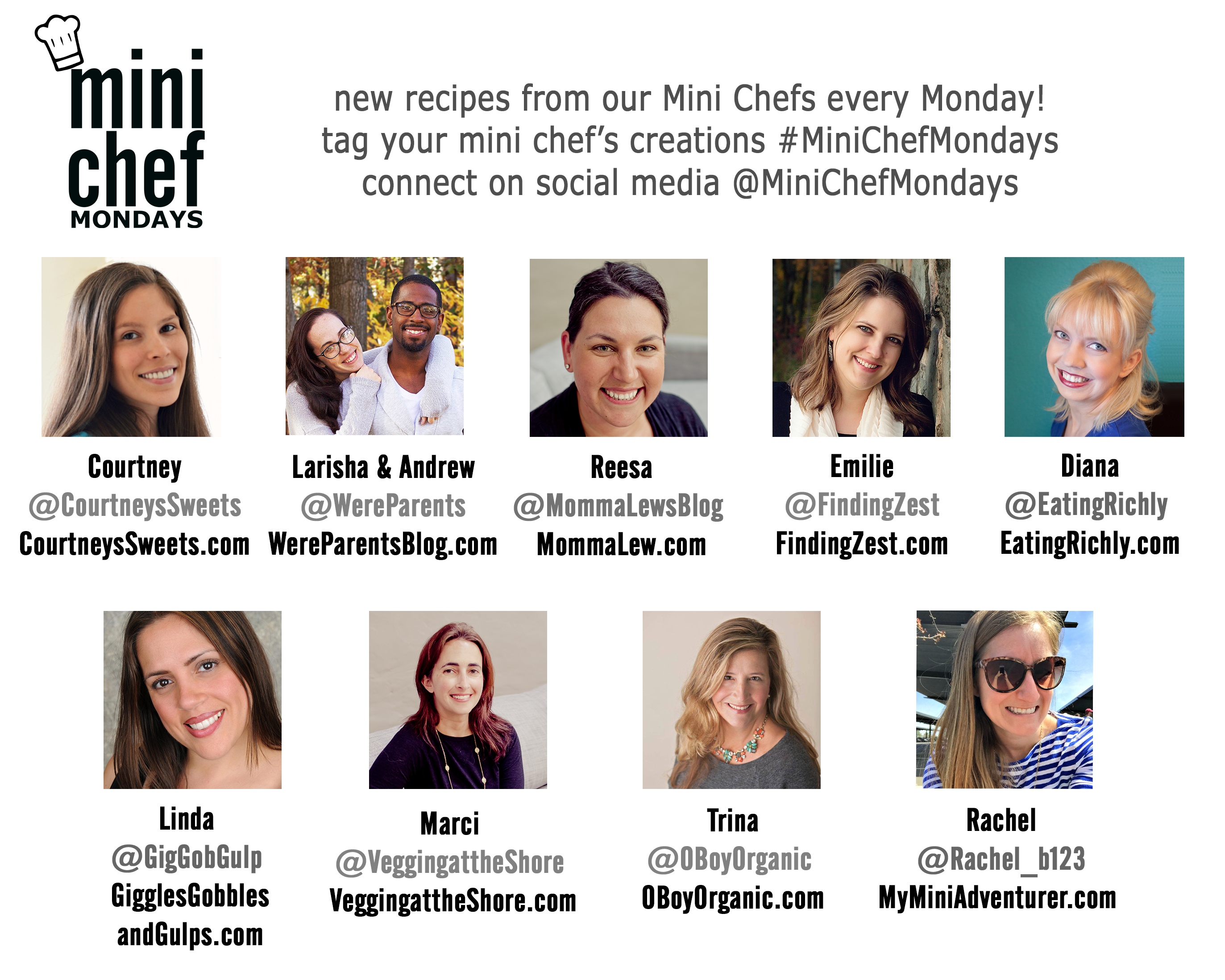 I am hosting Mini Chef Mondays along with 8 fabulous bloggers, find out more about the Mini Chef Mondays Team!
Join our facebook group to find even more recipes and share recipes too!
Join the Mini Chef Mondays newsletter to get the latest recipes delivered to your email each week! Don't worry, we will only use your email for Mini Chef Mondays recipes, pinky promise!
Get featured and follow us too!
Be sure to check out each of their Mini Chef posts as well!