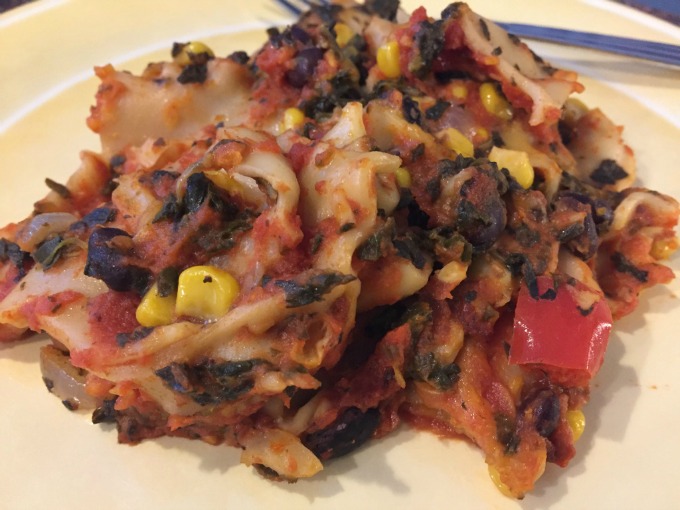 People comment frequently that my kids are good eaters.  I don't know what the secret is to that but I do know this, when they help me prepare a meal they are more likely to eat it.  Last week they helped me make this slow cooker pumpkin vegetarian lasagna after school and when we got home from karate at 5:30, they ran into the house and couldn't wait to have dinner.  They then proceeded to devour it.  My daughter asked if we could put it on the menu every week.  I have to agree with her that it was delicious and I already can't wait for us to make it again.
I prepared the vegetable mixture first by cooking an onion and bell pepper.  I then combined that with spinach, black beans and corn.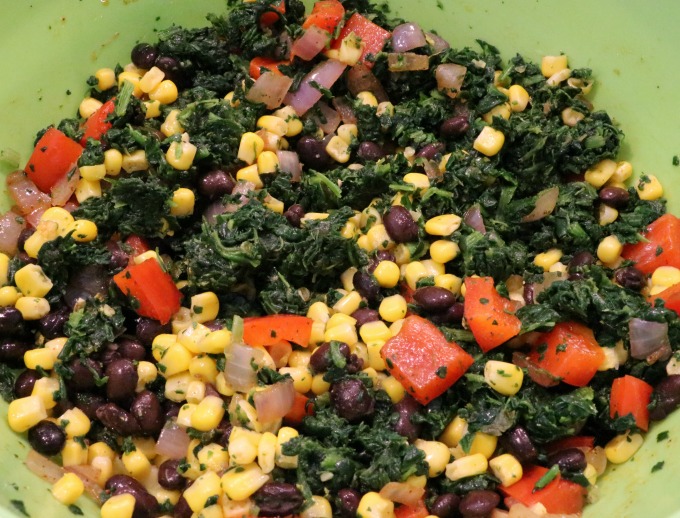 Next we prepared the sauce.  We used the same recipe for my pumpkin chipotle vegetable enchiladas. It requires no cooking, just combining the ingredients in a blender.  I'm not sure how old my kids will be before they stop covering their ears when the blender is on.  This sauce is so good and I'm not just saying that.  I always taste it and want to just keep eating it with a spoon.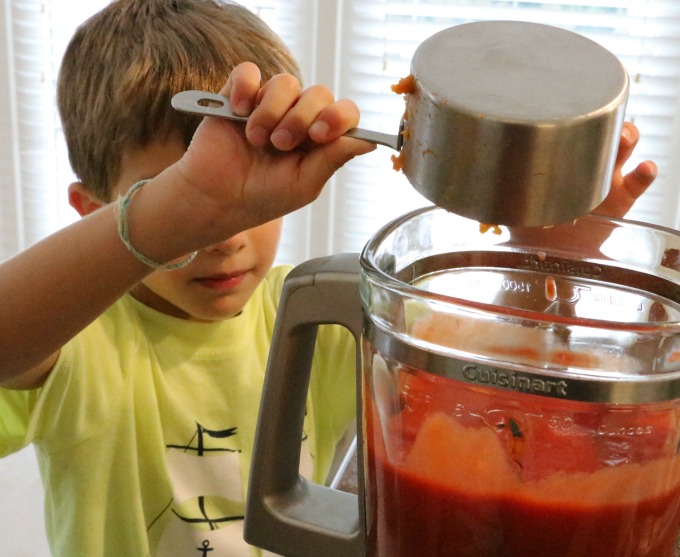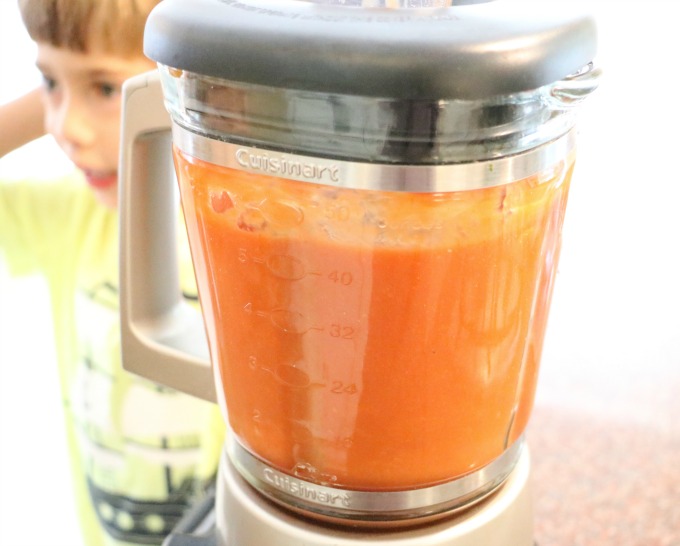 Once the vegetables and sauce are ready, you can start assembling the lasagna in the slow cooker.  The beauty of this is that you don't need to cook the noodles first.  I prefer regular lasagna noodles instead of no boil noodles.  They work perfectly.  You start with sauce on the bottom, followed by a layer of broken up noodles, the vegetable mixture, more sauce and cheese.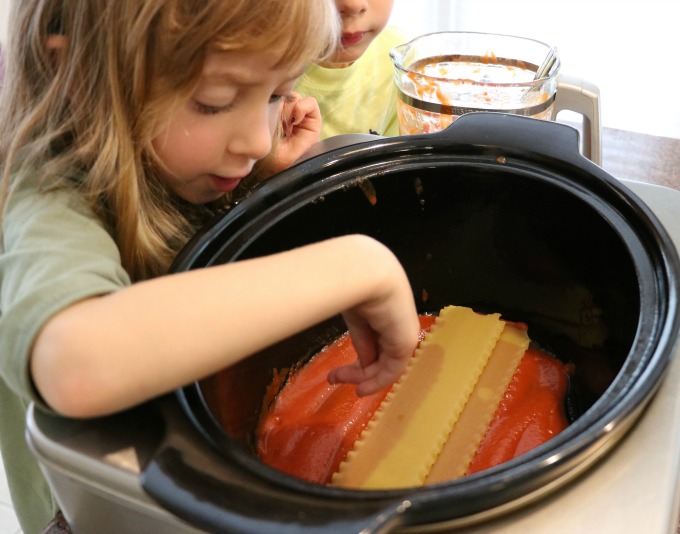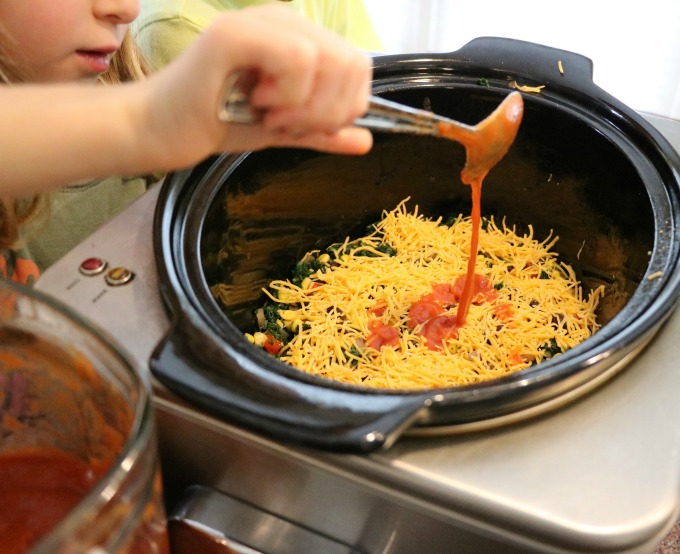 Most of the cheese made it into the slow cooker.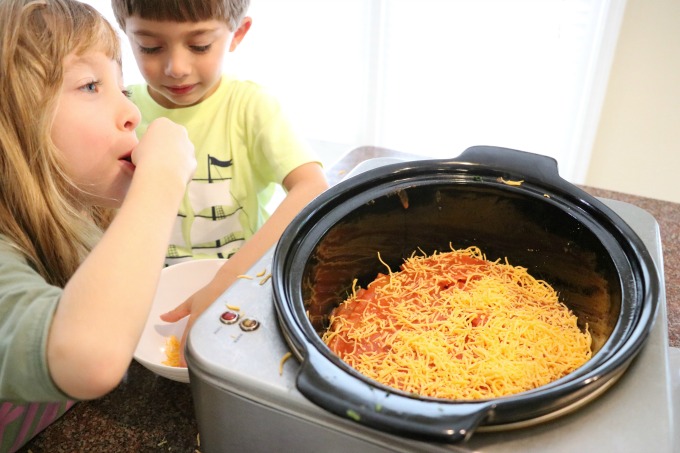 Cover the pot and let it cook for a few hours, depending on your slow cooker.  We cooked ours on high for 1 hour and low for 2 hours and it was perfect.  This is an easy weeknight dinner but would also be great for feeding a crowd.  If you are having friends over for Halloween before heading out trick or treating, this will be a major crowd pleaser!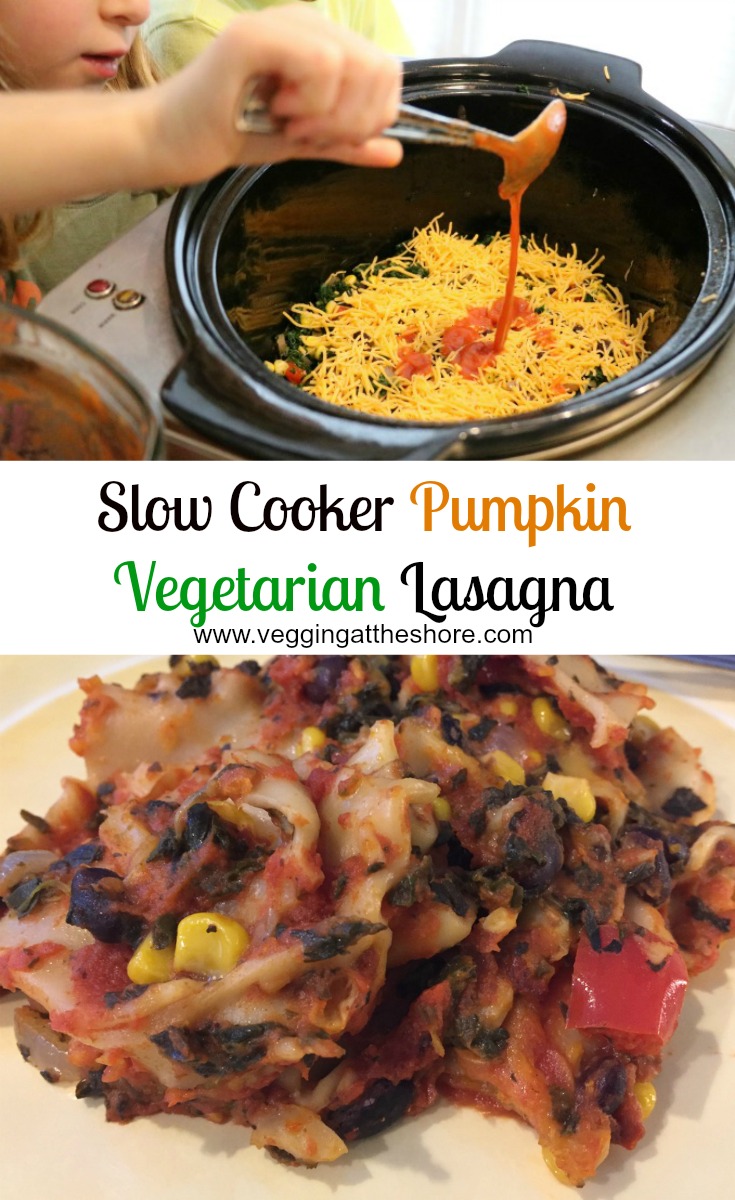 Slow Cooker Pumpkin Vegetarian Lasagna
Ingredients
1 tablespoon olive oil
1 bell pepper, seeds removed and cut into 1-inch pieces
1 small red onion, diced
1 teaspoon cumin
1/2 teaspoon salt
1 box frozen spinach, thawed and drained of moisture
1 15 oz can corn, drained and rinsed
1 15 oz can black beans, drained and rinsed
1 28 oz can tomato sauce
1 cup pumpkin
1/4 cup water
1 teaspoon ground chipotle powder or 1 canned chipotle pepper finely chopped
9 uncooked lasagna noodles
2 cups shredded cheddar cheese
Instructions
Heat oil in a skillet over medium heat. Add bell pepper and onion and cook for about 5 minutes, until softened. Add cumin and salt. Remove from heat.
In a bowl combine spinach, corn and beans. Add cooked vegetables and toss to combine. Set aside.
In a blender combine tomato sauce through chipotle pepper.
Spray the inside of a slow cooker with cooking spray. Spoon 1/4 of the sauce on bottom. Layer 3 pasta noodles. You will need to break them up to fit. Add half of vegetable mixture and spread over noodles. Add another 1/4 of sauce and sprinkle 1/3 of cheese. Repeat with another layer of noodles, rest of vegetable mixture, sauce and cheese. Top with another layer of noodles, rest of sauce and rest of cheese. Cook according to your slow cooker settings. I cooked mine on high for 1 hour and low for 2 hours.
7.8.1.2
58
http://veggingonthemountain.com/2016/10/slow-cooker-pumpkin-vegetarian-lasagna/
I am hosting Mini Chef Mondays along with 5 fabulous bloggers, find out more about the Mini Chef Mondays Team!
Join our facebook group to find even more recipes and share recipes too!
Get featured and follow us too!
Be sure to check out each of their Mini Chef posts as well!