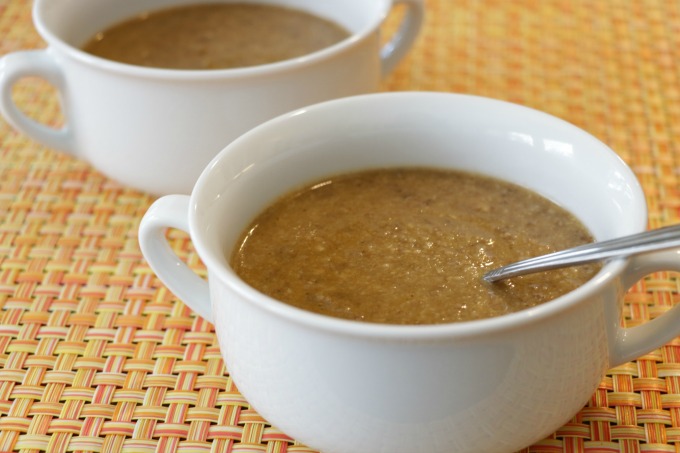 We considered naming this recipe cream of mushroom soup but decided against it for several reasons, mostly because there is no cream in this soup!  We made it creamy without cream and to find out how, you will need to read on.  Also, cream of mushroom soup conjures up images of canned soup and this soup is nothing like canned soup.  It is easy to make, delicious and healthy!
My mini chefs helped chop the mushrooms using their favorite knives.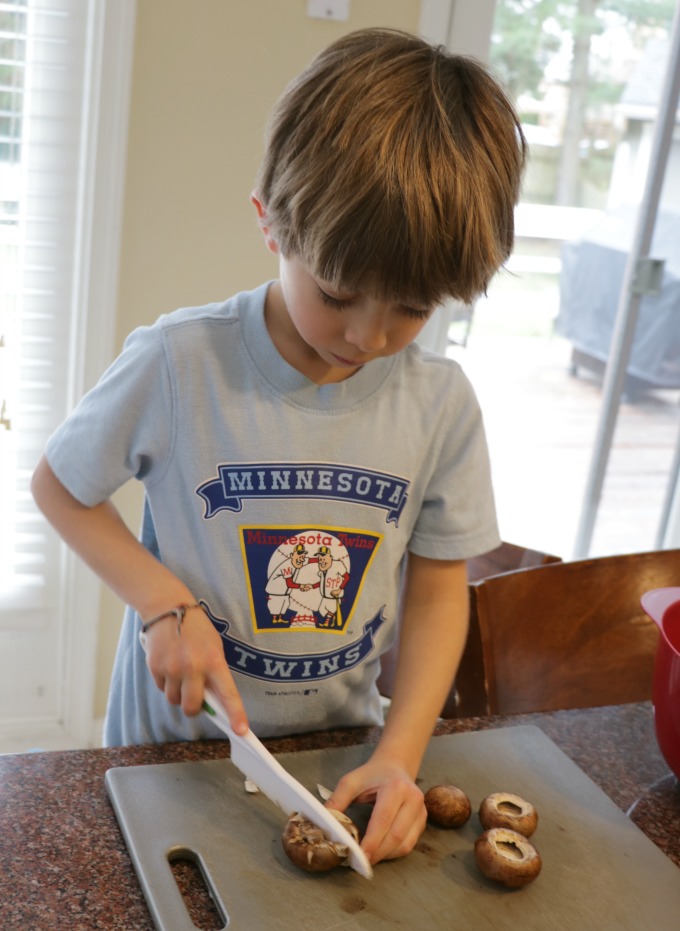 We sauteed the mushrooms and after about ten minutes added garlic and shallots.  People ask me all the time about cooking with kids and what they can do.  At six, my kids recently started cooking on the stovetop.  They are old enough at this stage to understand safety and the importance of not touching an open flame.  I wouldn't let them do this unsupervised but it works really well with me by their side and they enjoy the increased level of responsibility.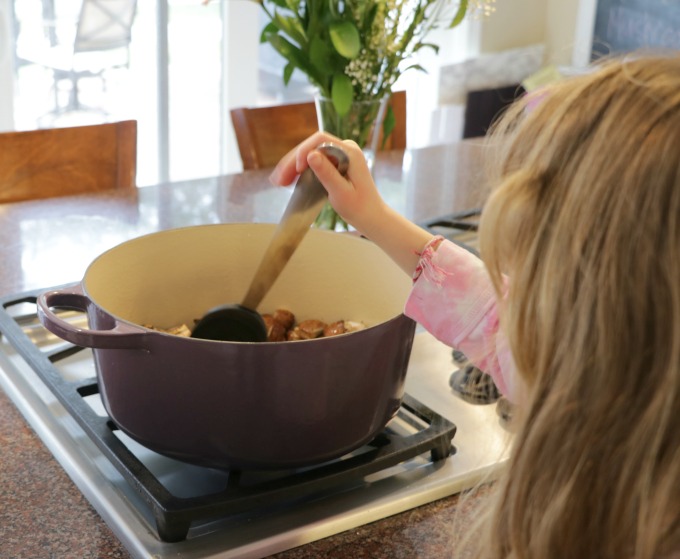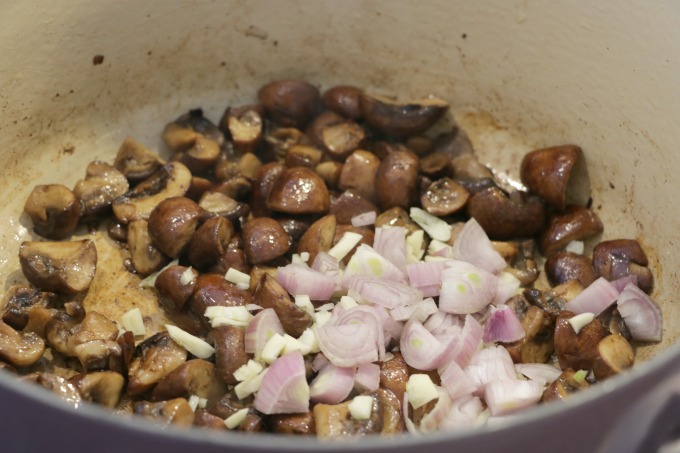 We added vegetable broth and then our secret ingredient…bread.  Torn pieces of bread absorb the liquid and give the soup a creamy texture without adding cream.  We got to use our favorite kitchen gadget, the immersion blender. If you don't have one, it's the best for pureeing soup.  You'll never transfer hot soup to a blender again.
My family skis most weekends during the winter.  This past weekend was unseasonably warm so after a morning of skiing, we put on our snowshoes and hiked up to a beautiful lunch spot.  I packed mushroom soup in our thermos's and it was just perfect!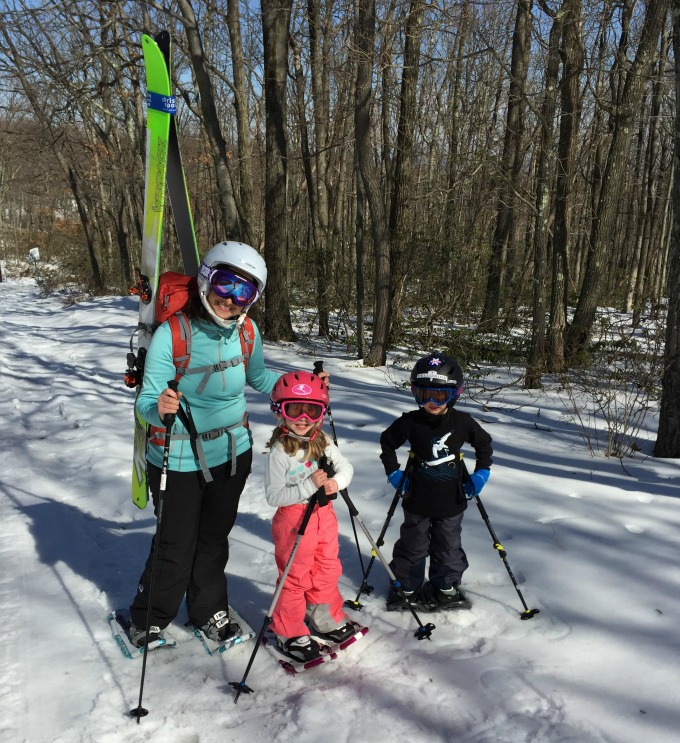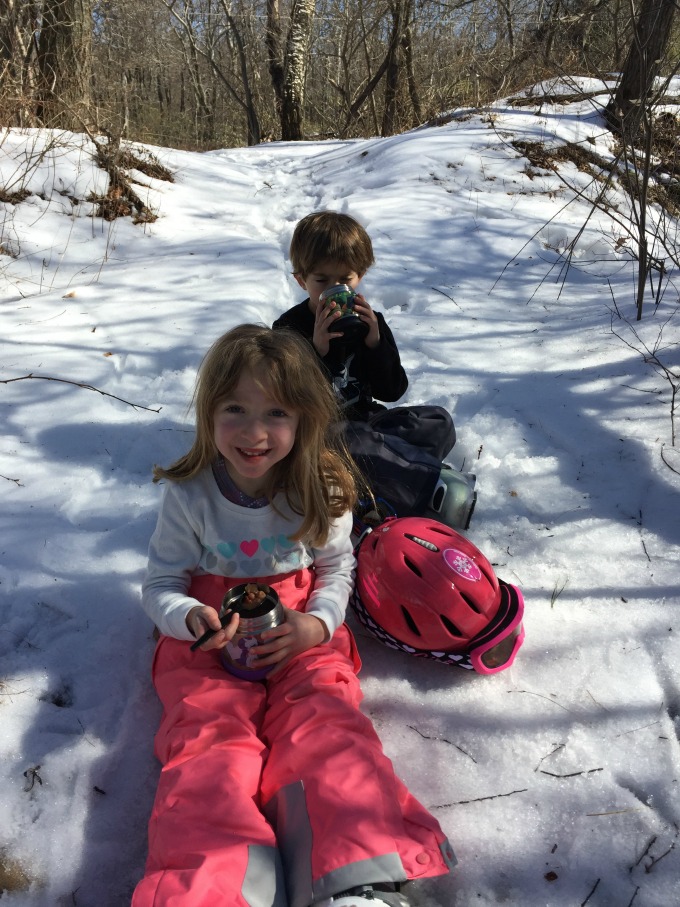 If you want a quick and healthy soup to warm up with, this creamy mushroom soup is it!

Creamy Mushroom Soup
Ingredients
2 tablespoons olive oil
2 tablespoons unsalted butter
1 lb cremini mushrooms, cleaned and roughly chopped
¼ cup chopped shallots
2 garlic cloves, minced
1 teaspoon salt
½ teaspoon pepper
½ teaspoon dried tarragon
½ teaspoon dried thyme
4 cups vegetable broth
2 pieces whole wheat bread, crusts removed and torn into large pieces
salt and pepper to taste
Instructions
Heat oil and butter in a heavy saucepan over medium heat. Add mushrooms and stir to coat. Cook mushrooms for about 10 minutes, until liquid has been released. Add shallots and garlic. Cook for a minute. Add salt, pepper, tarragon and thyme followed by vegetable broth. Bring to a boil and then reduce to a simmer. Add bread and cook for 10 minutes, until bread has absorbed liquid. Remove from heat. Puree soup using an immersion blender. If you do not have an immersion blender, carefully transfer soup to a blender in batches and blend. Season to taste with salt and pepper.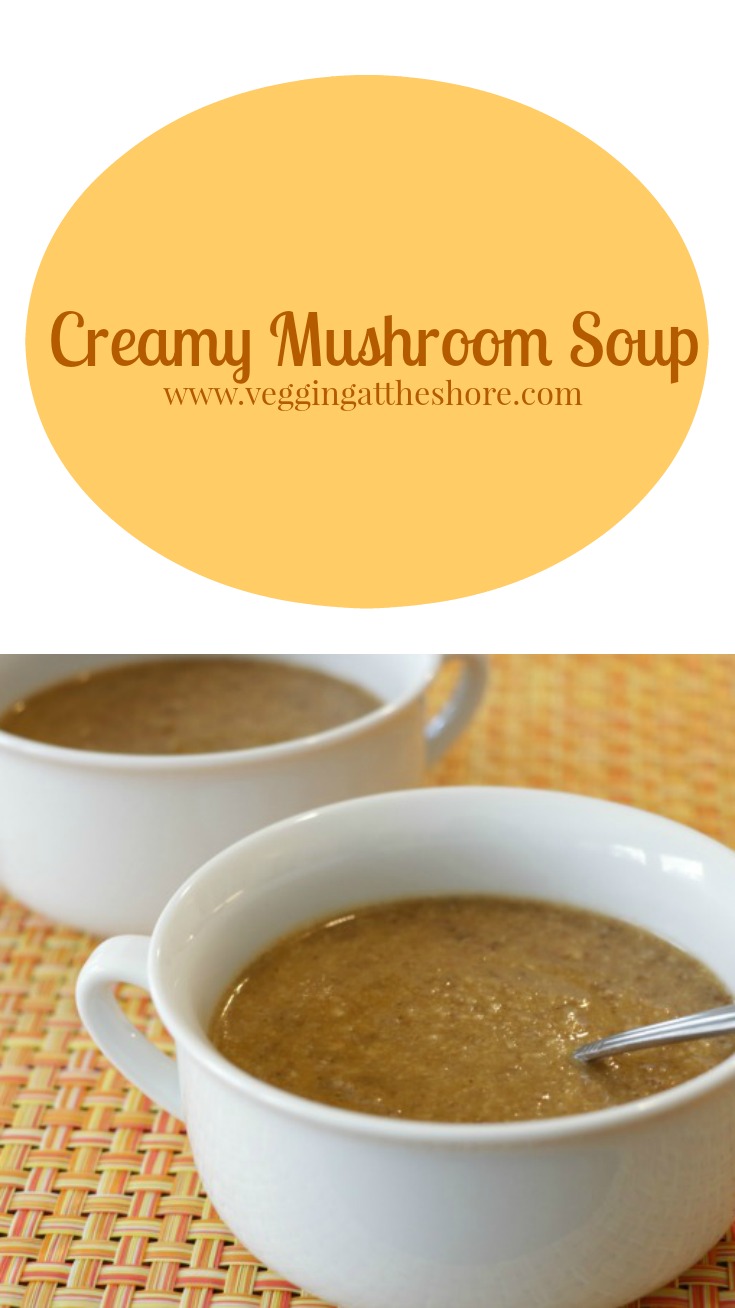 I am hosting Mini Chef Mondays along with 4 fabulous bloggers, find out more about the Mini Chef Mondays Team!
Join our facebook group to find even more recipes and share your own recipes!
Get featured and follow us too!
Be sure to check out each of their Mini Chef posts as well!