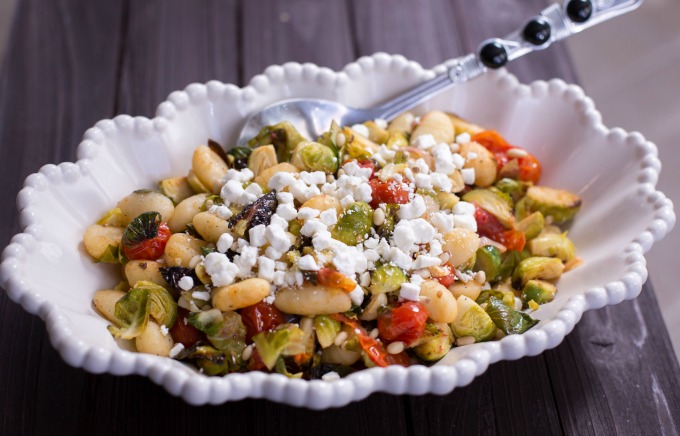 Hosting a holiday dinner can be stressful.  First, you need to plan a menu that will meet everyone's dietary needs.  Second, you need to make sure your menu is balanced in terms of how long it's going to take you to prepare everything.  This recipe for roasted gnocchi, brussels sprouts and tomatoes is great for so many reasons.  It's vegetarian and will be pleasing to both vegetarians and meat-eaters. Also, it takes minutes to get in the oven and only involves one bowl.  The taste is sensational and your guests will think you spent hours in the kitchen.  It pairs great with Wente Vineyards wine, helping you to have an easy, stress-free holiday gathering!
To start this recipe you toss together brussels sprouts, tomatoes, gnocchi (uncooked, that's the beauty of this recipe), lemon juice, olive oil and seasoning.  Spread that out on a parchment-lined baking sheet and cook for twenty minutes.  It doesn't get much easier than that.  After it cools a bit, top it with some toasted pine nuts and crumbled goat cheese.
I paired this dish with Wente Vineyards Sauvignon Blanc.  Wente Vineyards has been producing handcrafted fine wines since 1883 and is currently owned and operated by a fifth generation winemaker.  Their wines have received many awards including the recent Wine Enthusiast score of 90 points for the 2014 Wente Vineyards Morning Fog Chardonnay.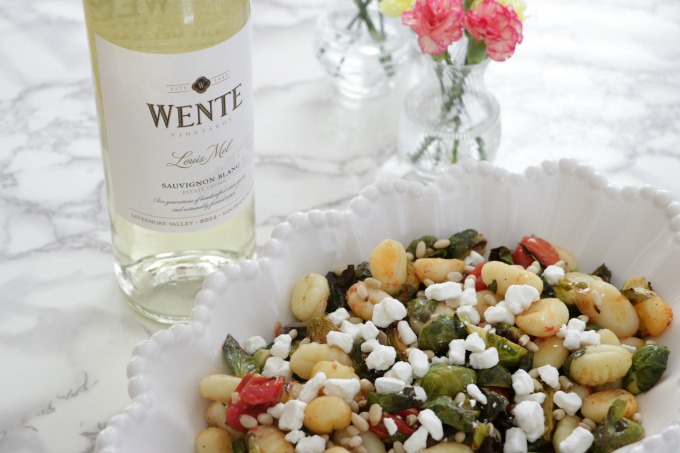 Wente Vineyards wine will be the perfect complement to your thoughtfully prepared holiday meal and also makes a perfect hostess gift if you are invited to someone's house.  Go online to purchase wine so you are prepared this holiday season.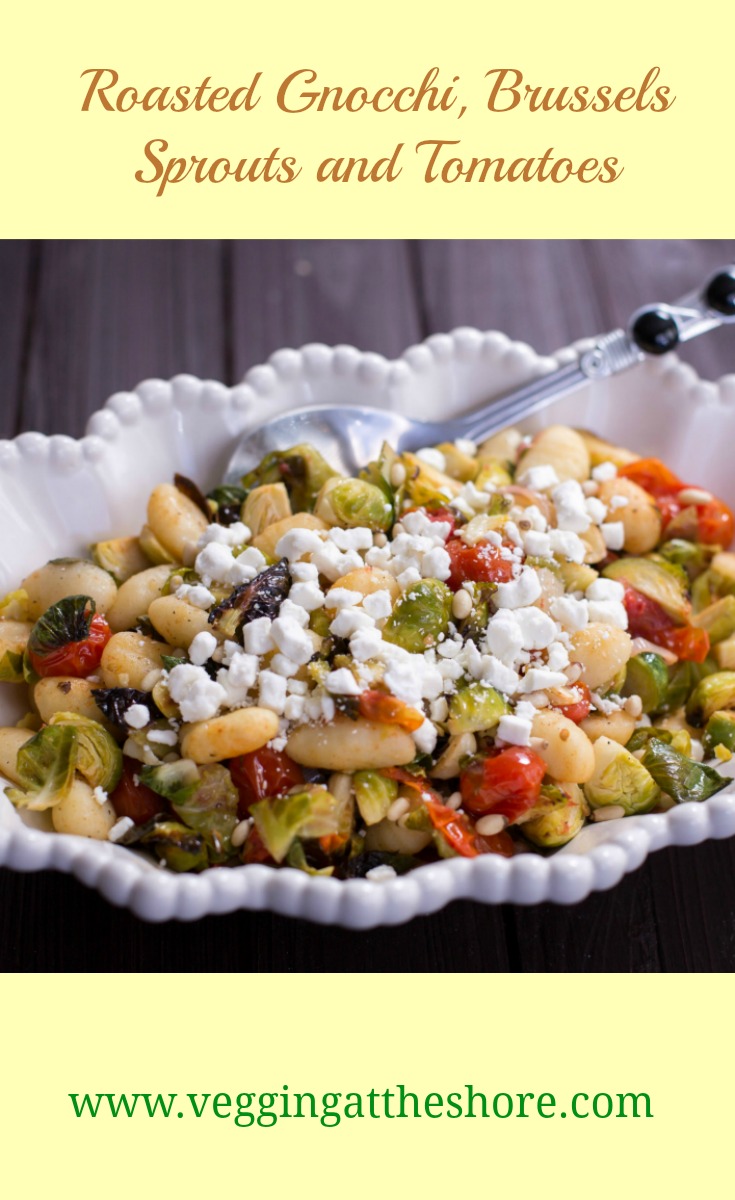 Roasted Gnocchi, Brussels Sprouts and Tomatoes
Ingredients
1 pound brussels sprouts, trimmed and halved or quartered depending on size
2 cups grape tomatoes
1 16 oz package shelf-stable gnocchi
2 shallots, thinly sliced
juice of 1 lemon
3 tablespoons extra virgin olive oil
1/2 teaspoon kosher salt
1/4 teaspoon freshly ground pepper
1/4 cup toasted pine nuts
1/2 cup crumbled goat cheese
Instructions
Preheat oven to 425. Toss together brussels sprouts through pepper. Spread on a parchment lined baking sheet. Cook for 25 minutes. Let cool slightly. Pour mixture into a bowl and top with toasted pine nuts and goat cheese.
7.8.1.2
74
http://veggingonthemountain.com/2016/11/roasted-gnocchi-brussels-sprouts-tomatoes/