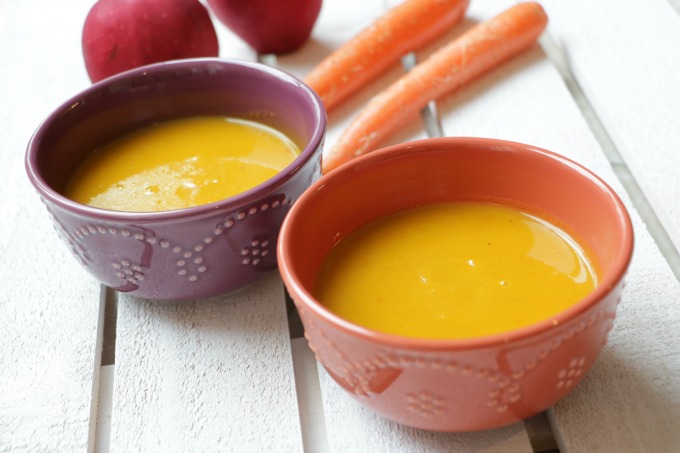 Soup season is all year long in my house.  It's great for lunch or dinner alongside grilled cheese.  My daughter loves taking it to school for lunch and it's easy to pack in a thermos when we go on weekend adventures.  Butternut squash soup is a favorite with my family.  Adding carrots and apples gives it even more nutritional value and adding one of my favorite spices, turmeric, gives it even more flavor. This soup cooks very quickly and freezes beautifully.  What more could you want?  Oh yeah, and it's delicious!
You start by getting all of your ingredients prepped.  If you buy pre-cut butternut squash, I encourage you try buying a whole one.  Cut off the ends, peel it, scoop out the seeds and chop it.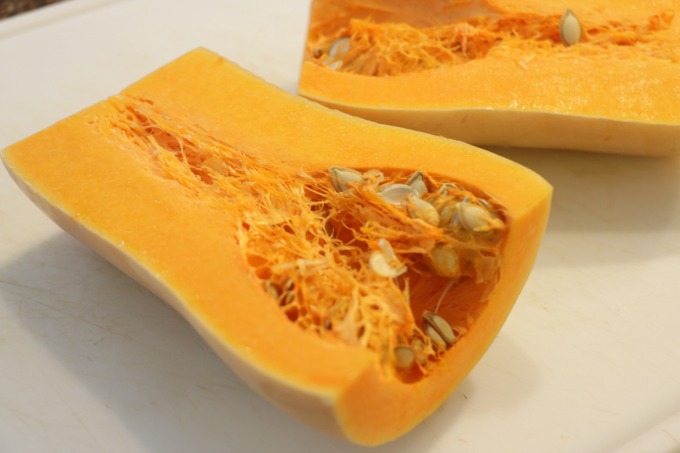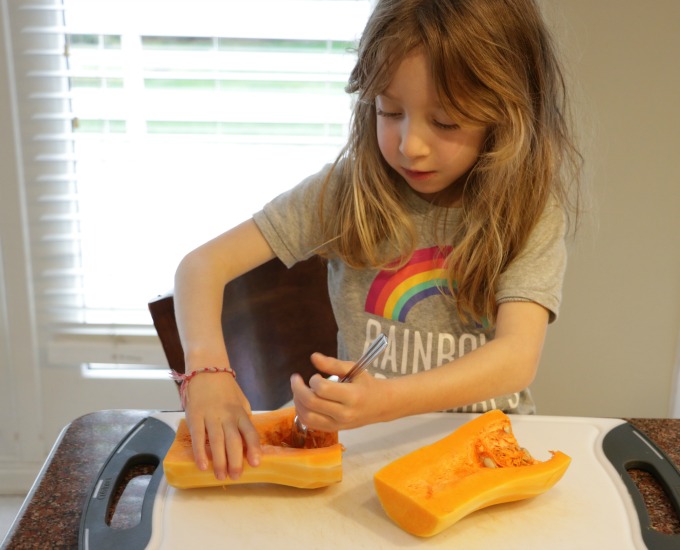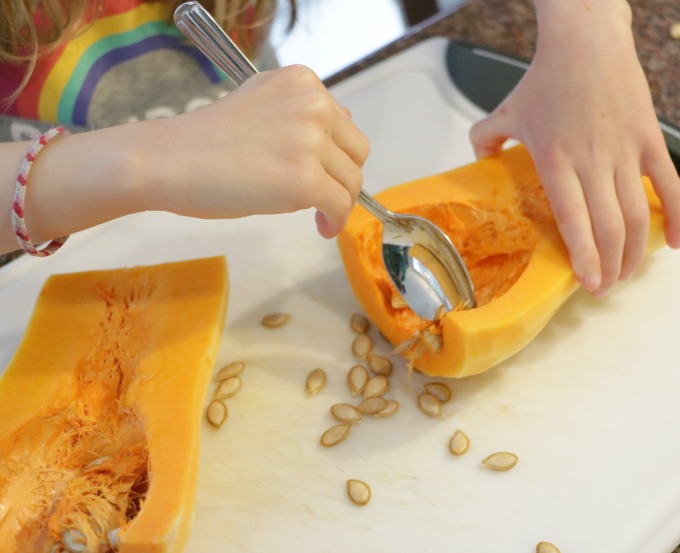 In addition to squash, you also want to chop up some apples and carrots.  Kids love using these knives.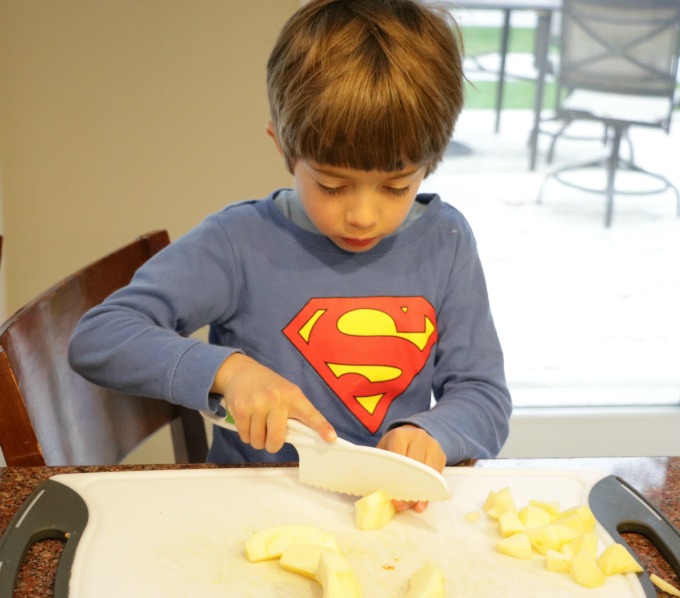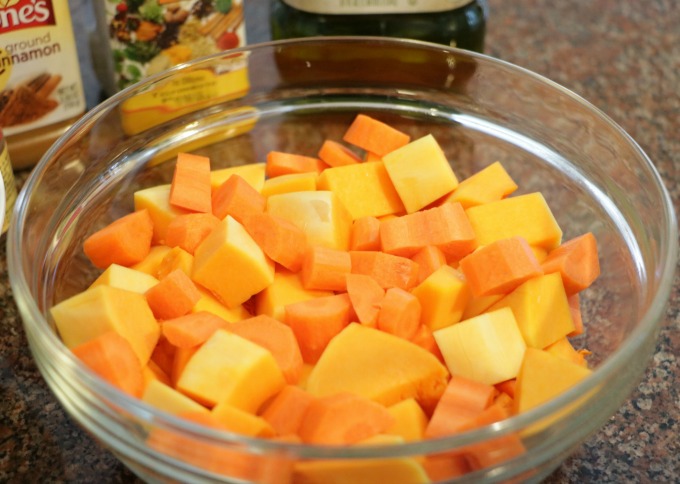 Once all of your ingredients are chopped, the soup comes together very quickly.  Cook onion and garlic in olive oil for a few minutes.  Add ginger and some spices and let that cook for another minute.  Then add the squash, carrots, apples and broth.  That will cook for about 25 minutes and then be ready to be pureed.  If you don't have an immersion blender, I highly recommend getting one.  No need to burn yourself transferring the hot soup to blender.
This soup is vegan.  It's really creamy without any dairy.  It's healthy and full of healthy ingredients. Farmers market season is kicking off here in New Jersey this weekend.  Look for these ingredients at your local farmers market and make a batch of this delicious soup!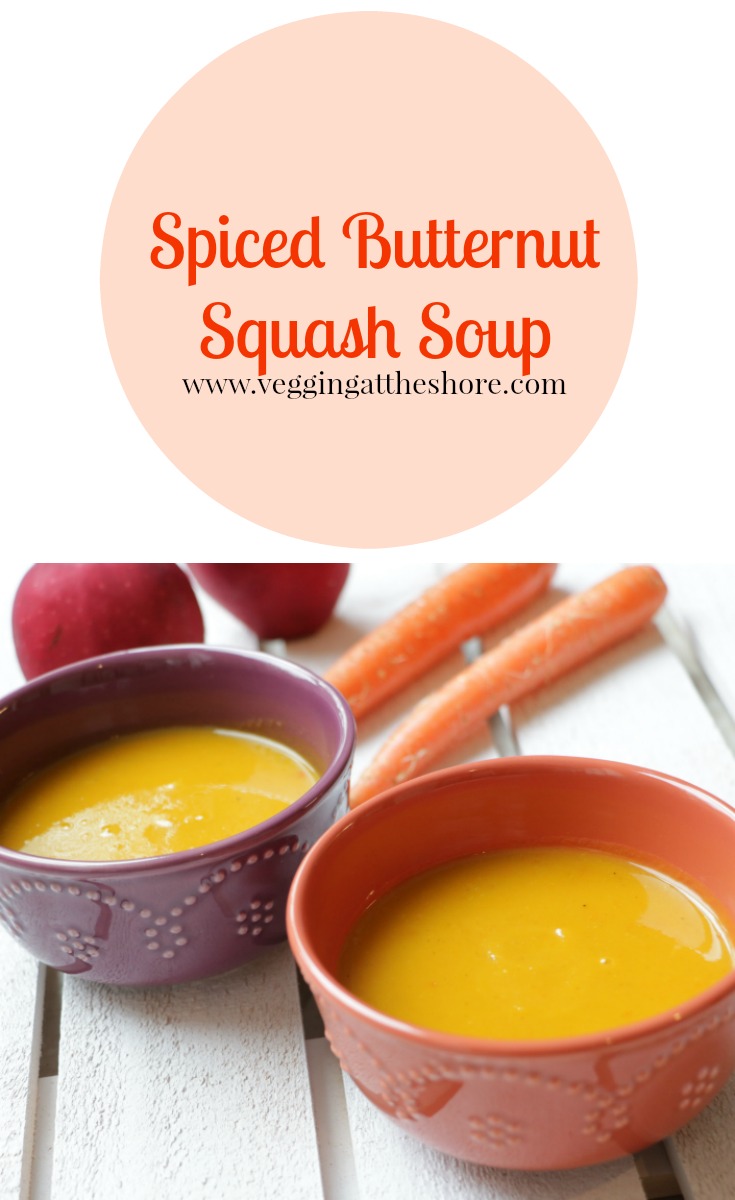 Spiced Butternut Squash Soup
Ingredients
2 tablespoons olive oil
1 onion, chopped
2 garlic cloves, minced
1 inch fresh ginger, grated
1/2 teaspoon turmeric
1/8 teaspoon cinnamon
dash ground cloves
2 carrots, peeled and chopped
1 apple, peeled, quartered and chopped
4 cups chopped butternut squash
4 cups vegetable broth
salt and pepper to taste
Instructions
Heat olive oil in a soup pot over medium heat. Add onion and garlic and cook until tender, about 5 minutes. Add ginger, turmeric, cinnamon and cloves and cook until fragrant, about 1 minute. Add carrots, apple, squash and broth. Bring to a boil , cover partially and reduce to a simmer. Season with salt and pepper.
Cook until vegetables are tender, 20-30 minutes. Let cool slightly.
Puree with an immersion blender or carefully transfer to a blender. Adjust seasoning.
Notes
Adapted from Whole Living
7.8.1.2
96
http://veggingonthemountain.com/2017/04/spiced-butternut-squash-soup/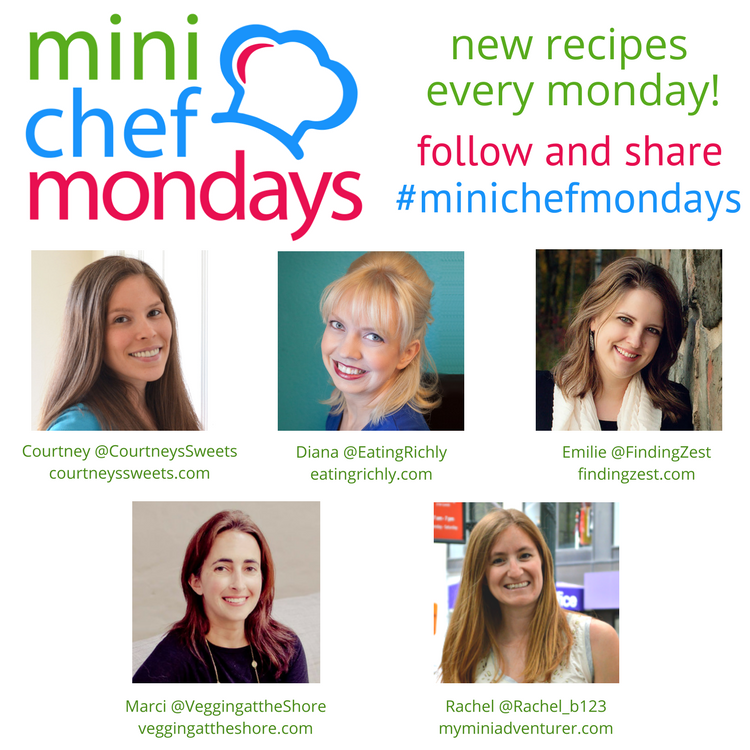 I am hosting Mini Chef Mondays along with 4 fabulous bloggers, find out more about the Mini Chef Mondays Team!
Join our facebook group to find even more recipes and share your own recipes!
Get featured and follow us too!
Be sure to check out each of their Mini Chef posts as well!