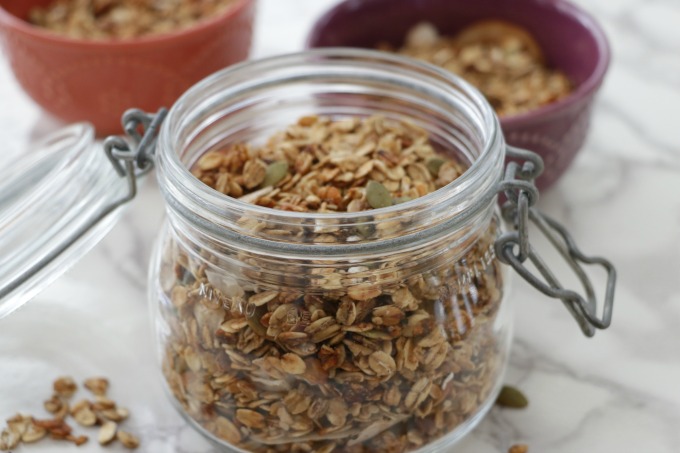 No oven?  No problem.  I've been without a working oven for a few weeks and surprisingly I'm managing just fine.  Between a toaster, stovetop, grill and slow cooker, I'm actually not missing my oven all that much, except for when my son requested Seven Layer Dip Pizza and I remembered that I couldn't fit my pizza stone in the toaster.  We've been wanting to come up with a new granola recipe for awhile.  While we love our pumpkin granola recipe, we wanted something even healthier, without oil.  We experimented with granola in the slow cooker and it came out great!  We all enjoy granola for breakfast during the week with milk or yogurt.  We made a huge batch on Sunday and now we are all set for the week.
You start by combining the dry ingredients in a slow cooker.  This recipe is pretty forgiving.  Keep the oats to wet ingredients ratio but feel free to experiment with nuts, seeds, spices and other flavorings.  I had some hemp hearts in the cabinet so we added 1/4 cup for protein and fiber.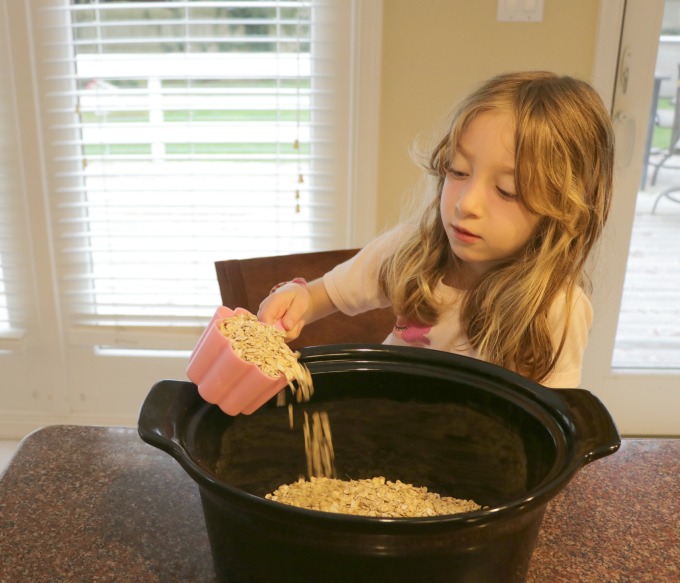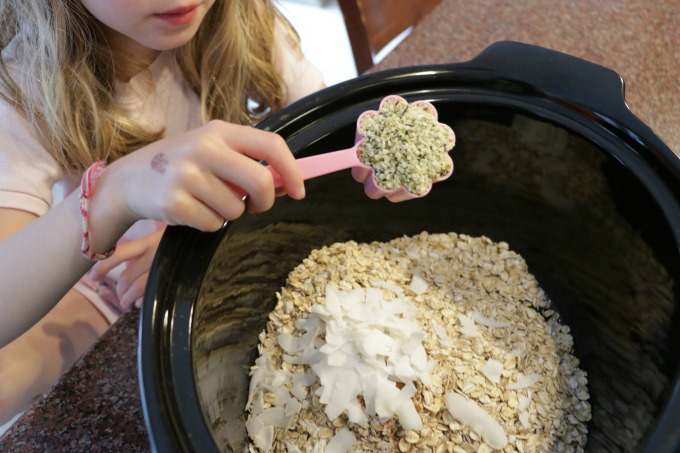 Then you add the wet ingredients.  For wet ingredients we kept it very simple and clean with just applesauce and syrup.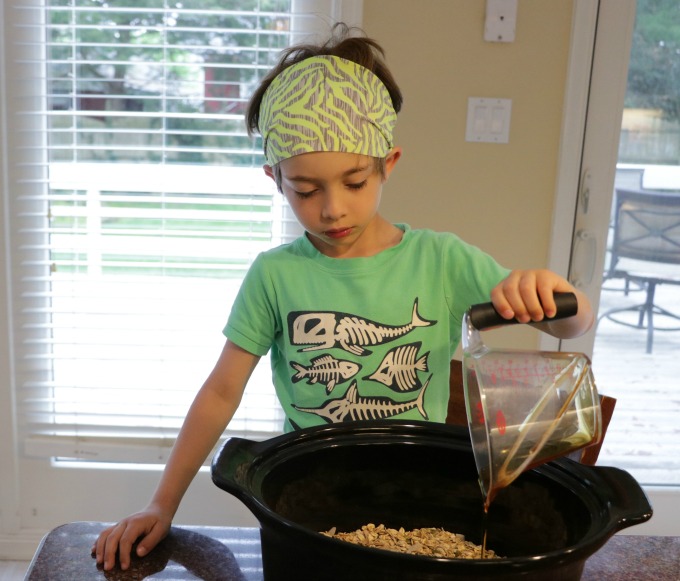 Give that a good stir and then turn the slow cooker to high for two hours, stirring every half hour.  The key to this recipe is not covering the slow cooker all the way.  Keep the lid slightly ajar and make sure to stir often.  We set a timer for this so we wouldn't forget.  This granola came out so good that I might not go back to making it in the oven.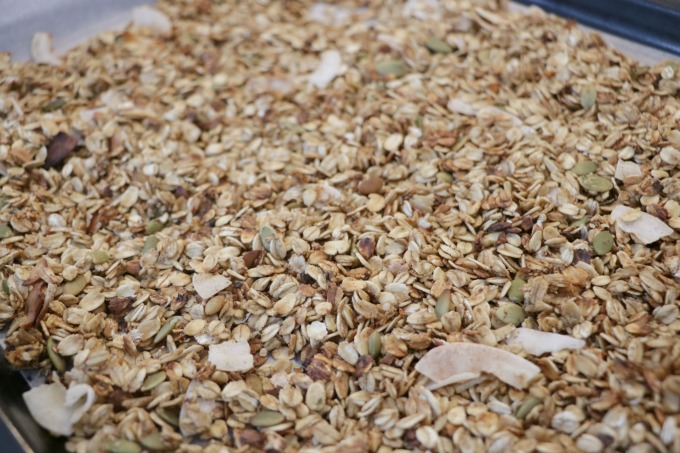 Healthy Slow Cooker Granola
Ingredients
4 cups old fashioned oats
1/2 teaspoon salt
1 teaspoon cinnamon
1/2 cup large coconut flakes
1/4 cup hemp hearts
1/4 cup pepitas
1/2 cup maple syrup
1/2 cup unsweetened applesauce
Instructions
Combine dry ingredients (oats through pepitas) in a slow cooker. Add syrup and applesauce. Store to combine. Cook on high for 2 hours partially covered, stirring every 30 minutes. After 2 hours spread granola out on 2 baking sheets to cool and crisp.
7.8.1.2
97
https://veggingonthemountain.com/2017/05/healthy-slow-cooker-granola/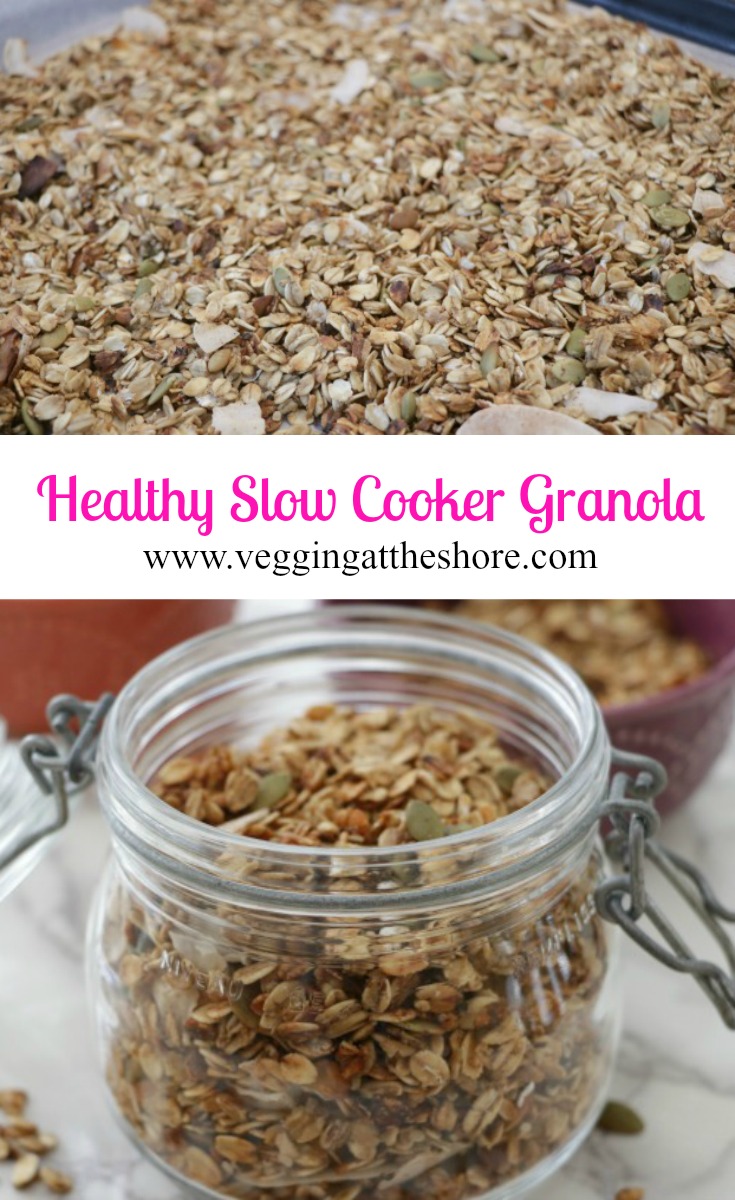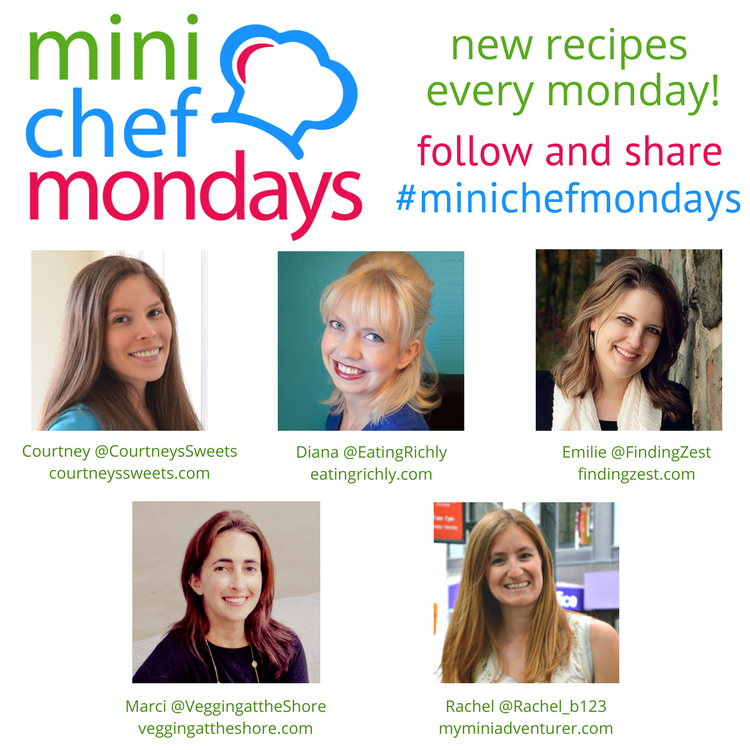 I am hosting Mini Chef Mondays along with 4 fabulous bloggers, find out more about the Mini Chef Mondays Team!
Join our facebook group to find even more recipes and share your own recipes!
Get featured and follow us too!
Be sure to check out each of their Mini Chef posts as well!