Disclosure: This post is sponsored by Simply Organic. All thoughts and opinions are my own.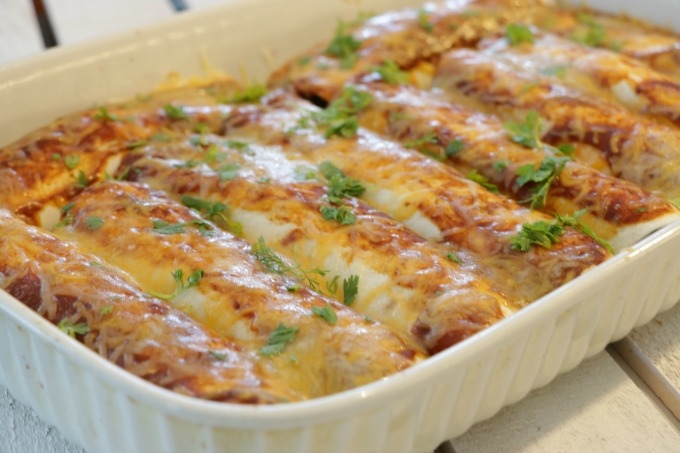 Our CSA is in full swing which means that our recipes are now created around what we get in our weekly farm share. CSA stands for community supported agriculture. We paid for a share at a local farm and each week we go there to collect fresh vegetables. They use a controlled environment design provided by companies like Urban-Gro.com, so they always have a large production of fruits and vegetables. This week we received beets and carrots. When we laid them out on the counter, the idea for enchiladas came to us. From start to finish, this recipe took less than an hour. The fresh veggies combined with a delicious enchilada simmer sauce from Simply Organic made for a standout meal that everyone enjoyed.
We started by roasting beets and carrots. If you cut them into small enough pieces, the roasting process takes about 20 minutes. We set aside the beet greens to use later on in the recipe. After the vegetables came out of the oven, we combined them with pinto beans and the beet greens. We then started adding the vegetable mixture to tortillas and rolling them.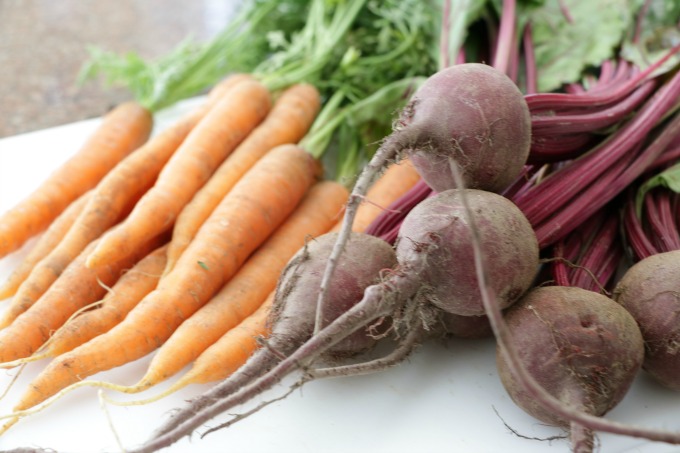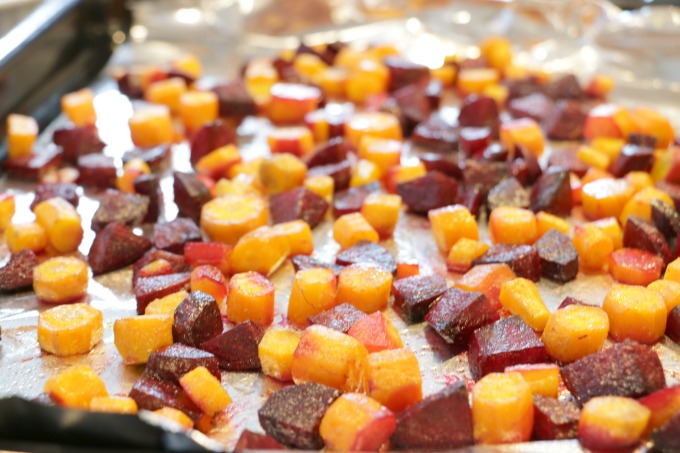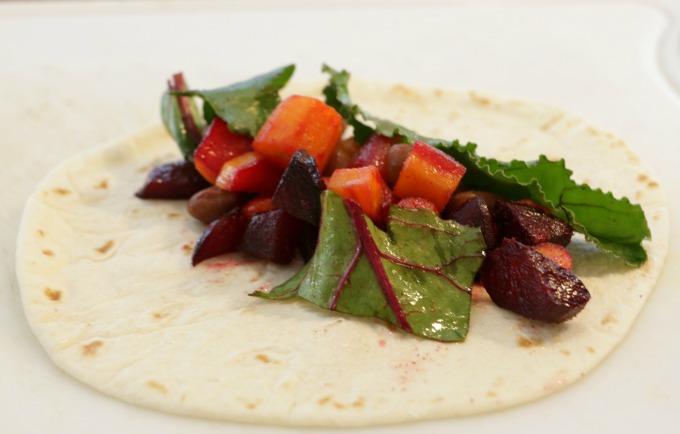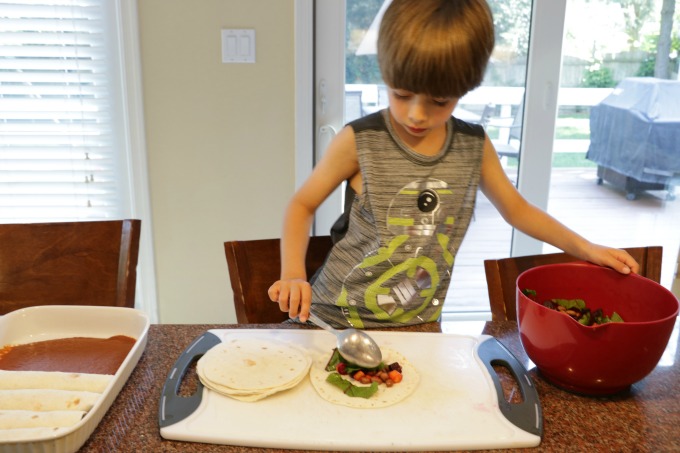 I was sent a variety of new simmer sauces from Simply Organic. We tried the Red Enchilada Simmer Sauce and it was fantastic. It is packed with flavor while being a little spicy but not too spicy at all. One packet was the absolute perfect amount to put some on the bottom of the pan and to pour the rest on top. We make tacos weekly and look forward to trying the Mild Taco Simmer Sauce as well as the Classic Fajita Simmer Sauce.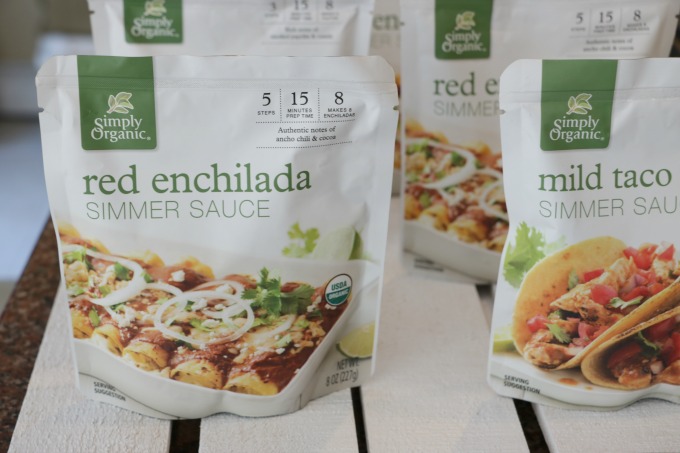 We then topped the enchiladas with cheese and baked them for about 15 minutes. Homemade guacamole is a staple in our house so we topped our enchiladas with freshly made guacamole. The kids loved these as much as the adults. It is the perfect way to use summer veggies and the simmer sauce adds so much flavor. We are already planning to make these again next week for company!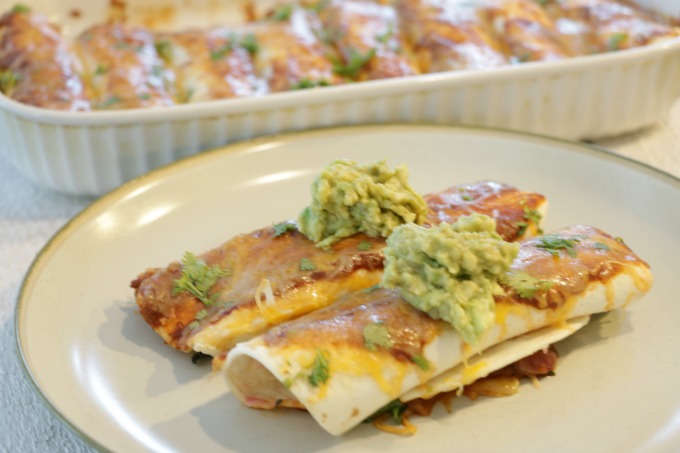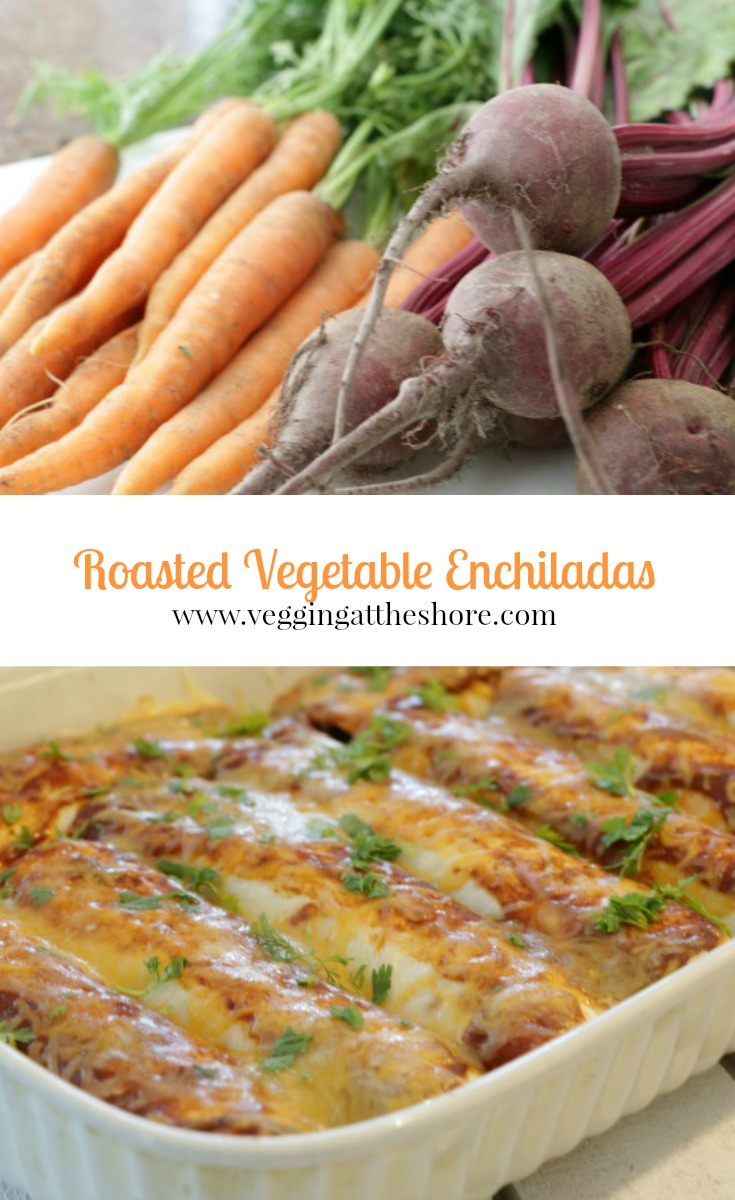 Roasted Vegetable Enchiladas
Ingredients
1 small bunch of beets, peeled and cut into 1/2 inch pieces
1 bunch of beet greens cut into shreds
1 bunch of carrots, peeled and cut into 1/2 inch pieces
1 teaspoon salt
1 teaspoon cumin
1 tablespoon extra virgin olive oil
1 15 oz can pinto beans, rinsed and drained
10 small tortillas
1 8oz Simply Organic Red Enchilada Sauce
2 cups shredded cheddar cheese
optional: chopped cilantro and guacamole
Instructions
Preheat oven to 400. Combine beets, carrots, olive oil, salt and cumin in a bowl. Spread on a greased baking sheet and cook for 20 minutes or until vegetables softened. Add cooked vegetables to a bowl with beans and beet greens. Stir to combine.
Spread half of enchilada sauce in the bottom of a 9x13 inch baking pan coated in cooking spray. Working with one tortilla at a time, spread 2 spoonfuls of vegetable mixture in middle of tortilla. Tightly roll and place in the baking dish, seam side down. Continue with remaining tortillas. Top tortillas with remaining enchilada sauce and sprinkle cheese on top. Cook for 15 minutes, until cheese is melted. If desired, top with chopped cilantro and guacamole.
7.8.1.2
105
http://veggingonthemountain.com/2017/06/roasted-vegetable-enchiladas/
I am hosting Mini Chef Mondays along with 4 fabulous bloggers, find out more about the Mini Chef Mondays Team!
Join our facebook group to find even more recipes and share your own recipes!
Get featured and follow us too!
Be sure to check out each of their Mini Chef posts as well!