If you follow me on Instagram, you will likely find pictures of food or my family on outdoor adventures. Sometimes you will find both! We are outdoors not just in the warm weather, but all year round. In the warmer months we enjoy hiking, rock climbing, biking, camping and kayaking. In the colder months we can usually be found hiking and skiing. No matter what the temperature is, we always need to eat and I'm constantly coming up with new ways to feed my family during these adventures in a way that is easy, nutritious, energy-filling and tasty. In some ways the new cookbook by Emma Frisch called Feast by Firelight feels like it was written for me. I am slowly making my way through the book and it is going to become my outdoors cooking bible. I started with her recipe for the best veggie burger thinking, wow, that's a pretty bold title. Let me say this, I'm glad the recipe made 12 burgers and that half are in my freezer. They are absolutely delicious!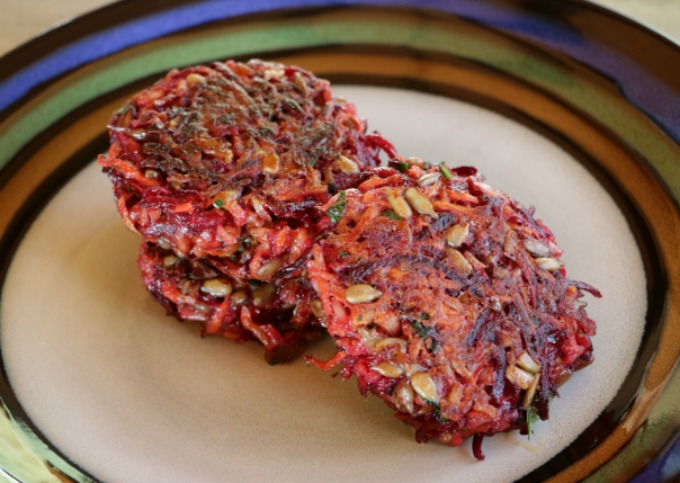 You may be familiar with Emma from when she competed on Next Food Network Star or as the co-founder of Firelight Camps in Ithaca, NY. She grew up learning how to cook from her mother who taught her skills and recipes for cooking in the outdoors. This book is very informative for getting started with cooking outdoors or taking your cooking to the next level. She advises how to stock your pantry, how to pack your cooler (so important) and even how to build a campfire. Many people like to have their own outdoor cooking stations in their gardens, equipped with the latest grills, pizza ovens, and more, ideal for entertaining guests outside – click this link to see how you could save money on your own outdoor cooking hardware and appliances from stores like Lowe's by using coupons and promo codes online. It's a home improvement dream of many to do this so what could be better than realizing this dream without breaking the bank? The recipes provide very clear steps on the preparation that needs to be done before heading out and the food photography is simply beautiful.
I have made it my adult mission to make up for a childhood without beets by eating them whenever possible. This recipe caught my eye because not only do I love beets, but a good veggie burger recipe is hard to come by. My criteria for a good veggie burger recipe is that it's healthy, tasty and doesn't fall apart when it cooks. This recipe met all of my criteria! These burgers should be prepared at home and then cooked at your campsite.
You start by shredding beets and carrots in a food processor and then adding them to a large bowl with cooked instant brown rice and the rest of the ingredients. Besides the beets, the other standout ingredient in this recipe is sunflower seeds. It's funny how something so small can pack such a big punch in terms of flavor and texture, not to mention nutritional benefit. Sunflower seeds are packed with vitamin C, which is excellent for cardiovascular health.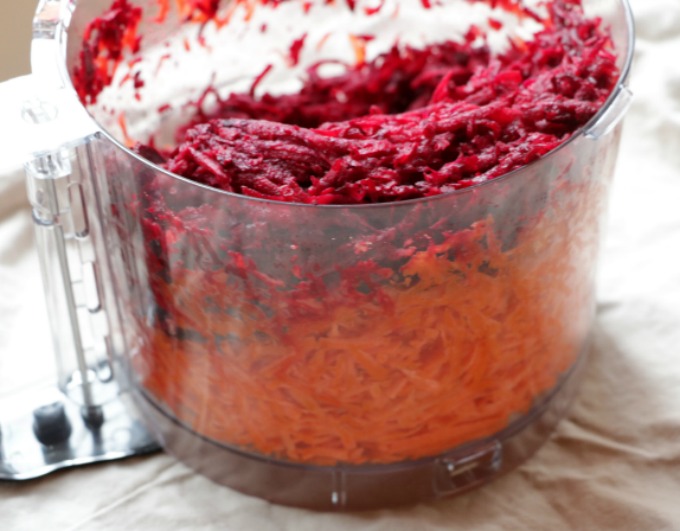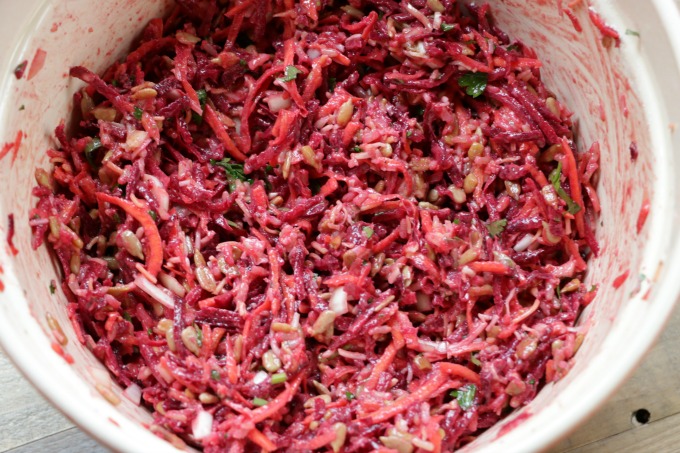 Refrigerate the mixture for a couple of hours and then shape them into patties. You can either bake them or cook them in a skillet. It's very challenging to find a veggie burger that stays together. This one stayed together perfectly during cooking.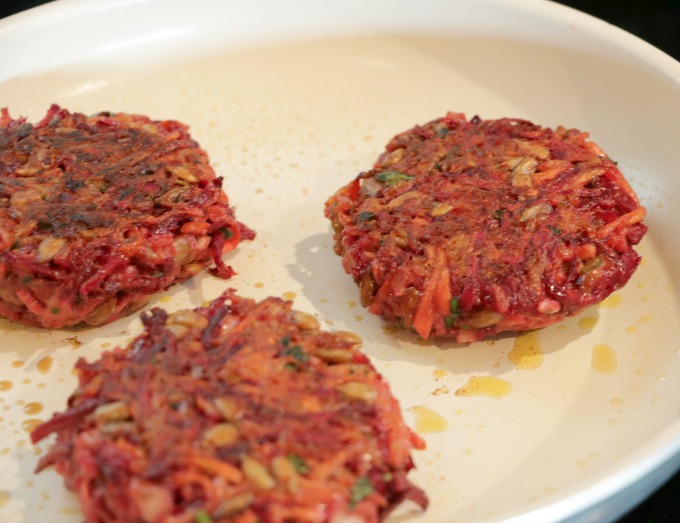 I served them on buns with sliced avocado and sriracha mayonnaise. If you will be eating outside, I highly recommend using Fozzils reusable plates that snap together.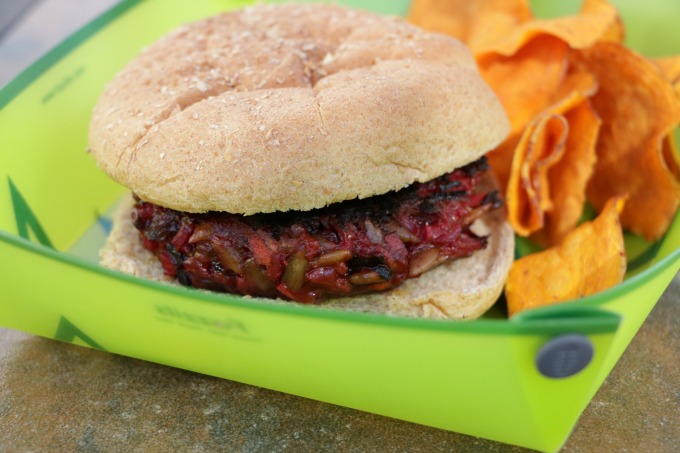 Emma's cookbook is full of recipes that I can't wait to try like strawberry gingersnap chia seed pudding and tiramisu french toast with strawberries. You can purchase the book here. The book is perfect for cooking indoors or outdoors. If you need me this spring, I'll be making my way through Feast by Firelight!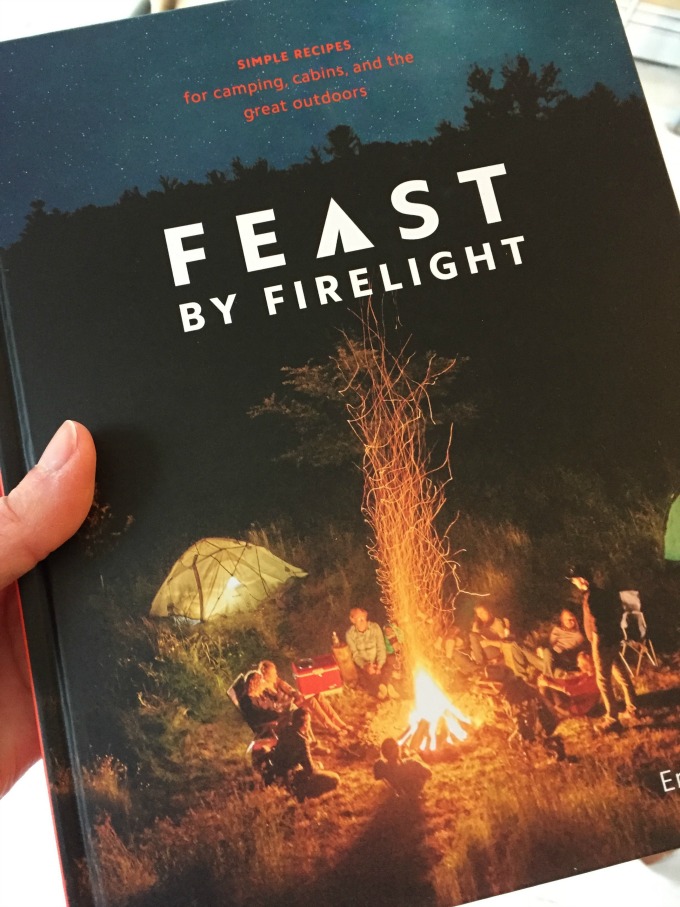 Yields 12 servings
Best Veggie Burger from Feast by Firelight
45 minPrep Time
40 minCook Time
1 hr, 25 Total Time
Ingredients
1 cup cooked instant brown rice
2 cups peeled, shredded beets
2 cups shredded carrots
1 cup minced onion
1 cup finely chopped fresh parsley
1 garlic clove, minced
1 cup shredded cheddar cheese
1 cup toasted sunflower seeds
1/2 cup oat flour, rye flour, or any gluten-free flour
1/2 cup sunflower oil or other vegetable oil, plus 1 tablespoon (optional)
2 eggs, lightly beaten
2 tablespoons tamari or soy sauce
1 teaspoon kosher salt
1/2 teaspoon freshly ground pepper
Instructions
Line a baking sheet with a paper towel.
In a large bowl, combine the rice, beets, carrots, onion, parsley, garlic, cheese, sunflower seeds, oat flour, 1/2 cup sunflower oil, eggs, tamari, salt, and pepper. Use your hands to mix thoroughly. To absorb some of the moisture from the beets and carrots, spread the vegetable mixture in an even layer on the prepared baking sheet and refrigerate for at least 15 minutes or up to 2 hours.
Preheat the oven to 350.
Remove the vegetable mixture from the refrigerator. With the palms of your hands, shape about 1/4 cup of the mixture into a patty and place on a second rimmed baking sheet. Repeat until you've used all the mixture to form 12 patties, placing them about 1 inch apart.
Bake the veggie burgers until the edges begin to brown, about 25 minutes.
Let cool completely. Store in an airtight container, chilled, for up to 3 days, or cover each patty with plastic wrap, place in a large ziplock bag, and freeze for up to 3 months. (They will double as ice in your cooler!)
If the patties are frozen, remove them from the cooler about 1 hour before you plan to cook them. Fire the campfire grill or campfire to medium heat and position the grill grate 4 inches above the coals. Cook the patties over direct heat until slightly charred and warmed through, 1 to 2 minutes per side. Alternatively, on a camp stove, in a skillet over medium heat, warm the 1 teaspoon sunflower oil. Add the patties, working in batches if necessary and adding 1 teaspoon oil in between, and cook until browned on each side and warmed through, 3 to 4 minutes per side. (It will take a little bit longer in the pan than on the grill.) Serve warm. Store leftovers in an airtight container, chilled, for up to 3 days.
Notes
Reprinted with permission from Feast by Firelight, text and illustrations copyright © 2018 by Emma Frisch. Published by Ten Speed Press, an imprint of Penguin Random House LLC.
7.8.1.2
119
http://veggingonthemountain.com/2018/04/best-veggie-burger-from-feast-by-firelight/