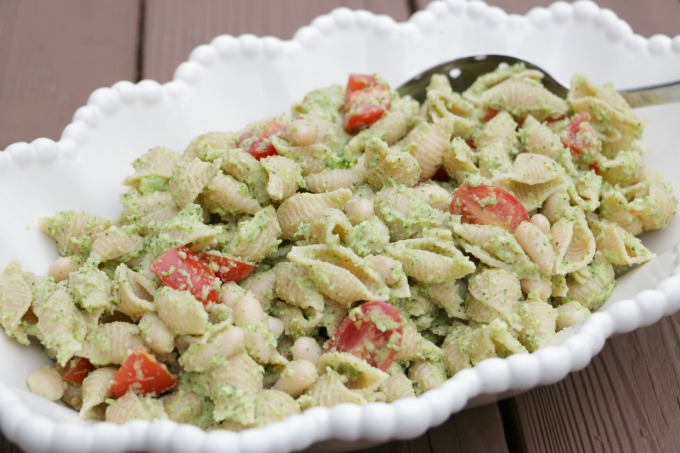 There is no rule which states that basil has to be the star ingredient in pesto.  We all know that kale and beets are great in pesto so why not give broccoli a try?  My kids have been begging to attend one of my cooking classes so as a special treat, I asked their teacher if I could do a cooking lesson in their classroom.  She was thrilled!  I wanted to demonstrate a recipe which would get the kids eating vegetables and that is easy.  We made broccoli pesto tossed with whole wheat noodles, white beans and tomatoes.  The kids loved the recipe and most asked for seconds.  I heard from many parents asking for the recipe so here it is!
If your kids enjoy cooking, this is a great recipe for them to help with.  You start by boiling broccoli for a few minutes to soften it.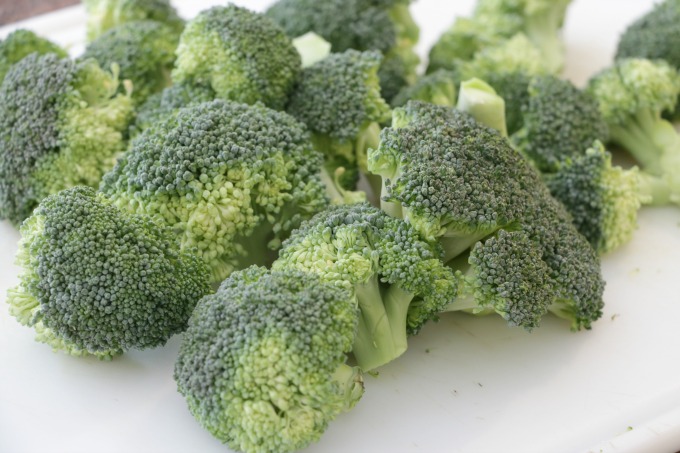 After the broccoli has cooled slightly, add it to the food processor along with almonds, oil, lemon juice, garlic and parmesan cheese.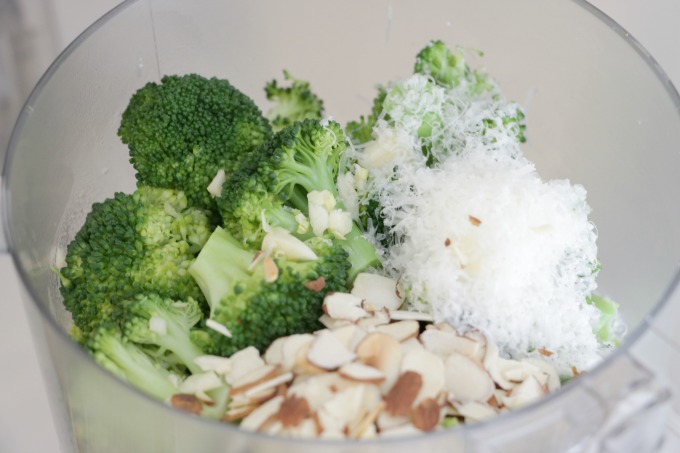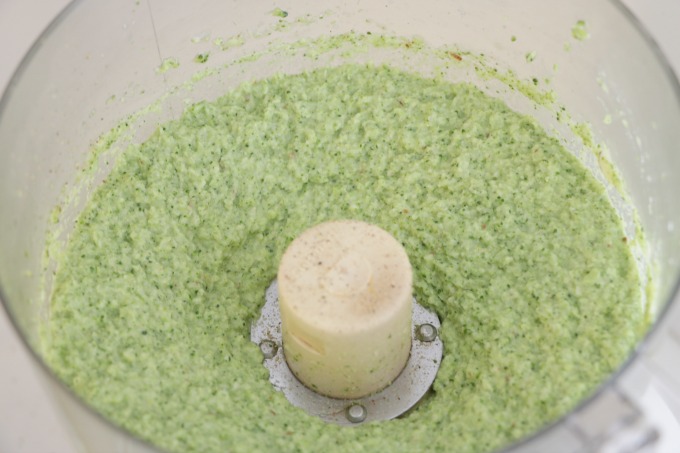 I told my kids that they could be my sous chefs during the demonstration which they were so excited about.  They were proud to show off their knives while chopping tomatoes.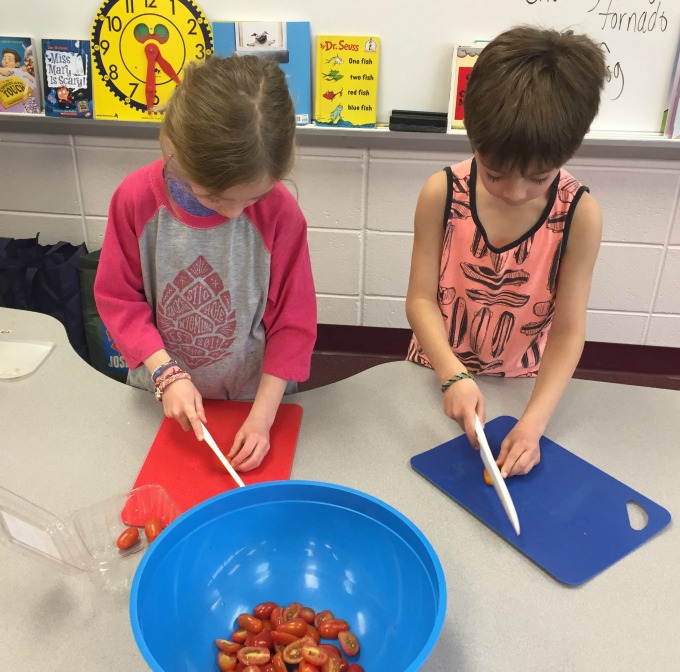 You can use whatever pasta noodles you like, my kids love medium shells and I love that they come in a whole wheat version.
Start by adding about a cup of the pesto and any leftover pesto can be stored in the refrigerator.  I added white beans to this recipe to give it a boost of protein.  We went mountain biking over the weekend to celebrate Earth Day and this is what I packed my daughter for lunch.  It definitely gave her the energy she needed to complete the six mile loop!  I don't believe in hiding vegetables to get kids to eat them, but rather coming up with creative ways for them to eat their veggies.  This broccoli pesto will appeal to both kids and adults!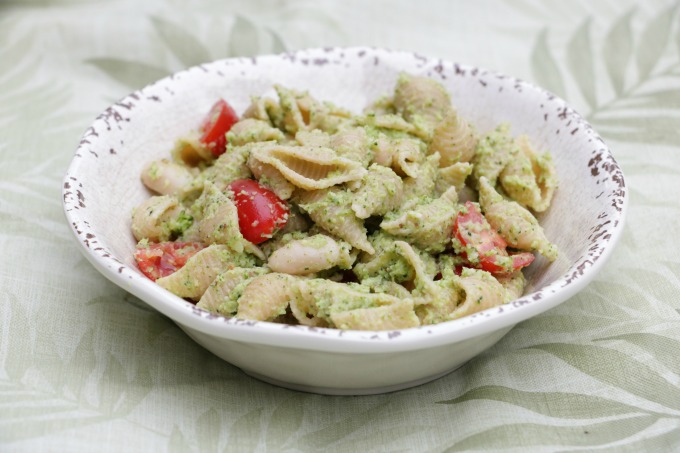 Broccoli Pesto Noodles with White Beans and Tomatoes
Ingredients
3 cups whole wheat noodles
2 cups broccoli florets
1/4 cup toasted almond slices
1/4 cup freshly grated parmesan cheese
1 garlic clove, minced
1/2 cup olive oil and more if needed
1/4 teaspoon salt
1 tablespoon lemon juice
1 cup grapes tomatoes, halved
1 15 oz can cannellini beans, rinsed and drained
Instructions
Bring a pot of water to a boil. Add the broccoli and cook for about 5 minutes, until slightly tender. Remove the broccoli with a slotted spoon to a colander and rinse it under cold water to stop the cooking and drain. Add the pasta noodles to the boiling water and cook them according to the package. In the bowl of a food processor add the broccoli, almonds, parmesan cheese, garlic, olive oil, salt and lemon juice. Blend until you have your desired consistency. You might need to add more oil to thin it out. Toss the noodles with 1 cup of pesto, tomatoes and beans. Add more pesto if desired. Store remaining pesto in the refrigerator for up to 5 days.
7.8.1.2
120
http://veggingonthemountain.com/2018/04/broccoli-pesto-noodles-with-white-beans-and-tomatoes/