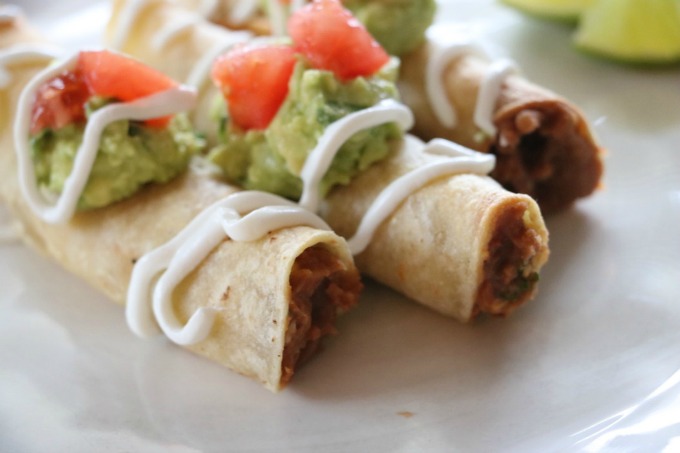 My husband said something to me last week that I never thought I would hear him say: you're a really good person to be quarantined with during an apocalypse.  Um, thank you?  Truthfully, we aren't eating that much differently than we usually do.  I stocked up on ingredients for all of our favorite recipes.  What I found out early on in the quarantine is that my family doesn't really want me to be experimenting right now.  They just want me to prepare comfort food that I know everyone likes.  I started making taquitos a few months ago and I think they get better each time.  They are very economical and most of the ingredients are shelf-stable.  If you are ordering groceries for delivery, put these ingredients on your list.
I am a big fan of refried beans.  You can either make your own in the Instant Pot or use canned refried beans.  In a bowl mix together the refried beans along with spices, chopped cilantro, lime juice and cheese.  Once that is all mixed together, you are ready to roll.  The corn tortillas. need to be softened prior to rolling.  An easy way to do this is to place two tortillas at a time on a plate, between dampened paper towels, for twenty seconds.  Spread about two tablespoons of the bean filling at the bottom of a tortilla.  Roll it up and place it seam side down in a baking dish.  After rolling two tortillas, spray the tops with cooking spray.  This is important to do so that they crisp on top.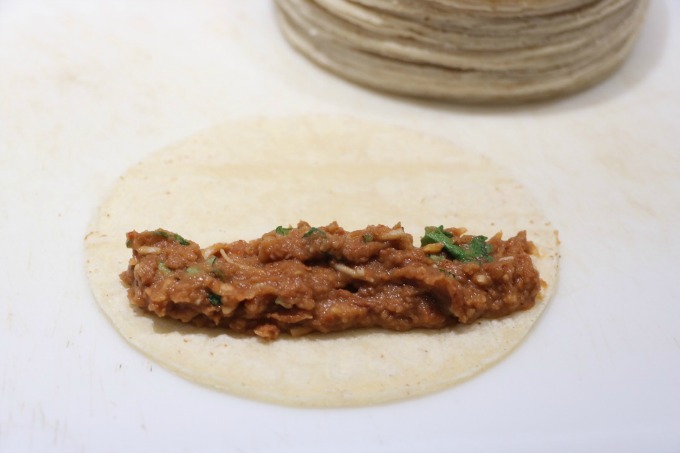 Once your baking dish is filled with rolled tortillas, give them another spray and then bake them for twenty minutes.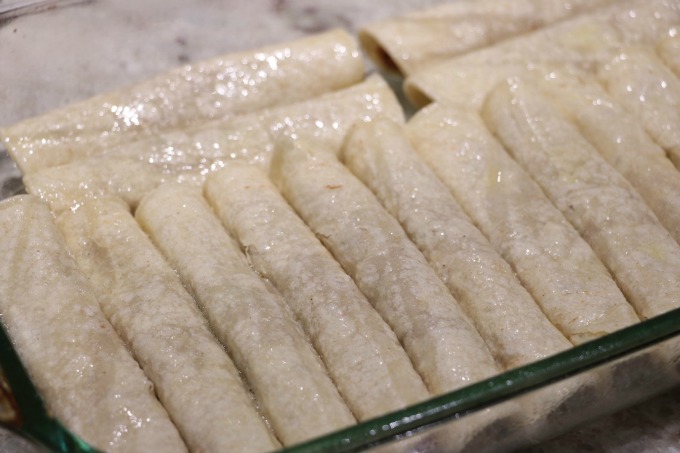 When they come out of the oven, they will be crispy.  Now comes the fun part, toppings!  I usually offer a variety of toppings which include shredded lettuce, homemade guacamole, sour cream and salsa.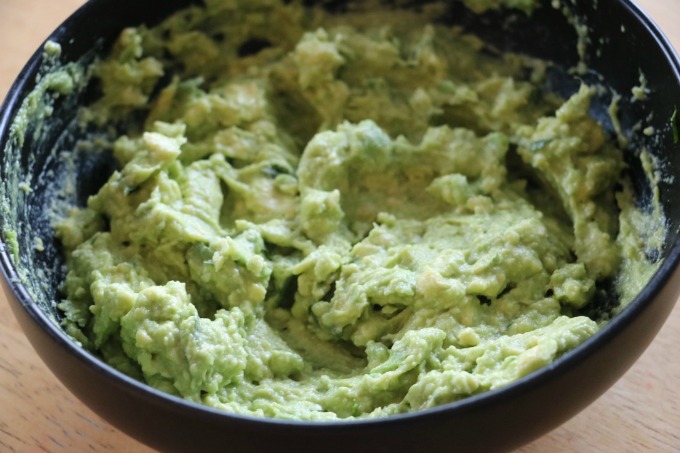 Transform Taco Tuesday into Taquito Tuesday and your family will thank you!
Ingredients
1 15 oz can refried beans
1/2 teaspoon cumin
1/2 teaspoon chili powder
1/2 teaspoon salt
1/4 teaspoon garlic powder
1 teaspoon lime juice
2 tablespoons chopped fresh cilantro
1 cup shredded cheddar cheese
20 corn tortillas
Toppings of choice: guacamole, sour cream, pico de gallo, shredded lettuce
Instructions
Preheat oven to 425. Spray a 9x13 baking dish with cooking spray and set aside.
In a medium bowl combine the refried beans through cheddar cheese. Stir to combine.
Dampen two paper towels. On a plate put one damp paper towel, 2 tortillas on top (side by side) and cover the tortillas with the other paper towel. Microwave the tortillas for 20 seconds. Spoon about 2 tablespoons of the bean mixture at the bottom of each tortilla and roll up, placing the tortillas seam side down in the baking dish. After placing the rolled tortillas, two at a time, in the baking dish, spray the tops with cooking spray. Continue until dish is filled. Cook for 20 minutes until tortillas starting to crisp and brown. Serve with toppings of choice.
7.8.1.2
200
http://veggingonthemountain.com/2020/04/vegetarian-refried-bean-taquitos/