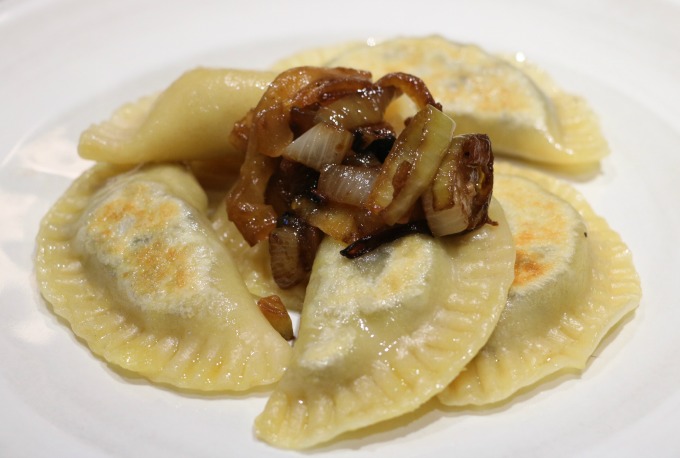 I so clearly remember my last trip to the grocery store almost 2 months ago and standing before the frozen food cases.  While I normally only buy a select few items from the frozen aisle like spinach and ice cream, on this trip I was trying to envision what foods would be worthwhile to stock up on while sheltering in place.  As I stared at a box of frozen pierogies like I was making a very important life decision, I eventually walked past with the thought that I would make my own.  I rarely make pierogies because the multi-step process is time-consuming.  With nothing but time on my hands for the past almost 2 months, we've been making mushroom and potato pierogies on repeat.  I've discovered that my kids are the best pierogi makers and that this is an ideal meal because it's very filling as well as inexpensive.  Pierogies have become our quarantine meal of choice that we all love.  I know you will love them too.
Let's break down the steps involved in make pierogies so that you know what you are getting yourself into.  The steps are as follows: make the dough, make the filling(s), roll out the dough, fill the pierogis, boil them for a few minutes, pan fry them quickly and an optional step is to make caramelized onions to go on top (do not skip this step!).  I realize that this may seem like a lot but I assure you that it's well worth it.
The dough is easy to make, especially in a stand mixer or food processor.  With just five ingredients, it comes together quickly.  It's pretty dry compared to bread or pizza dough.  After making the dough, it should go into the refrigerator for at least a half hour and up to 2 days.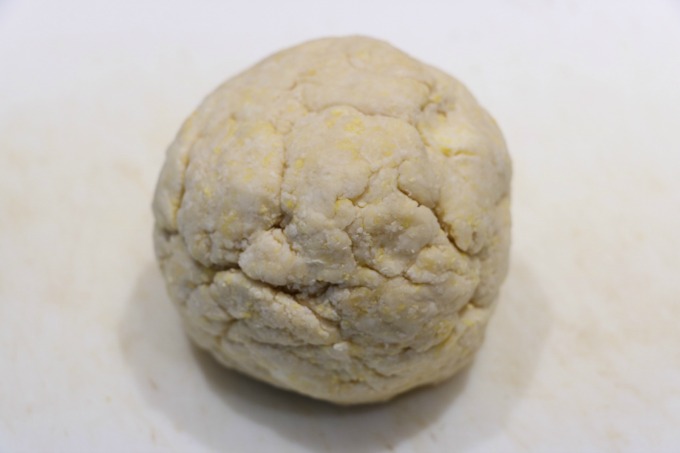 Next, it's time to make your fillings.  You can be very creative here.  We are partial to potatoes and mushrooms, but the possibilities are endless.  For the potato filling I boil some Yukon golds until they are tender and then mash them along with butter, milk, cheddar cheese and seasonings.  Once you get the consistency you want, put that aside.  For the mushroom filling, I saute mushrooms with onions for a few minutes and add seasonings.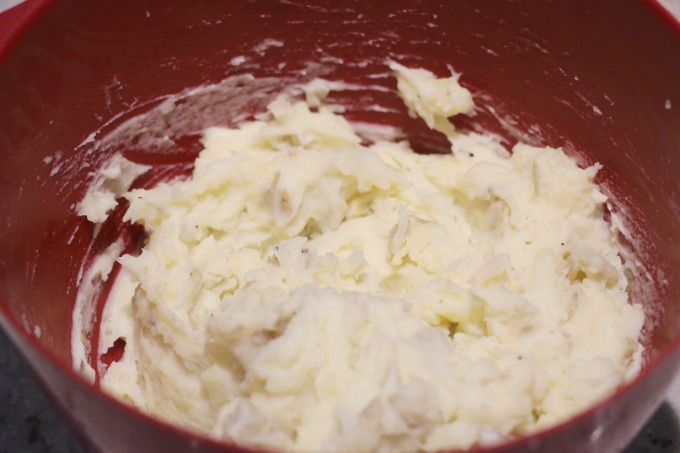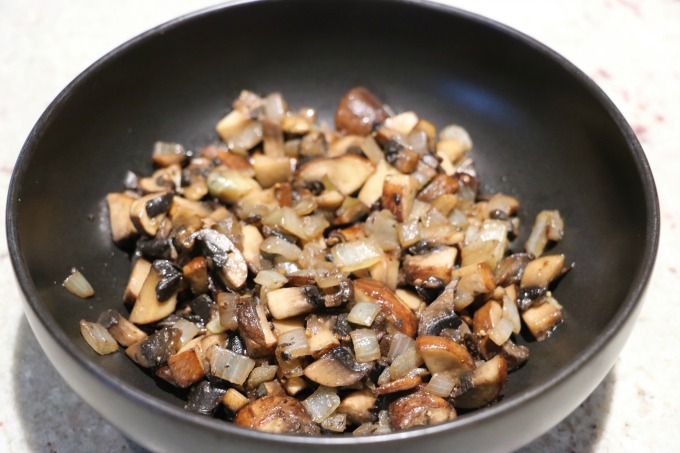 If you have helpers, an assembly line works well for the next steps.  When you roll out the dough, you want it thin but not so thin that you can see through it.  For making the circles, I tried a bunch of circles and found a 16 oz mason jar lid to work the best.  My son loves rolling out the dough and making the cutouts while my daughter enjoys stuffing the dough with filling and pinching  the ends shut with a fork.  Transfer the filled pierogis to a baking sheet while completing this process and then refrigerate them (or freeze them) until you are ready to cook them.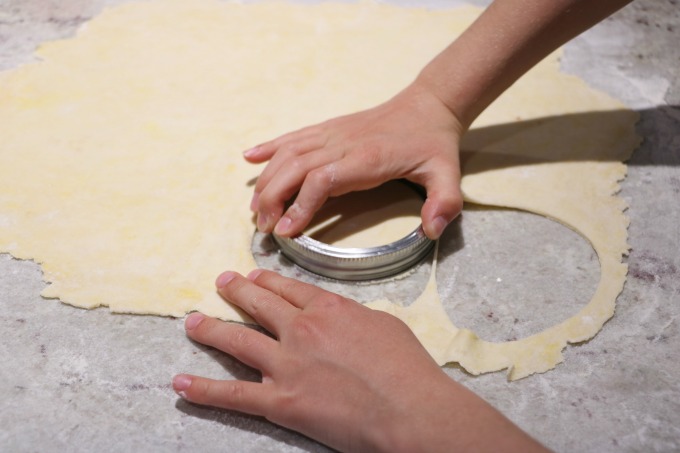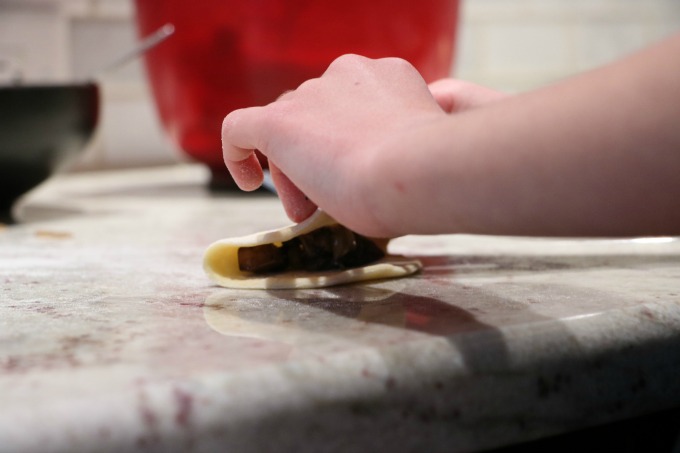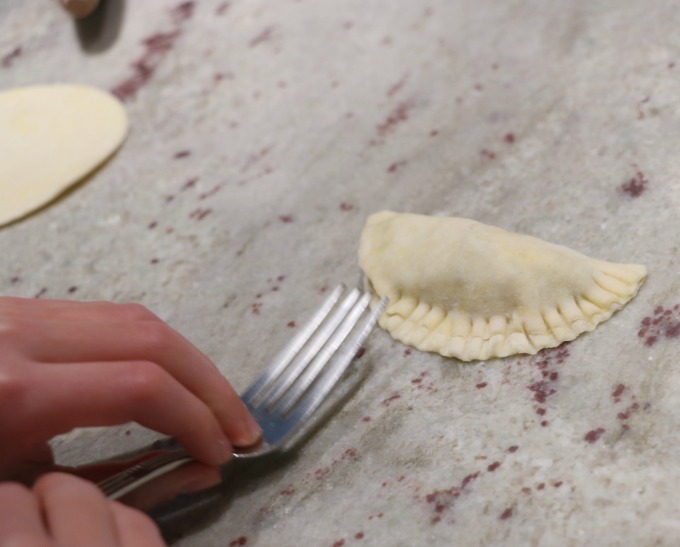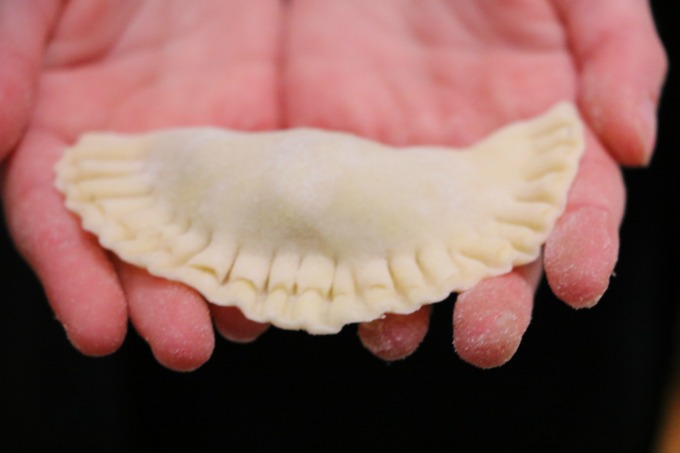 Even if you aren't a fan of raw onions, caramelized onions are a total game changer in this recipe.  They are sweet, crunchy and syrupy, making for the most perfect topping.  To achieve caramelized onion greatness, slice up 2 large onions, cook them in olive oil or butter for about 30 minutes over a medium heat, adding a tablespoon each of balsamic vinegar and brown sugar towards the end.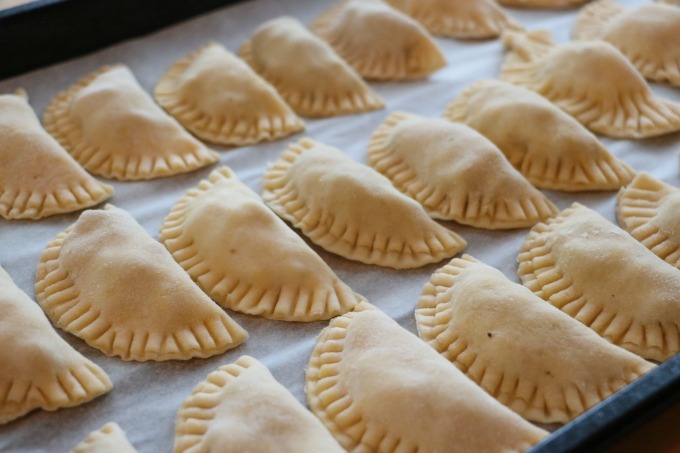 Now you are ready for the grand finale, cooking the pierogies.  Heat a large pot of boiling water along side a skillet with melted butter or cooking spray.  Cook about 8 pierogis at a time until they float, this only takes a few minutes.  Give them a few minutes to drain and then add them to the skillet.  Pan fry them for about 3 minutes per side until they start to brown and get crispy.  Top the pierogies with caramelized onions or sour cream.  Here is what I can guarantee you.  Once you make your own pierogies, you will never buy them frozen from the grocery store again.  And a piece of advice: make a double batch so you can freeze them for later.  You're welcome!
Mushroom and Potato Pierogi
Ingredients
Dough:
2 cups all-purpose flour
1/2 teaspoon salt
1 egg
1/2 cup sour cream
4 tablespoons unsalted butter, softened
Mushroom filling:
1 tablespoon olive oil
8 oz cremini or white mushrooms, chopped
1/2 cup chopped onion
salt and pepper to taste
Potato filling:
3 large Yukon gold potatoes, cubed
2 tablespoons unsalted butter
1/4 cup milk (plus more as needed)
1/4 cup shredded cheddar cheese
salt and pepper to taste
Onion topping:
2 tablespoons olive oil or unsalted butter
2 large yellow onions, peeled and sliced
1 tablespoon balsamic vinegar
1 teaspoon brown sugar
Optional topping: sour cream
Instructions
To make the dough, mix together the flour and salt (I used a stand mixer). Add the egg and combine. The dough will be clumpy. Add the sour cream and soft butter until the dough comes together. It will be sticky. Using your fingertips, knead the dough and fold it without adding additional flour until the dough becomes less sticky. Wrap the dough in plastic wrap and refrigerate for an hour or up to 48 hours.
To make the mushroom filling, heat the oil over medium heat. Cook mushrooms and onions until softened and liquid evaporated, about 5 minutes. Season to taste with salt and pepper. Transfer to a bowl to cool.
To make the potato filling, add potatoes to a pot of water and bring to a boil. Once boiling, reduce to a simmer and cook for about 10 minutes, until potatoes are soft. Drain and transfer to a bowl. Add butter, milk and cheese. Mash, adding more milk if too dry. Season to taste with salt and pepper.
To make the caramelized onions, heat oil or butter in a large skillet over medium heat. Add onions and cook for about 30 minutes, stirring occasionally and scraping up bottom. When the onions are browned and soft, add balsamic vinegar and brown sugar. Cook for an additional few minutes.
To assemble pierogies. Roll out half of dough on a lightly floured surface until thin but not too thin that you can see through it. Using something round, about 2-3 inches in length, cut out circles. I find that a lid of a 16 oz mason jar works best. Add 1 tablespoon of mushroom or potato filling to bottom half of dough circle. Fold over top half and use a fork to pinch ends together. Place on a baking sheet until finished assembling all the pierogies, half filled with mushroom mixture and half filled with potato mixture. When ready to cook, bring a large pot of water to a boil and heat a nonstick skillet covered in cooking spray. Boil about 8 at a time until they float, about 2 minutes. Using a slotted spoon remove them and place in a colander to drain for a minute. Then add them to the heated skillet. Cook on each side for about 3 minutes until lightly browned. Repeat with rest of pierogies. To serve, top with caramelized onions and sour cream.
Notes
Dough recipe adapted from King Arthur Flour
7.8.1.2
202
http://veggingonthemountain.com/2020/05/mushroom-and-potato-pierogies/