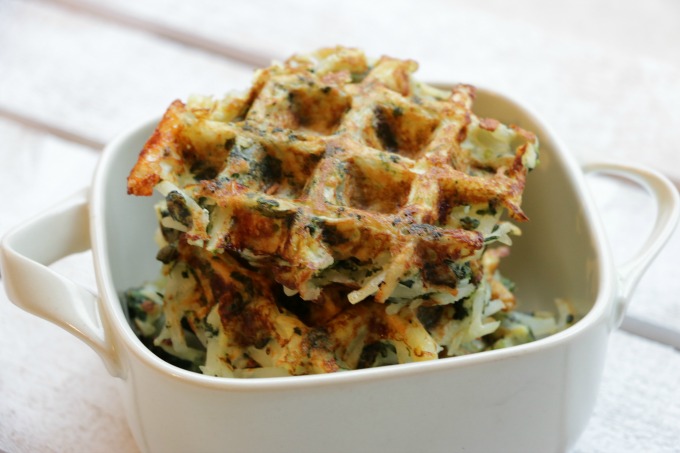 Do you ever get into a breakfast rut?  In my house everyone eats the same thing for breakfast on repeat.  My son only wants pancakes, my daughter could eat an English muffin every day, my husband reaches for the cereal and I am a rice cake with almond butter kind of girl.  I am hereby declaring an end to my family's breakfast rut with these spinach and feta hash brown waffles!  It's the best of all worlds with potatoes, eggs, cheese and spinach.  With one bite you will be hooked too!
If the thought of hash browns makes you roll your eyes thinking no way am I shredding potatoes, I have good news for you.  You don't have to!  With Simply Potatoes® the peeling and shredding is already done.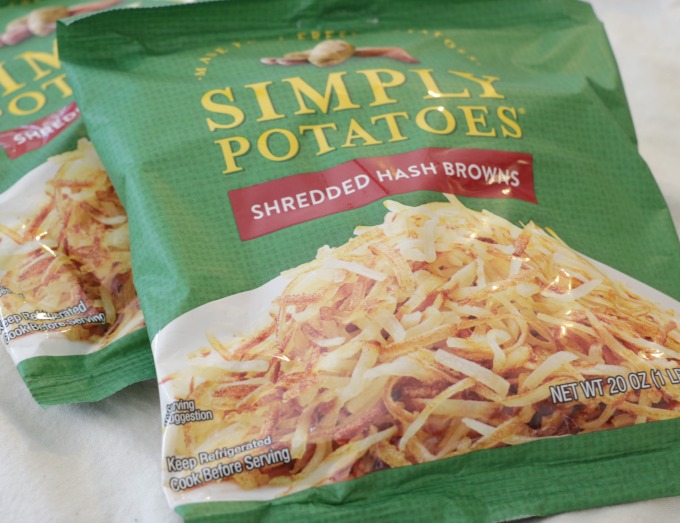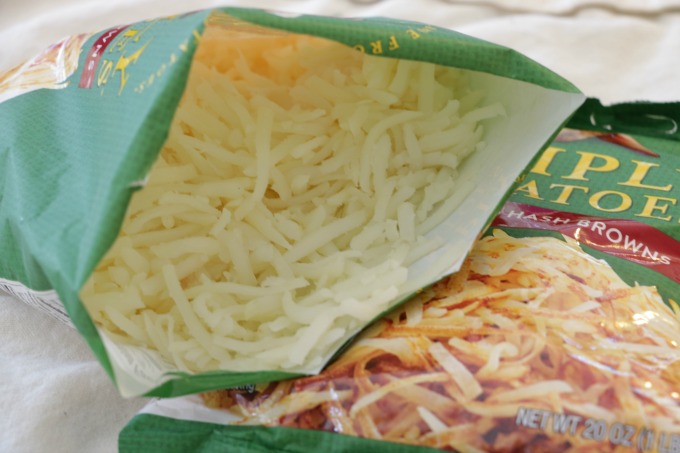 I had to play around with this recipe a few times and eventually got it right.  Actually, perfect.  These waffles are very simple (I mean it this time).  You combine eggs, milk, spinach, feta cheese, flour, salt and pepper in a bowl.  Heat up a waffle iron and add the potato mixture to the iron and let them cook for about five minutes.  I made a big batch of these and they reheat perfectly.  In the beginning of the week I try to cook in bulk so I have homemade food ready for the rest of the week.  These waffles are perfect for that.  They would also be great for entertaining because not only are they delicious, but they are very pretty too!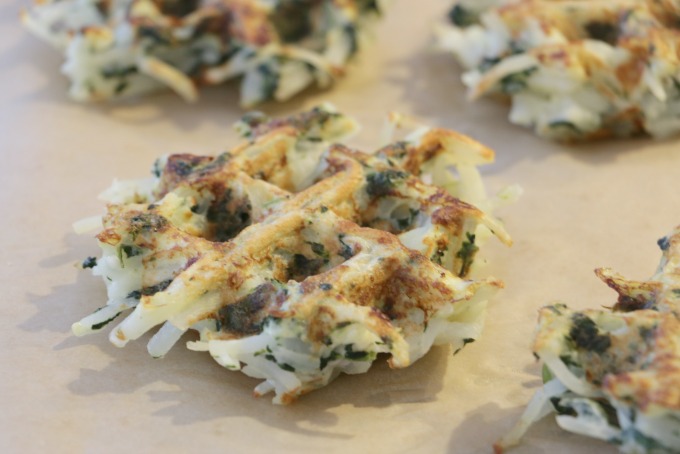 One of the many nice things about Simply Potatoes® is that they are refrigerated (never frozen), made with real ingredients and a major time saver.  Try this recipe as is with spinach and feta but feel free to swap out the veggies and cheese.  Cheddar cheese would work great in this recipe as well.  If you would like to give this recipe a try, you are welcome to enter our giveaway for 3 free product coupons. All you have to do is leave a comment and answer this question, what is your favorite potato dish? Good luck!
Spinach and Feta Hash Brown Waffles
Ingredients
3 eggs
1/4 cup milk
2 tablespoons all-purpose flour
1/4 cup crumbled feta cheese
10 oz frozen spinach, thawed, drained and squeezed dry
20 bag of Simply Potatoes
1 teaspoon salt
1/2 teaspoon ground pepper
Instructions
Heat a waffle iron on medium-high that has been sprayed with non-stick cooking spray. In a medium bowl whisk together eggs and milk. Add remaining ingredients. Spoon potato mixture in waffle maker to about 1/2 inch from edges. Cook for about 5 minutes or until browned on both sides. Remove and repeat with remaining potato mixture.
7.8.1.2
117
https://veggingonthemountain.com/2018/03/spinach-and-feta-hash-brown-waffles/