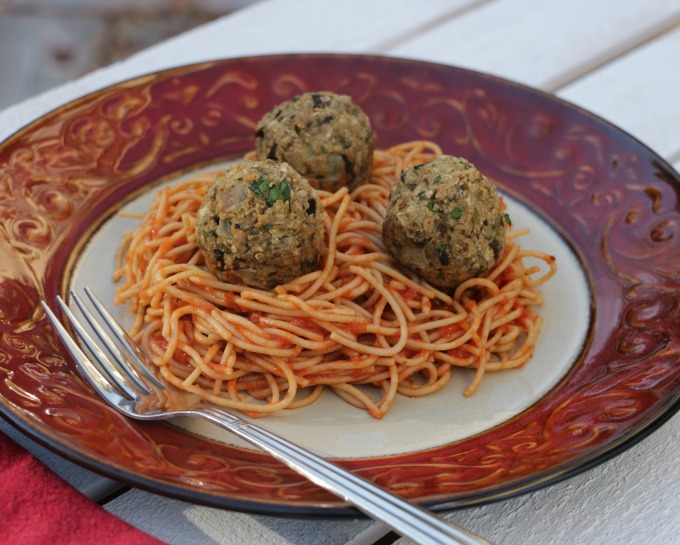 Sometimes you just need comfort food.  Whether it's because you had a rough day, it's cold and rainy or you have a lot on your mind, comfort food has a way of making you feel better.  When I think of comfort food. spaghetti and meatballs always comes to mind.  If you don't eat meat, you can still be thoroughly satisfied by spaghetti and meatballs, especially these meatballs made with eggplant.  Not only does this recipe contain clean, healthy ingredients, but it's also vegan.  No eggs.  No cheese.  If you are trying to eat less meat or don't eat any meat, these vegan eggplant meatballs will become a favorite.
You start by dicing eggplant and cooking it in a pan for about 10 minutes with water until it softens.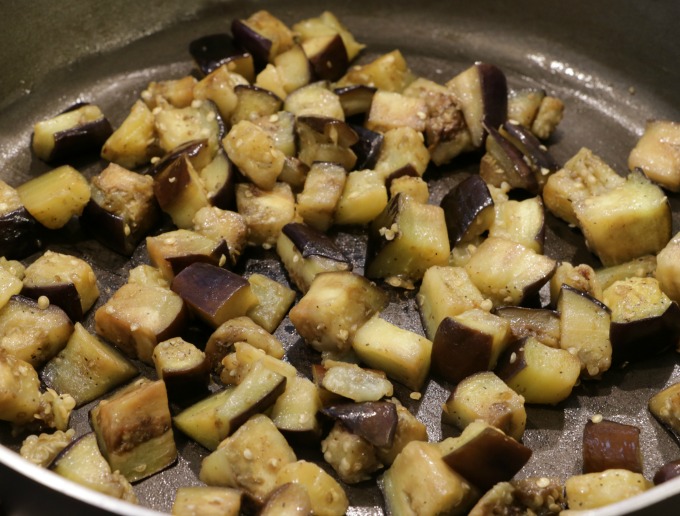 In a food processor combine the cooked eggplant with white beans and parsley.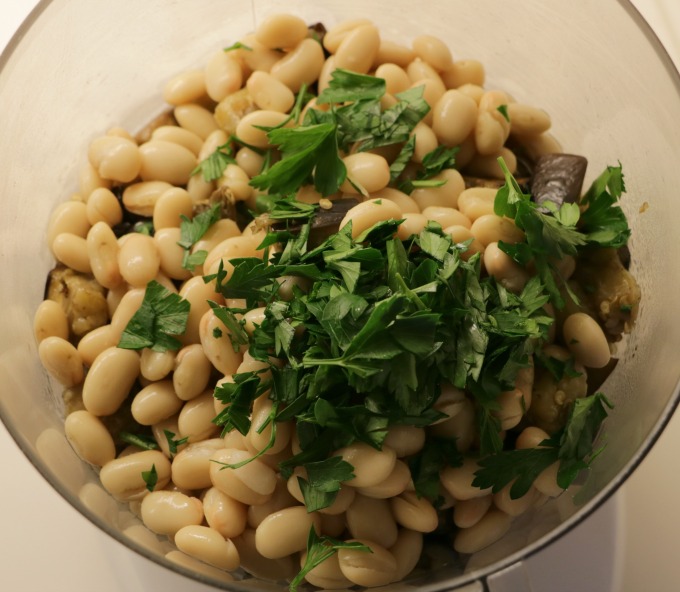 Cook some onion and garlic and then combine that with the eggplant mixture and breadcrumbs.  I like to use a mini muffin pan for veggie meatballs.  It makes them come out the perfect size and holds them together.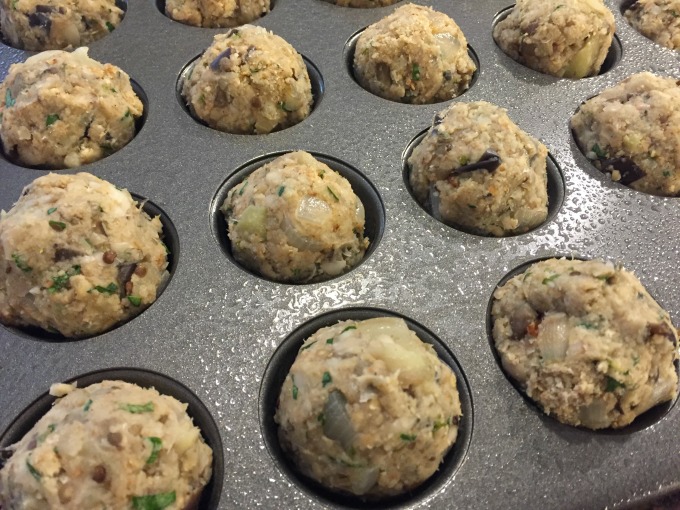 This recipe makes a big batch and I always have leftovers to make a meatball sub sandwich to send with my husband for lunch.  So next time you are craving comfort food but want to keep it on the healthy side, try these eggplant meatballs.  You won't miss the meat at all.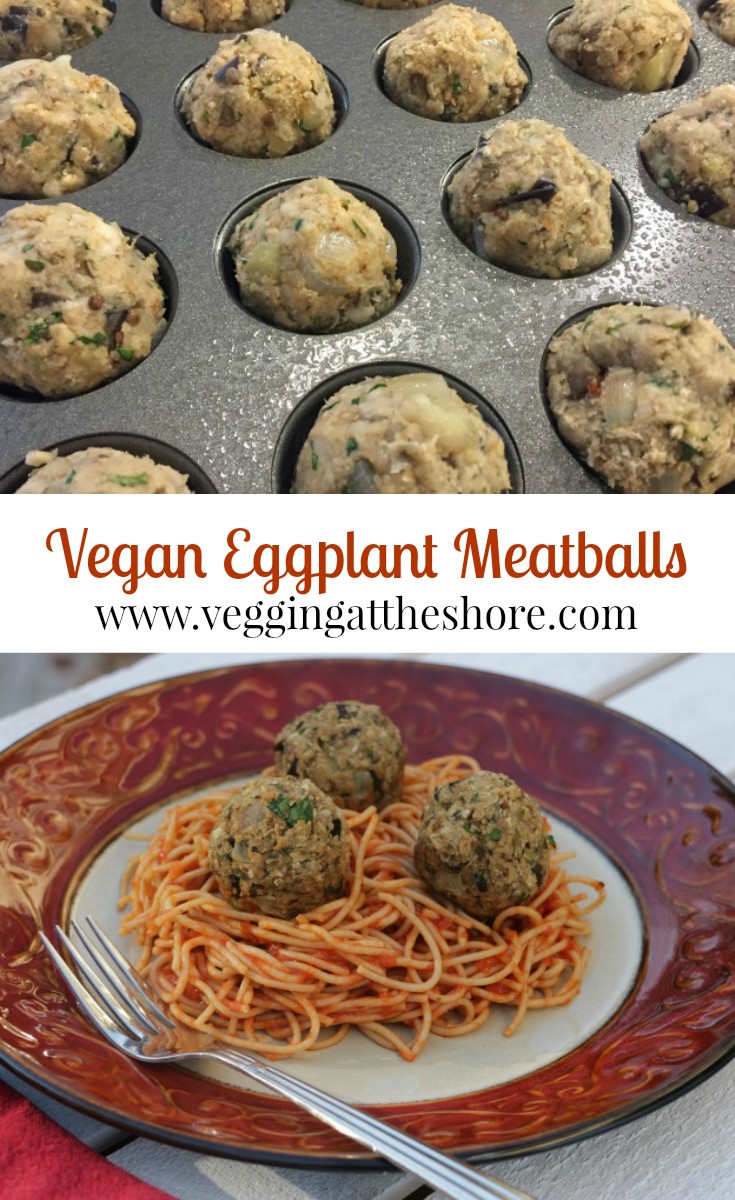 Ingredients
2 tablespoons olive oil
1 lb eggplant, unpeeled and cut into 1-inch cubes
1/4 cup water
1/2 teaspoon salt
1/4 teaspoon pepper
1 small onion, chopped
1 tablespoon minced garlic
1 15 oz can white beans, rinsed and drained
1/4 cup chopped fresh parsley
1 cup seasoned breadcrumbs
Instructions
Preheat oven to 375. Spray a mini muffin pan with cooking spray. Heat 1 tablespoon of oil in a large skillet over medium heat. When it's hot, add the eggplant and water. Sprinkle with salt and pepper and cook, stirring occasionally, until the pieces soften and begin to brown, 10 to 15 minutes. Transfer the eggplant to the bowl of a food processor. Add white beans and parsley to the eggplant and pulse until well combined and chopped, not pureed.
Add remaining tablespoon of olive oil to the pan along with the onion and garlic and cook over medium heat until they are soft and translucent, about 5 minutes. Remove from heat. Add eggplant mixture to the onion and garlic mixture along with the breadcrumbs. Stir to combine and adjust seasoning if necessary. Roll the mixture into balls that will fit into the mini muffin pan. Bake for 20 minutes or until browned. Serve with spaghetti and tomato sauce.
Notes
Recipe adapted from The VB6 Cookbook by Mark Bittman
7.8.1.2
66
http://veggingonthemountain.com/2016/11/vegan-eggplant-meatballs/