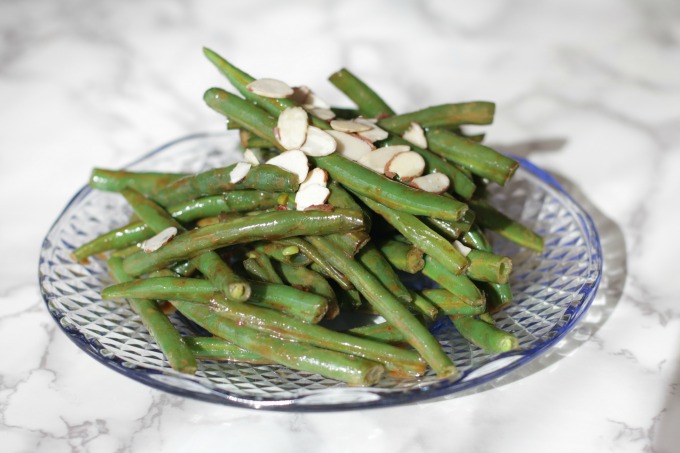 I will keep this post short and to the point since I know you are busy preparing for the holidays.  Does your holiday menu need color?  Mine did so I experimented with this recipe for Hoisin Green Beans and my daughter demanded that these be added to our Thanksgiving menu.  I gladly obliged because these green beans are fantastic.  Besides adding a pop of color to your otherwise mostly brown and orange Thanksgiving menu, this recipe is absolutely delicious.
You start by making a delicious and clean hoisin sauce.  Hoisin sauce is commonly used in Asian dishes and typically has a long list of ingredients that you wouldn't want to put in your body.  This recipe has a short list of clean ingredients like tahini.  You can make the sauce ahead of time and then just cook up the green beans a few minutes before your guests arrive.  I like my green beans on the crispier side so I only cooked mine for a few minutes before adding the sauce.  Top them with some sliced or slivered almonds for an elegant dish that will look like you spent much longer preparing it.  Have a safe and happy holiday season!
Ingredients
3 tablespoons oil (I used avocado oil)
3 cloves garlic, minced
1/3 cup low-sodium soy sauce
3 tablespoons pure maple syrup
2 tablespoons rice vinegar
2 tablespoons tahini
2 teaspoons sriracha hot sauce
1 pound green beans, trimmed
1/4 cup sliced or slivered almonds
Instructions
Heat 2 tablespoons of oil in a large skillet over medium-high heat. Add the garlic and cook, stirring often, until fragrant, about 2 minutes. Add the soy sauce, syrup, rice vinegar, tahini and sriracha. Cook, whisking occasionally until the mixture is thick and smooth, about 5 minutes. Pour the hoisin sauce into a jar and set aside.
Using the same skillet, heat 1 tablespoon of oil over medium-high heat. Add the green beans and cook until they are your desired crispiness, about 3-5 minutes. Stir in half of the hoisin sauce and cook for an additional minute, stirring often. Serve warm or at room temperature topped with almonds and with extra sauce on the side.
Notes
Recipe adapted from Dishing up the Dirt.
7.8.1.2
112
http://veggingonthemountain.com/2017/11/hoisin-green-beans/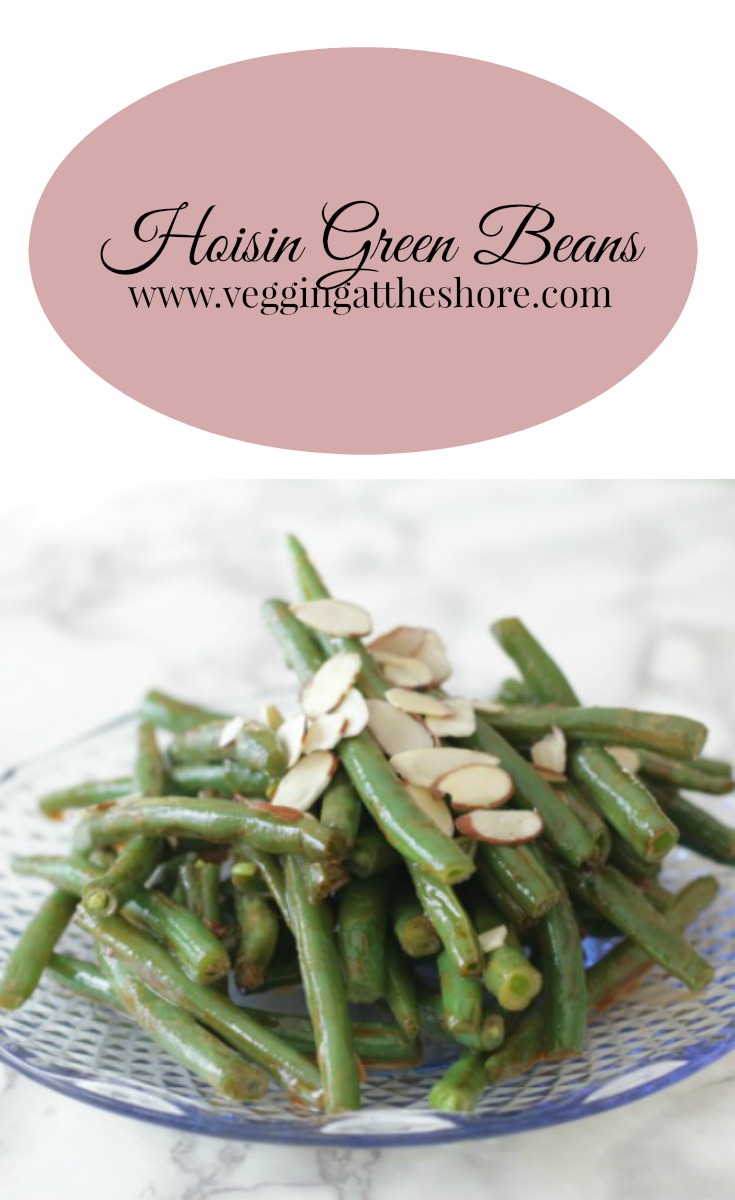 Looking for more Thanksgiving inspiration?  Here are some ideas:
Appetizers: Beet and Goat Cheese Bites, Herbed Goat Cheese Stuffed Pepperoncini, Oven Fried Pickles, Crispy Turmeric Chickpeas, Artichoke Crostini
Vegetarian Main Dishes: Apricot Glazed Tempeh Meatballs, Roasted Vegetable Enchiladas, Vegan Eggplant Meatballs, Slow Cooker Pumpkin Lasagna
Desserts: Chocolate Chip Matcha Biscotti, Chocolate Coconut Bars, Baked Apples, Mini Cannolis, No Bake Mini Pumpkin Cheesecakes, Two Bite Pumpkin Pies